Talking about apple ginger pie or…
…any apple pie reminds me of my childhood.
I remember coming home dejected one day because we'd lost a game….
Then my grandmother wisely suggesting…
"Maybe a slice of my homemade apple pie will help you." I took one bite…
…and I knew grandma was right.
That was one of many sweet memories I had with my grandma…
As I get older, I learn how to bake one with her….
Then up until now, I love baking apple pies….
I also remember the first time I tried an apple pie…
…with a touch more acid and a little less sugar.
Definitely one of my favorites! Therefore, I put my apron on…
…grabbed some apples, and started to experiment in search…
…of the best pie recipe that has the right balance between sweetness and tartness.
After experimenting with different quantities, ingredients…
…and changes in amounts, I've found the perfect recipe for apple ginger pie.
And I am really excited to share it with you!
But first, let's hear Gwen's story!
Pies like apple ginger pie are my favorite desserts.
This reminds me of my mother, who let me help her bake every time.
I'll never forget my very first apple pie!
That was a warm and sweet experience.
Despite being very young, I still remember standing in the kitchen…
…and helping my mother mix things.
Whenever we made pies, she let me put my finger…
…into the buttercream and sugar.
Her apple pies would always be fully filled with fruit.
Because I insisted to put more fruit there, of course.
Those memories hold great fondness and much love for me.
Apple ginger pie indeed brings back sweet memories…
Why Apple "Ginger" Pie?
In my opinion, reducing sugar, increasing lemon juice…
…and adding fresh ginger to the apple ginger pie is the secret to its balance.
In case you are unfamiliar with fresh ginger, it looks like a beige root..
…(it's a rhizome) with a pale yellow interior. After peeling it..
…I zest it so the pungent, fragrant goodness can be extracted.
The produce department usually has it…
I cannot resist apple ginger pie. The classic pie spices pair well with tart, snappy apples like Granny Smiths and Greenings. Fresh ginger and lemon give apple pies that essential zing.

Lynne Rossetto Kasper, Author From Splendidtable.org
You can substitute 1/2 teaspoon of powdered ginger…
…for fresh ginger if you do not find it. However…
..fresh ginger is always the best option for apple ginger pie.
Store-bought crusts usually work for me….
There is raw kind in a tube in the refrigerator section of the supermarket..
…not the pre-cooked kind. I save a lot of time and there are some really good ones…
Naturally, you can make your own if you like, which is lovely too….
Here's a simple apple ginger pie you should try! It will not disappoint you!
Scroll down to find the best apple ginger pie recipe…
Apple Ginger Pie Recipe
Prep Time: 10 minutes
A whole cooking process: 1 hour 15 minutes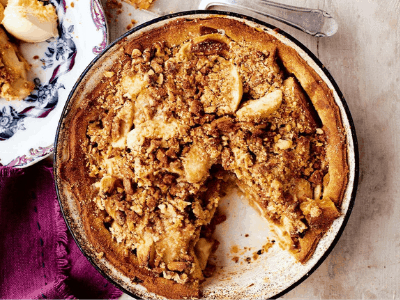 Ingredients:
1/2 cup packed brown sugar
2 1/2 tbs corn starch
2 tbs all-purpose flour
1 1/2 tsp ground cinnamon
6 Granny Smith apples (these apples are best for apple ginger pie
1 box with 2 rolled unbaked pie crusts
(optional) 1-2 tsp granulated sugar
(optional) Vanilla ice cream
Peeled and grated 1 1/2 inches fresh ginger
2 tbs lemon juice
2 tbs unsalted butter, in pieces
You will also need:
9 inch round pie mold
Aluminum foil
Now here's the thing!
Directions:
Before you start to make an apple ginger pie, make sure to preheat the oven to 425°F.
Cinnamon, corn starch, flour and brown sugar must be mixed together. Put aside.
Slice thinly the apple after it has been peeled. Toss apples with lemon juice and ginger in a large bowl. Then mix it with the sugar-flour mixture until the apples are coated.
Make sure you don't taste the slices for you won't be able to stop! And you will run out off apples for the apple ginger pie recipe.
Spread one pastry sheet over a 9-inch round baking dish, add apples, butter, and top with the other pastry sheet.
Crimp pastry sheets together with a fork or fingers to secure apples inside. Add a few slits to the top so steam can escape, and sprinkle sugar (if desired).
Cover the edges of the pastry with aluminum foil to prevent overbrowning and bake for 25 minutes.
After 25 minutes, carefully remove aluminum foil and bake for another 20-25 minutes or until the crust is golden brown and the filling is bubbling.
Serve the apple ginger pie warm with vanilla ice cream on top.
How is it? Easy, right?
Apple Ginger Pie for Vegan:
Ensure that you follow the recipe carefully to get the best results…
I always recommend weighing your ingredients using gram measurements…
…(with a digital scale) rather than cup measurements.
Cup measurements are simply not accurate enough for baking…
…and I cannot guarantee the best results if you use them.
The vegan block butter/margarine should be used for the pastry…
…the kind in a foil wrapped block, NOT the spreadable kind in a tub…
…which has too much water. Naturli Vegan Block is what I use but Flora…
…Stork, Vitalite or Tormor blocks (not the tub versions) are also fine.
If you are making the pastry, make sure you keep everything as cold as possible…
…butter straight from the fridge, vodka/water to bind it.
Too much heat can cause the pastry to become tough…
By using vodka instead of water to bind the pastry, it keeps it crisp…
…because vodka has a lower water content. If you don't want to use vodka…
…you can use water (the alcohol burns off during baking and you won't taste it).
If you prefer, you can use store bought pastry to save time…
Many supermarket own-brand versions of Jus-Rol shortcrust pastry…
…are vegan-friendly as well.
It is necessary to let the pie cool for around three hours before cutting it..
…if you want to be able to slice it neatly.
As long as you are not concerned about the filling seeping out too much…
…it's fine to serve it before it has cooled completely.
Are Ginger Gold Apples Good for Baking
This delightfully sweet and crunchy kind is not only excellent…
…for apple pie, but also for muffins and cakes.
It's available in most supermarkets during the fall season….
When cooked, Ginger Gold apples hold their shape…
…making them ideal for tarts or pies. Make a sweet and slightly spicy…
…applesauce with early-season apples. These light apples make a great snack…
…when eaten fresh, and they're also a good kind for drying.
Ginger Gold apples have a beautiful golden-green color and fine-textured…
…crisp, and creamy white flesh.
This apple is excellent for snacks, salads, and pie baking….
How To Store Ginger Apple Pie:
Although this pie is best served the day it is baked…
…it will keep (covered) in the refrigerator for up to four days.
Slices can be heated through in the microwave before serving…
Sum Up
How easy is that? This apple ginger pie recipe is one of my masterpiece…
… so I have made sure that all flavor is balanced very well.
Just make sure you follow the steps correctly!
Conclusion
Are you ready to make your own apple ginger pie?
The authentic apple pie is indeed tasty, no doubt…
But you can make small changes in the recipe as I did..
and you will be surprised at how good it can be!
Do you have your own recipe for apple ginger pie?
Leave me a comment below to let me know about yours..
…or if you want to share your thoughts about my recipe. Anyway, happy baking!
Our latest articles:
💻 Amazing Apples to Make No Sugar Added Applesauce | Why Is Applesauce a Good Egg Substitute | Guide to Canning Applesauce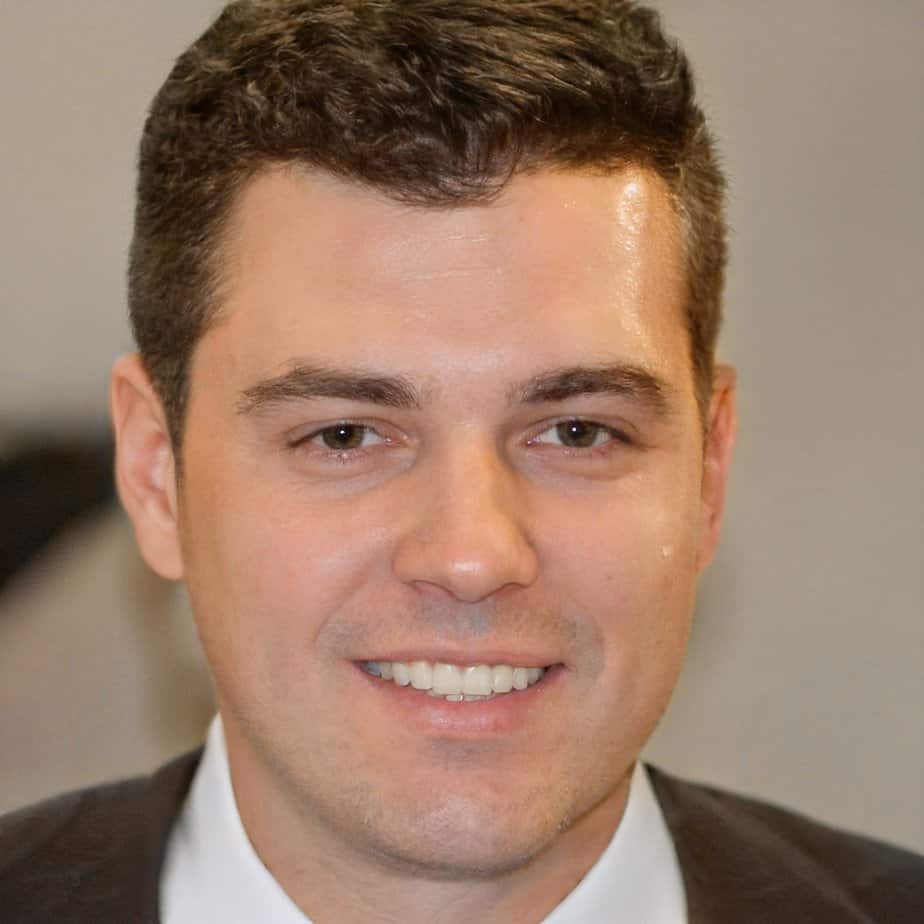 Hi there! I'm a food enthusiast and journalist, and I have a real passion for food that goes beyond the kitchen. I love my dream job and I'm lucky enough to be able to share my knowledge with readers of several large media outlets. My specialty is writing engaging food-related content, and I take pride in being able to connect with my audience. I'm known for my creativity in the kitchen, and I'm confident that I can be the perfect guide for anyone looking to take their culinary journey to the next level.