An excellent tool in the kitchen for grinding or puréeing food…
…a food mill is versatile and can handle several tasks.
Despite not having a food mill in my kitchen…
…I am still able to accomplish the same task.
I am going to show you some awesome food mill substitutes…
…that you probably already have in your kitchen. This is wonderful news.
You might need to peel and seed the fruits…
…and vegetables before the milling step…
…but rest assured they produce results similar to those from a food mill.
So, what's a food mill?
A food mill is a kitchen device used for grinding or puréeing foods such as soups, sauces, or mashed potatoes. It may be used during canning or making preserves to produce a smooth puree without seeds, skins, or stems. It can be used with hot or cold food. It may also be called a rotary food mill.

According to Danilo Alfaro, a professional culinary arts writer from The Spruce Eats.
Are food mills and food processors the same thing?
Generally speaking, food processors and food mills are quite different in nature.
Food mills are more of a mechanical than an electrical device.
It's easy to take them apart and clean, and unlike food processors…
…you don't have to worry about them getting wet.
You can strain debris from your sauce…
…while you are making it using a food mill.
When you use a food processor, everything is combined at the same time.
Consider whether you want the skin, seeds, etc. in your mixture…
…or if you want to strain them out.
Before we jump into next section, let us hear Sofia's story!
Hi, I'm sofia!
In the recipe for roasted tomato soup I made yesterday,
I supposed to run the soup through a food mill on the coarsest setting.
Being a young cook with only the supplies handed down by my mother,
I am not in a position to get one of these.
I was wondering what is a good substitute for this..
The soup is sitting in my fridge chunky right now,
so I thought about whirring it in a food processor. 
Now, let's jump right in!
5 Best Food Mill Substitutes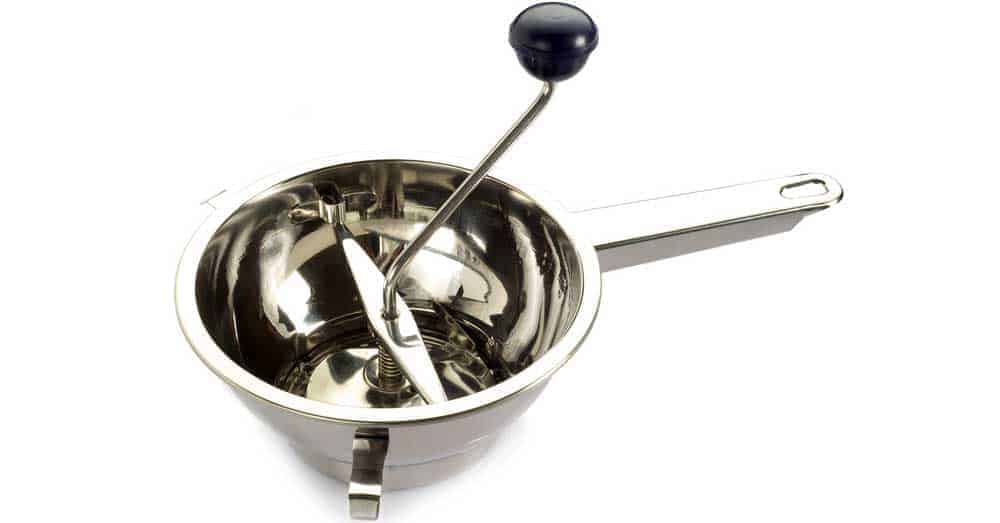 You probably have food mill substitutes in your kitchen right now.
The following food mill substitutes may be considered:
a food processor and sieve combination, a blender…
…a strainer and spoon combination, a cheese grater…
…and hand mixer combination, or a potato ricer! 
Find out more in the following paragraphs.
Combination Food Processor-Sieve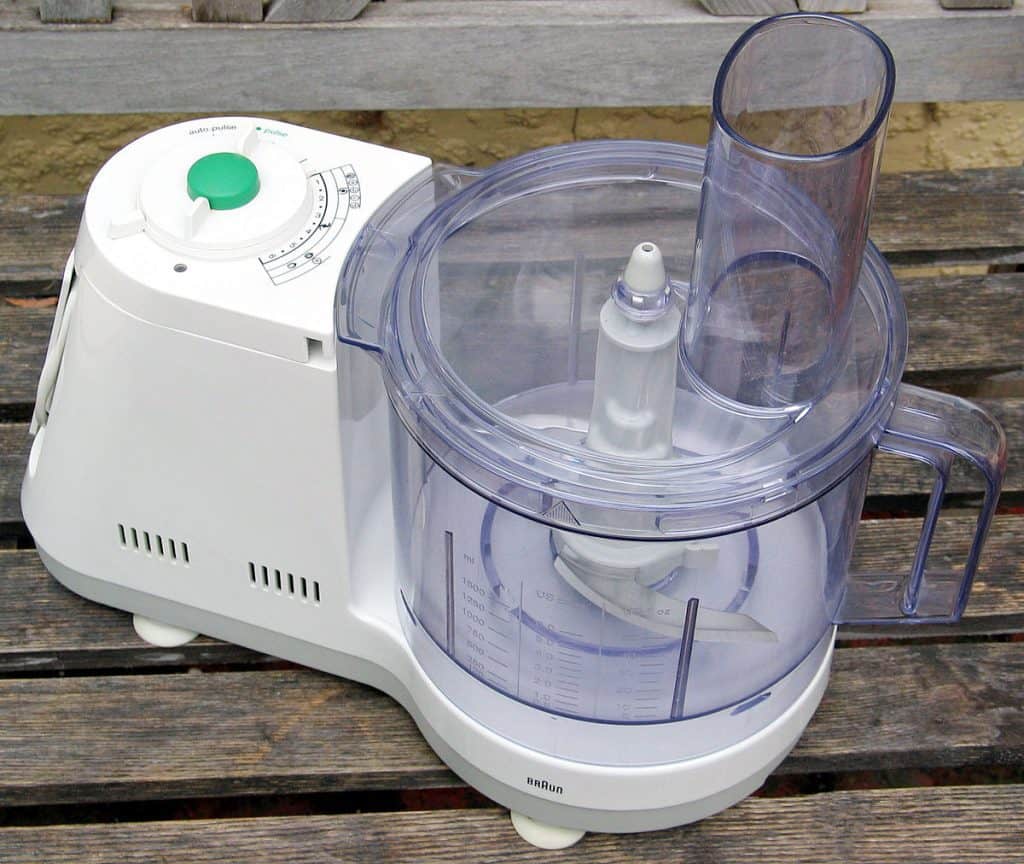 The food processor and sieve combination is first on my list.
With this pair, you can puree any food…
…and achieve a texture that's very close to that of a food mill.
The food is grated in a fast pulsating motion…
…by the food processor's blade, which is sharp.
The sieve provides uniform texture to your puree…
…as it screens the products from your food processor.
When using this option, make sure that seeds and fruit…
…and vegetable peelings are not included in the food processing.
To prepare this alternative, you might need to separate the seeds…
…and peels first with a fine-mesh strainer.
As opposed to the usual food mill, which works mechanically…
…this alternative would require electricity to work.
If you don't have the time or energy to move a lever back…
…and forth in a food mill, this alternative might be ideal for you.
The combo lacks flexibility in that department…
…because you have limited control over the resulting texture…
…in a food processor if you want to process food very finely.
Pros
Easy to handle
Time-saving and fast
It's versatile
Cons
Electricity is needed, not mechanical
Seeds and peels must be separated manually
Fine-tuning texture is not possible
Keep reading…
Blender
If a food processor is not at your disposal…
…then you can certainly use a blender instead.
In your blender, you can use the pulse option to mash or puree your food. 
Blenders are actually faster than food mills…
…for the purpose of grinding food.
The peelings from both the vegetables and fruit will have to be removed first…
…before the food is pulverized on high speed…
…just like our first combo option.
By using a peeler, knife, or simply using a fork, you can easily achieve this.
You can use the high-speed options on most modern blenders today…
…to turn vegetables and fruits into fine liquids.
My friend once blended unpeeled seeded tomatoes…
…in her high-speed blender, and it resulted in a smooth and fine puree;
however, the peel was still visible.
You should peel and remove the seeds first…
…when using this substitute to achieve the desired texture.
Pros
Easy to handle
Time-saving and faster
Produces finer puree (almost liquid in form)
Minimal effort required
Cons
Electricity is needed, not mechanical
Seeds and peels must be separated manually
Go on…
A Wooden Spoon and Strainer Pair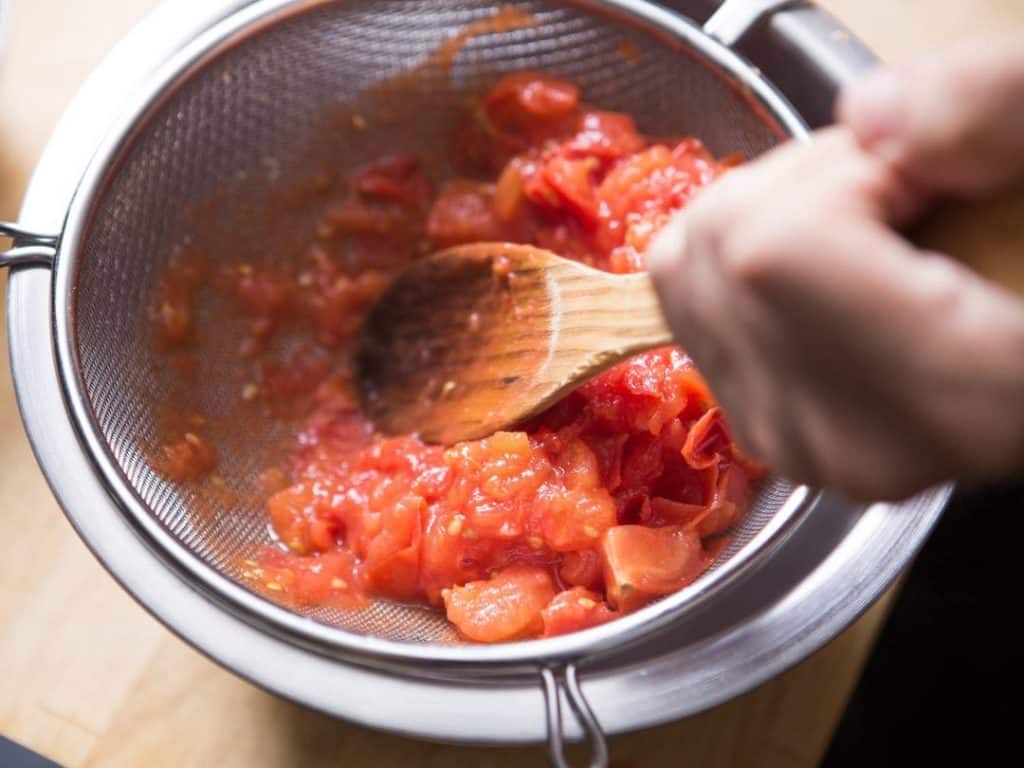 You can use this feed mill substitute…
…if you don't like using electricity to process food…
…and would rather do it manually.
The wooden spoon does most of the work…
…instead of a mechanical contraption…
…that pushes food into the mill for crushing.
This mesh strainer ensures that you achieve a uniform texture…
…by separating the pureed food from the raw food
To make your own homemade tomato sauce…
…press your fresh tomatoes through a fine mesh strainer…
…using a wooden spoon.
Then continue pressing until the desired texture is achieved.
The finer the mesh strainer you choose…
…the creamier and finer the end result will be.
All the work has to be done manually…
…without the aid of a mechanical device, so it takes longer to complete.
The peeling of fruits and vegetables is required…
…as a pre-processing step as well.
Moreover, the results are quite inconsistent…
…since their quality greatly depends…
…on the way you press them into the strainer.
Furthermore, its applicability is limited…
…and it works best with tomato sauce recipes.
If you want to ensure your puree is free of tomato peelings…
…you should blanch your fresh tomatoes in boiling water…
…for a minute before immediately transferring them to cold water.
A sudden change in temperature in its environment…
…makes tomato peels easier to remove.
Pros
Cheap
Produces fine puree (depending on how far it is pressed)
Cons
Peeling must be done manually
Fine-tuning texture is not possible
Applicability limited
Time-consuming and energy-consuming
Combination Cheese Grater and Hand Mixer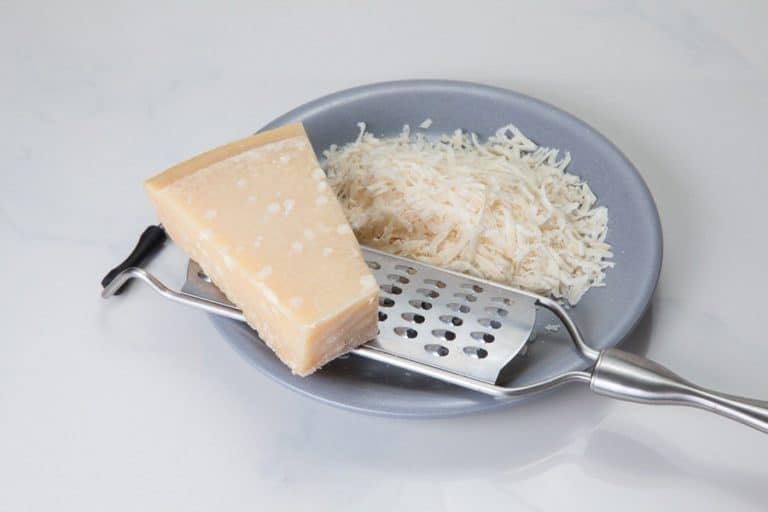 We have discussed only substitutes for food mills …
…that can be used to produce different textures of processed food up to now.
We have actually listed a fourth alternative…
…which is more specific in terms of its application.
Cheese graters and hand mixers are the perfect substitute…
…to a food mill when using potatoes…
…and tomatoes as they are softer foods.
You can use your cheese grater to scrape down your potatoes and tomatoes.
In order to make this work, you might want to boil your ingredients first…
before grating so that it will become softer…
…and more cheese-like in consistency. 
To achieve the desired texture…
…you will need to whisk down the grated vegetables…
…with a hand mixer. When you work with potatoes…
…it is important not to crush them too much.
I would recommend purchasing a commercial grade cheese grater…
…if you are considering this alternative…
…but don't yet have one because these types are less likely to rust.
Pros
Easy operation
Texture can be fine-tuned
Cons
Limited applicability
Partially not mechanical and requires electricity (for the hand mixer to operate)
It takes more time and energy
Here's the kicker!
Potato Ricer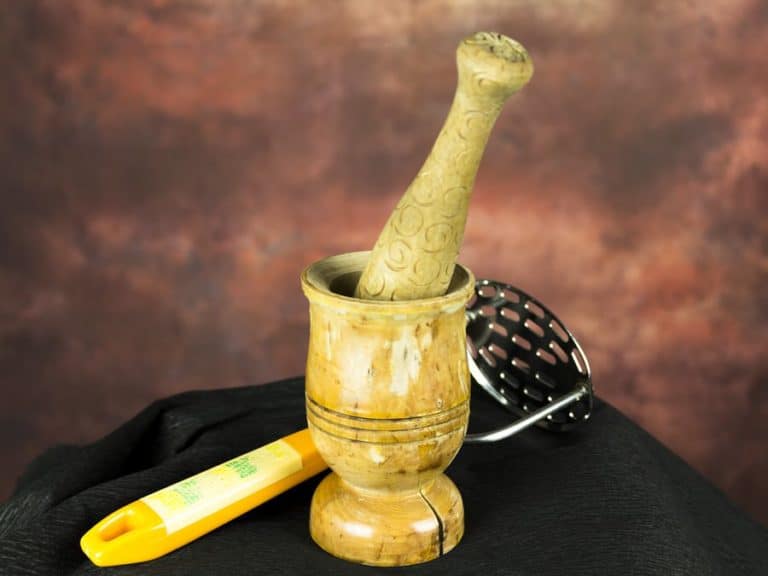 A food mill substitute can also be used…
…when dealing with a small batch of potatoes.
In addition to potato puree…
…you can also make some of your favorite vegetable purees…
…with the potato ricer.
It is surprising how simple the mechanism is for this substitute.
In order to make mashed food, simply load cut potatoes…
…or vegetables into the ricer hopper and press using the handles.
When potato or vegetable peelings are not included in the potato ricer…
…a smoother puree can be produced.
While the potato ricer's name already implies potato-processing…
…it can also be used for cooked tubers, squash…
and dense fruits such as apples.
Tomatoes and oranges, which are naturally juicier, are not compatible.
Although this is the best substitute for producing mashed potatoes…
…it can only process small amounts at a time.
Compact and easy to use, this kitchen tool is perfect for beginners…
…with limited space on their counters.
Pros
Easy to handle
Compact and space-saving
Time-saving and fast
The machine operates without electricity, and it is manual
Cons
Applicability limited
Can't handle large volumes
Manual separation of seeds and peelings from pulp is required
Sum Up!
Among many alternatives to the good old food mill, these are just a few.
However, these five shortlisted substitutes…
…have already proven their worth in my kitchen…
…and in other kitchens around the world.
It may be necessary to manually peel and seed the fruit before processing.
However, it is a compromise compared to having a food mill…
…that could do it on its own.
The majority of those I've listed here are not mechanical devices…
…and require power to operate.
Conclusion
What did you think of this article?
How would you replace a food mill in your recipe?
The absence of a food mill will no longer be a problem…
…since there are different alternatives…
…that can be substituted in terms of processing ingredients…
…like the ones mentioned above.
Even though there are many other alternatives for food mills…
…the five listed in our article have already proven their worth…
…in many kitchens around the world. Try them out! It will amaze you…