What Is Biodegradable?
A biodegradable item is one that can be dissolved into smaller pieces…
… by bacteria, fungi, or microbes.
For example a biodegradable trash bag.
So that it can be reabsorbed by the surrounding ecosystem.
Food and plants naturally degrade…
… but other items can destroy the environment by…
… breaking down into harmful chemicals or gases.
Saving the environment should be on top of our priority lists.
While most of us can't afford to make drastic changes in our lifestyle…
… every little bit helps since using compostable trash bags…
… can help you cut down on toxic petroleum-based plastics that…
… harm the environment.
For a long time biodegradable and compostable trash bags were too flimsy…
for everyday use but that is changing.
Just keep on reading…
Many companies have come out with thicker more reliable bags that…
… you can use very similar to the plastic trash bags you're used to.
To help you make this swap with confidence…
… we have done some research and found some of…
… the best biodegradable trash bags on the market today.
Plastic vs Biodegradable Bags
Although there are some options for less wasteful trash bags out there…
… they're not the best.
You can choose bags made of 100% postconsumer recycled plastic…
… meaning that no new plastic was used in making them.
However, these will be thrown away like every other plastic bag. 
Alternatively, you can choose biodegradable or compostable options…
… although these are more expensive and less durable.
Bags can easily break at the seams, and they don't really stretch.
Furthermore, although these bags are compostable…
… they don't decompose in landfills – even their material is designed to be…
…. disposed of in industrial composting plants where…
… high temperatures are utilized.
Since most landfills don't get to the temperature needed for…
… compostable bags to decompose…
… they will be mummified along with all the other trash in the landfill.
Similarly, this also applies to "bioplastic" bags, cups, and utensils.
Compostable trash bags have the benefit of not eventually…
… becoming teeny tiny pieces of plastic in the ocean.
Rather than full trash bags…
… what collects in the ocean is likely shopping bags, water bottles, and….
… other single-use items that are easily blown around.
In fact, most microplastics found in our water come from…
… clothing made with plastic materials such as nylon, spandex, and polyester.
The only way to be eco-friendly about trash bags is…
… to produce less waste so you don't need as many! 
Still a lot to know!
Advantages Of Using Biodegradable Trash Bag
One of the advantages related to the use of….
biodegradable trash bag is the minimal emission of carbon in the…
…. air during the process of manufacturing bioplastics.
As opposed to the normal manufacturing of plastics that…
… create four tons of emissions bioplastics only emit…
approximately .8 tons of carbon that add…
… to the greenhouse effect and global warming.
Apart from taking less time to break down when discarded…
… biodegradable plastics can also be recycled and are non-toxic…
… since they contain no chemicals or toxins compared to other types of plastics…
… that can emit harmful chemicals, especially if burned.
Just keep reading…
Listen What Lizzie Have To Say About Biodegradable Trash Bags.
"It's sad to see the earth slowly turning old,
us the humans have to do the right thing.
No more plastic bags, straws, styrofoam.
I change the way I see things,
how I buy things.
It's all for the sake of the earth,
we are in the environmental crisis.
You don't want living in the unhabitable earth,
right?
It's not easy to change the way you life,
for me I start from the very basic.
How I throw trash.
I change the usual trash bags into biodegradable trash bags.
It's more convinient to use, 
I might say its a bit expensive than the regular one.
But trust me, it's worth every penny.
Safe the earth, change to biodegradable."
"When you put the whole picture together, recycling is the right thing to do."

– Pam Shoemaker, Author
5 Best Biodegradable Trash Bags For You
1. Primrode 13 Gallon
Primode is guaranteed to be compostable.
Each roll contains 50 biodegradable trash bags and…
… is 23.8 inches x 29.4 inches.
For extra strength, the trash bag is 0.87 mm thick.
Biodegradable trash bags are made with corn starch and vegetable plastic…
… which are accredited by BPI-ASTM D6400.
Their compostable trash bags can decompose in a home compost setting.
As the bags decompose, they leave nutrient-rich minerals, water, and Co2.
The compostable bags can fit in most tall bins and…
… make a great alternative to plastic bags.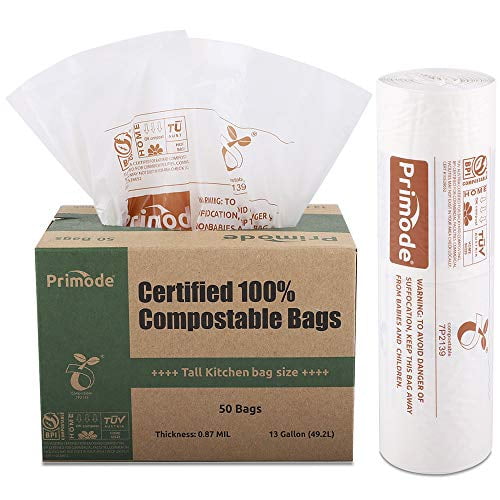 This might be the perfect one for you…
2. The Hippo Sak Plant-Based Tall Kitchen Garbage Bags
The Hippo Sak Plant-Based Tall Kitchen Garbage Trash…
… are 100% plant-based in terms of material….
… which means they are biodegradable and recyclable.
Each of these biodegradable trash bags is finished off with…
… handle so that you can easily load it up with kitchen or…
… house waste and toss it into wherever you need.
A highly biodegradable material, sugar cane (80%)…
… was used in the trash bag.
The biodegradable and renewable nature of this material…
… makes it a great choice for the environment.
It also reduces your carbon footprint.
They are leak-proof too, so you won't have to…
… worry about trash leaking out from these bags, even if the liners are wet.
Each pack has 45 tall-sized kitchen bags.
Let's keep reading…
 3. Bag-To Nature Compostable Tall Kitchen Bags
The Bag-To Nature Compostable Kitchen Bags accelerate…
… the process of composting.
Large quantities of waste can also be stored in the large 13-gallon bags.
Additionally, these Tall Compostable Bags are durable…
… which means there are no tears.
But of course, the bags will tear if you put more than 13-gallons of trash inside.
Due to their short expiration date, however, you cannot buy them in bulk.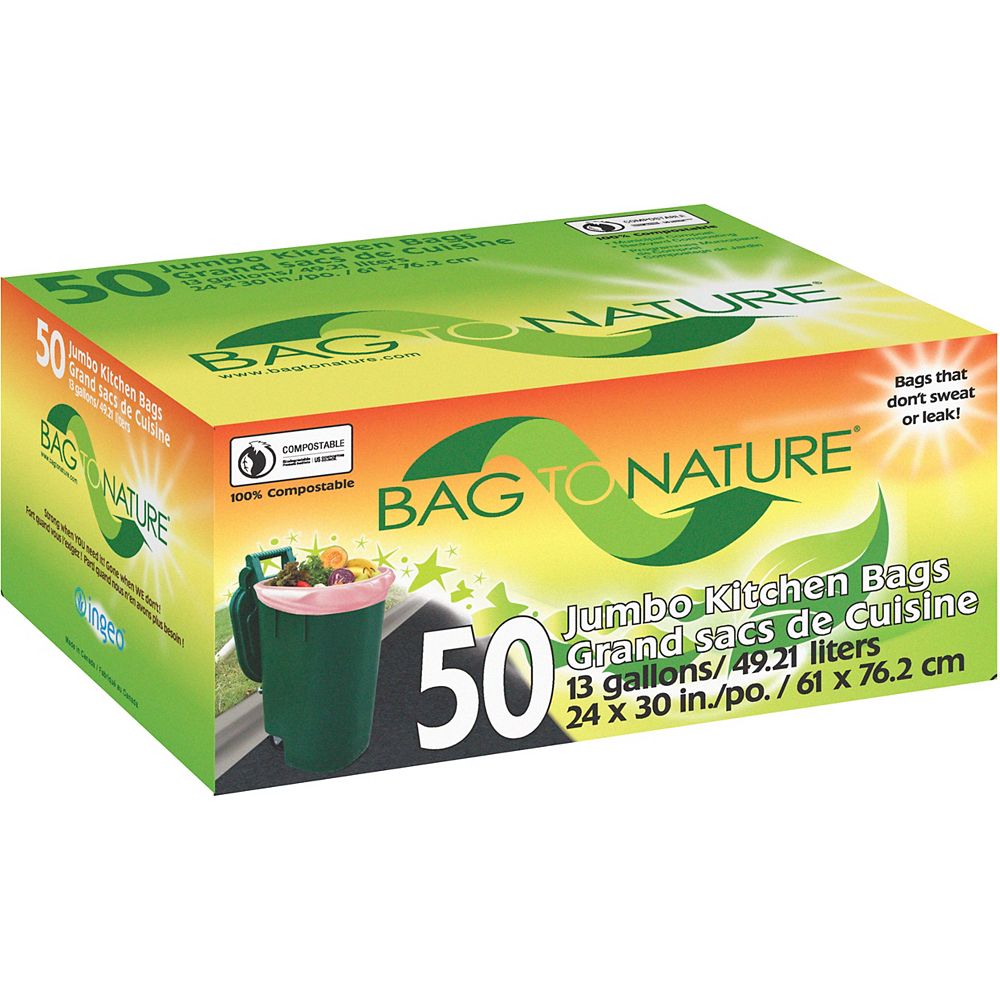 Keep on reading…
4. Unni 100% Compostable Small Kitchen Trash and Compos
Unni 100% Compostable Small Kitchen Trash and Compost bags are…
… an excellent choice when you need a bag smaller than 13 gallons.
Their sizes range from 2.6 to 8 gallons and…
… they're easy to find and highly rated for durability.
Like Primode, they're made from corn and plant starches and…
… are safe to compost at home.
Because they break down easily, they are not meant for use with…
… liquids or high temperatures.
Change them more often when using these bags to collect damp waste.
You should also be cautious when disposing of sharp objects in these bags…
… because they are prone to tearing more easily than standard plastic bags.
It's recommended to only buy what you can use within nine months.
Last but not least…
5. Evolution Trash Bags: Tall Kitchen Trash Bag
As a set of kitchen biodegradable trash bags…
… this one contains 120 bags in a box.
Each one contains 70% Certified PCR (post-consumer recycled) material…
… which means they are eco-friendly.
They are all UL ECOLOGO certified as well and are EPA-compliant.
You can stretch these tall trash bags easily…
… making them convenient for the kitchen.
These bags are made using their own method…
… which is the closed-loop recycling process.
This process not only helps save the planet but also manufactures…
… the trash bags in a smart way to make them durable.
PCR paper is used at 40% on their own packaging.
Also, it does not release unnecessary chemicals into your landfills…
… due to its fragrance-free nature.
Now to sum it up…
To Sum Up
Taking it all into consideration, our top pick for the best biodegradable trash bags is…
… the Hippo Sak Plant-Based Tall Kitchen Bags because…
… it is eco-friendly as it is made from plants.
These biodegradable trash bags are made from an 80% sugar cane product…
… a USDA certified biobased product that can reduce your carbon footprint.
Additionally, they are reinforced at the bottom so that your trash won't leak out.
Conclusion
We chose other biodegradable trash bag in this article that are eco-friendly…
due to being made with materials that won't impact the environment.
Now, it's up to you to choose.
Whether you want the affordable one or the most environmental-safe one.
Comment and tell us what biodegradable trash you are willing to buy.