Anyone who bakes a lot knows two important things:
…It takes a lot of different pans to make a lot of different pastries…
…and the quality of the pans makes all the difference.
With the pans and tools at their disposal in a well-curated professional kitchen…
…pastry chefs can create an endless variety of baked goods.
Choosing the right baking pan for home baking requires sourcing the right types…
…and ensuring they are of adequate quality all on your own.
It can be quite an investment and should be approached carefully.
What do you enjoy baking the most?
In terms of desserts, pies, cakes, breads, tarts, cookies, cupcakes, muffins…
…what are the people you feed most fond of?
With so many possibilities for unique and personal expressions of love all baked…
…into something tasty, specialty baking can also be quite addictive.
It's still important to have a few baking pans in your kitchen…
…even if you don't bake much.
If you are a baker, this list will be especially helpful to you.
Because so many of you have been baking more…
…and because the holidays will be here before we know it…
…we thought it was pie time to take a look at all the essential baking pans…
…and all the key sizes.
Before we move on to next section, let's hear Mia's story…
Baking is our family's favorite activity.
Although we don't have superior decorating skills, we compensate with good taste and flavor.
But we're doing our best. There are 8 pieces in this baking pan set.
The nonstick surface is actually great. With the 2 round pans,
my husband made us a fudge cake.
Even though he forgot to grease/spray the pans before baking,
the cakes were still easy to remove.
Now is the time to get started…
Baking Pan Types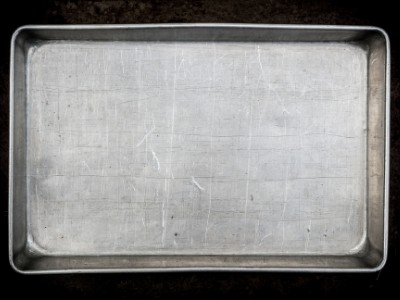 A 9×13-Inch Baking Pan
Typically holding about three quarts, the standard pan size is a versatile one.
With no major alterations, you can also convert…
…almost any basic cake or cupcake recipe into a 9*13 pan.
Glass and ceramic are more presentable for items such as casseroles and sheet cakes…
…but metal is more versatile.
An 8×8-Inch or 9×9-Inch Square Baking Pan
This is what you'll need for brownies and bars.
This pan, in particular, is, in our opinion, the ultimate brownie pan.
The edges get perfectly crisp and chewy (the corners are the best!)…
…and everything else cooks equally…
…thanks to the micro-texture on the bottom…
…that encourages air flow and easy release when it's time to slice.
Two Commercial-Quality Half Sheet Pans
Half-sheet pans in commercial quality and at least two of them are recommended.
It is not a good idea to cut corners when it comes to baking sheets:
…choose heavy ones, and steer clear of nonstick and dark pans.
Nonstick doesn't really help and darker pans brown baked goods too quickly.
Keep reading…
Two 9- or 10-Inch Round Cake Pans
This is a standard size for traditional layer cakes…
…but it can be used for other dishes as well…
..like biscuits, sweet rolls, and even meatballs.
You might have a problem with your pans…
…if you have trouble making flat cakes like the ones you see on Instagram.
They will release your cakes time and time again…
…and give you uniformly flat cakes that you won't have to trim or shave.
A Muffin Pan or Paper Soufflé Cups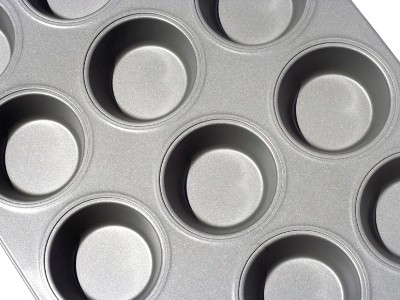 It is essential to have a muffin pan if you bake muffins and cupcakes often.
We love that this pan will stand up to batch after batch…
…but our favorite thing is that the edges are slightly rounded…
…so you can grab the pan even while wearing bulkiest oven mitts.
A 9- or 10-Inch Pie Pan
Pie pans aren't just for pies: you can also roast a chicken in them or make a quiche!
Deep pie dishes can accommodate a lot of filling.
They are best made of glass or ceramic.
Go on…
A 9×5-Inch Loaf Pan
A standard loaf pan can be used to cook everything…
…from pound cakes to banana bread, meatloaf, and yeast breads.
For the best results, use a heavy loaf pan.
Perhaps you are wondering…
What to Consider When Choosing the Best Baking Pans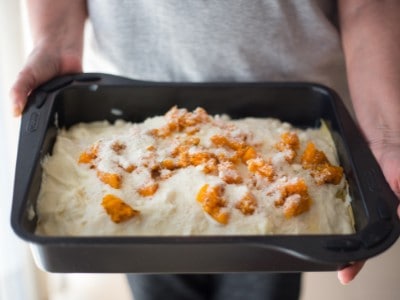 The best baking pans to buy will vary depending on what you want to cook…
…how much you want to cook, how easy they are to clean, as well as your budget.
Material
The most common materials used for baking pans are glass, ceramic, and metal.
Your food will cook faster and turn out differently…
…depending on the material you choose.
Ceramic and glass ovenproof pans heat faster…
…and more evenly than metal ones.
Furthermore, they will retain heat, which is useful if you want to serve food in them.
You should use glass or ceramic when cooking acidic foods, such as lasagna…
…since acids from tomatoes or citrus react with metal…
…and give the finished dish a metallic taste.
With glass pans, you can see the progress of your food while cooking.
Aluminum or steel baking pans conduct heat more efficiently…
…so food cooks more quickly in them.
Although stainless steel is the preferred material for pros…
…stainless steel pans do not have a nonstick coating…
…so they take longer to prepare for baking.
When you're done with them, you can pop them in the dishwasher…
…since they're so durable. 
It's best to choose double-thick metal with rolled edges that are warp-resistant…
…since even baking pans can get so hot they lose their shape.
"For instance, glass pans conduct heat well, while silicone ones often don't; however, the latter are great for cupcakes and muffins because they're nonstick."

Karen Resta – Writer
Nonstick Coating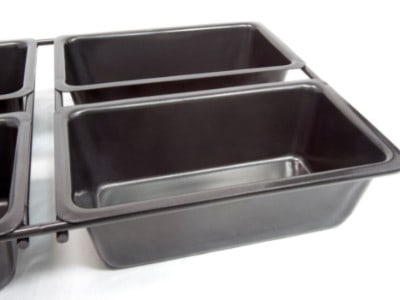 Nonstick pans are easy to clean and easy to prepare for use.
They also don't stick to food, which is great.
Nonstick pans can be scratched easily, and metal utensils cannot be used on them.
They are not dishwasher-safe, and the nonstick coating wears off over time.
There are some people who are hesitant to use nonstick baking pans…
…because they believe the Teflon on them can transfer carcinogens to their food…
…but this is not the case. In addition, most nonstick bakeware…
…does not contain Teflon and instead uses a silicone-based coating…
…that is considered safe.
Serving Capacity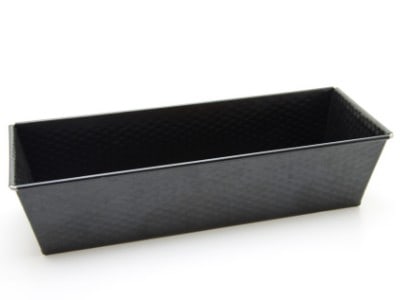 The size and number of pans you need…
…depend on the amount of food you plan to prepare.
Making baked goods to share with your friends…
…and neighbors is a great reason to invest in a set of pans…
…or multiples of the pans you intend to use.
For instance, do you regularly bake cupcakes for your child's classroom?
Buy enough muffin pans to make 24 cupcakes at once.
Would you like to give bread to your neighbors for the holidays?
Purchase a couple of loaf pans.
Do you make lots of cakes? You can make tiered cakes…
…that are to die for with two or three cake pans.
Edges
The sides of your pan are made to accommodate its function.
Generally, sheet pans have a 1-inch high rim…
…that keeps liquids and drippings contained.
Sheets of cookie dough do not have a raised edge…
…so you can remove cookies easily.
Quarter-sheet pans have higher edges (about 2 inches)…
…so they can hold sheet cakes, brownies, and casseroles.
Bundt and tube pans have high sides for accommodating tall cakes…
…while round cake pans have sides that are 2 to 3 inches tall.
Handles
Sheet pans and cake pans usually don't have handles…
…while ceramic and glass baking dishes do.
Generally, roasting pans have handles…
…which makes them ideal for cooking heavier items like a turkey, ham, chicken, or brisket.
Versatility
Consider buying pans with multiple uses if you don't have a lot of storage space.
Sheet pans and 9-inch by 13-inch pans are probably the most versatile….
…accommodating an entire meal and many different desserts.
With specific pans for specific dishes, you can get creative with your cooking.
A muffin pan can hold mini quiches or individual frittatas…
…while a loaf pan can hold bread in addition to meatloaf and small casseroles.
Ease of Cleaning
The easiest pans to clean are those with a nonstick coating…
…as the residue can be easily removed with a standard sponge.
Anodized aluminum versions will usually clean up as well…
…especially with a soft, abrasive scrub pad.
You can save some time by choosing a dishwasher-safe version.
You can make cleanup even easier by lining your pan with parchment paper.
For those pans that tend to get burnt and crusted over with food…
…try baking soda and hydrogen peroxide mixed together. 
In many cases, after using glass or ceramic options…
….they will become easier to clean if they are soaked first.
Alternatively, baking soda and dishwasher detergent can be used equally effectively.
Our Articles About Baking Pans
What kind of loaf pans do you require? What about the size?
What factors do you consider while adjusting baking times…
…for different materials with bread baking pans?
We'll break it down for you: metal, glass, silicone, and stoneware.
Pans for loaves! There are so many different styles and sizes to choose from.
There are so many options, and all you want to do is bake some banana bread.
I get what you're saying!
The good news is that you can get by just fine with one low-cost loaf pan.
Or, if you're like me, you'll have so many that you'll need to put them…
…in a basement plastic container. In any case, this instruction will assist you.
Yes, a glass loaf pan can be used to create banana bread.
A delightful banana bread recipe can be baked in a glass loaf pan.
However, if you're not careful, your bread will turn out dark on the sides.
Banana bread baked in glass loaf pans often turns out darker than usual.
Read the article to find out more about this topic!
Make Bread Without a Loaf Pan? It's no problem.
Bread dough can be readily fashioned into a variety of shapes…
…such as rolls, wreaths, and braids, then cooked on a parchment-lined sheet pan.
Read the article to find out more about this topic!
Sum Up!
Baking pans are just as important as any ingredient we use…
…or any skill we have as bakers.
A good quality baking pan will go a long way…
…towards making your baked goods the best they can be!
When shopping for new pans, there are several things to consider…
…that we discussed above to ensure that you make the right choice for your baking needs.
Conclusion
Various baking pan materials behave differently in the oven…
…which can really throw off the baking time.
Baking times are highly affected by the type of pan used…
…but once you know how each material reacts…
…you can make adjustments to the temperature and time as needed.
Hi there! I'm a food enthusiast and journalist, and I have a real passion for food that goes beyond the kitchen. I love my dream job and I'm lucky enough to be able to share my knowledge with readers of several large media outlets. My specialty is writing engaging food-related content, and I take pride in being able to connect with my audience. I'm known for my creativity in the kitchen, and I'm confident that I can be the perfect guide for anyone looking to take their culinary journey to the next level.