What is that?
Cast iron cookware is specialize cookware…
…that known for its heat retention durability…
…ability to withstand extremely high temperatures…
…and ability to cook without sticking when properly seasoned.
Seasoning is also used to prevent rust on bare cast iron.
Fry pans, dutch ovens, griddles, waffle irons, flattop grills, panini presses…
….crepe makers, deep fryers, tetsubin, woks, potjies…
…and karahi are all examples of this type of cookware.
Let's go dive in into this!
History of Cast Iron Cookware
Cooking with this cookware has a long history in Asia, particularly in China…
…India, Korea, and Japan. Though this wasn't the first use of metal vessels for cooking..
…the first mention of a cast-iron kettle in English was in 679 or 680.
In 1180, the term "pot" was coined. Both terms were used to describe a vessel…
…that could withstand the direct heat of a fire. Cast-iron cauldrons and cooking pots…
…were prized in the kitchen for their durability and ability to evenly distribute heat…
…thereby improving the quality of cooked food.
Meals were cooked in the hearth in Europe and the United States…
…before the introduction of the kitchen stove in the mid-nineteenth century…
…and cooking pots and pans were either designed for use in the hearth…
…or suspended within it. Cast-iron pots were designed with handles…
…so they could be hung over a fire or with legs so they could stand in the embers.
Cast iron cookware now makes up a small percentage of the large range…
…of cookware available from kitchen suppliers. However, it's durability…
…and dependability as a cooking tool have ensured its survival. Cast-iron pots…
…and pans from the nineteenth and twentieth centuries are still in use today.
Antique collectors and dealers are also interested in them. In specialty markets…
…it has seen a resurgence in popularity. Celebrity chefs have reintroduced…
…traditional cooking methods, particularly the use of this type of cookware…
…through cooking shows. Small start-up businesses began producing..
…cast-iron cookware designs for specialty cooking markets in the 2010's.
Keep reading..
Surfaces Types of Cast Iron
Bare Cast
Cast iron is a popular choice for searing or frying…
….because of its ability to withstand and maintain high cooking temperatures..
…and its excellent heat retention makes it a good choice for long-cooking stews…
…or braised dishes. When properly cared for, cast-iron skillets…
…can develop a "non-stick" surface, making them ideal for frying potatoes…
…or preparing stir-fries. Some cooks believe it is a good option for egg dishes…
…while others believe it imparts an off-flavor to the eggs.
Cast-iron pans can also be used for baking, such as…
…making cornbread, cobblers, and cakes.
Enameled surface
Cast iron with a vitreous enamel glaze applied to the surface…
…is known as enameled cast iron. The glaze's fusion with the cast iron prevents rust…
…eliminates the need for seasoning, and allows for more thorough cleaning.
Enamel cast iron is fantastic for slow cooking and extracting flavor from foods.
Furthermore, cadmium pigments used in the enameling process…
…can withstand temperatures of 1,652-2,336 °F (900-1,280 °Celsius)…
…and produce vibrant colors.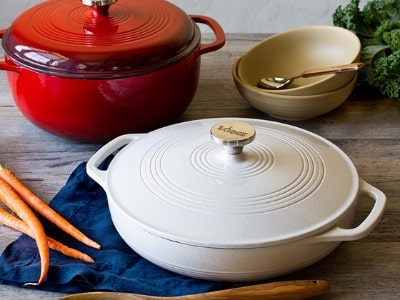 Seasoning
A stick-resistant coating is created by polymerized oils and fats in a seasoned pan.
Seasoning is the process of applying a layer of animal fat or vegetable oil…
….to cast-iron or carbon steel cookware and cooking it.
Pre-seasoned cast iron cookware (seasoning or coating applied by the manufacturer)…
…is typically stripped (seasoning removed by chemical, electric, or physical means)…
….and re-seasoned by the user, as most users prefer their own method of seasoning.
Seasoning cast iron cookware prevents it from rusting creates a non-stick surface…
…for cooking, and reduces food contact with the pan's iron.
Here's the main part!
Here Are Some Guide For You To Know More About Cast Iron!
Cast Iron seasoning, which can be purchased at most hardware stores…
…or online retailers is the best way to season a new piece of cast iron.
Cast-iron cookware is an excellent investment because…
…it can last a lifetime if properly cared for. There's no getting around…
…the fact that it requires some TLC to keep its performance over time.
The good news is that if you treat. your cast iron properly…
…it will be able to withstand high temperatures…
…without losing its flavor or texture.
Preparing the eggs ahead of time and things to do while they're cooking…
…are both important steps in preventing eggs from sticking to an enameled cast pan.
Let's take a look at each one individually. The well-rounded egg necessitates…
…proper pan care. If you treat your pan with respect and care…
…it will serve you well for a long time.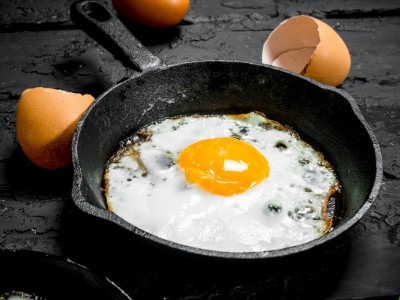 Yes, you can season a cast iron pan or a Dutch canola oil oven. It is risk-free.
The refined canola oil has a medium-high temperature…
…point of smoke of 400°F -425°F.
Also, learn about other types of best oil for seasoning that you can use…
…so that you have a variety of options. Furthermore, this oil is safe for your health…
…and adds natural flavor to the food without altering the food test.
What kinds of foods can you cook in an enameled cast iron pan…
…and can you use it to make breakfast foods like eggs?
Cooking eggs in an enameled cast iron pan is similar to cooking eggs…
…in any other pan. This is not a beginner-friendly pan for cooking eggs…
…because it requires specific techniques such as seasoning the pan…
…and monitoring the heat. If you want to learn how to keep your eggs…
…from burning or sticking to your enameled cast iron, this article is for you.
Keep Going…
And Here We Have Our Review About Cast Iron Products
If you've been using an electric waffle maker, switching to a cast-iron waffle…
…maker may seem like a big step backward, but there are several reasons why…
…the iron version is even more convenient. If you're looking for the best waffle maker…
…with removable plates, we've also put together a guide to assist you.
Without the use of electricity, delicious waffles can be made…
…with this waffle makers. You can make delicious, light, and fluffy waffles…
…with these irons and a stove, campfire, or gas cooker.
How many of you have been looking for a new cast iron skillet?
If so, then this blog post is for you!I took the time to research and test out…
….different brands and types of cast irons. Have you been on the lookout…
….for a new cast iron skillet? If that's the case, this article is for you!
I spent time researching and testing various brands and types of cast irons…
…available on the market today! Because this review is based…
…on my personal experience cooking in a variety of ovens…
…it will be more detailed than most others.
STAUB Cast Iron stood out as the best because it meets all of my requirements!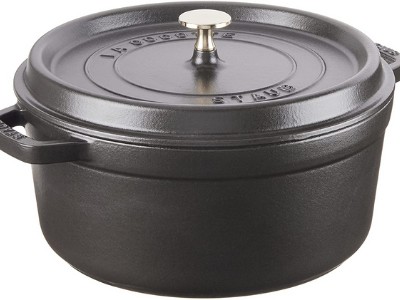 For You About Cast Iron!
Hi there! I'm a food enthusiast and journalist, and I have a real passion for food that goes beyond the kitchen. I love my dream job and I'm lucky enough to be able to share my knowledge with readers of several large media outlets. My specialty is writing engaging food-related content, and I take pride in being able to connect with my audience. I'm known for my creativity in the kitchen, and I'm confident that I can be the perfect guide for anyone looking to take their culinary journey to the next level.