Do you need a quick and simple breakfast recipe? Then attempt to prepare oatmeal! Even those who are not huge fans of oats will enjoy the creamy, oatmeal-like texture of this nutritious breakfast.
Oats, water, butter or margarine, salt, and brown sugar are all you need. Here are some pointers for making oatmeal the best you can.
---
Quick and Easy Ways Cooking Oatmeal: Simple Recipes
Oatmeal is healthy, whether steel-cut or rolled, quick-cooking or instant, according to experts—with a few restrictions.
The high fiber content of oatmeal aids in feeling full reduces the need for insulin and improves intestinal health. Additionally, it is a source of minerals, including magnesium, as well as vitamins B and E.
Oats provide a balanced nutritional profile. It has an excellent balance of amino acids and is a solid source of quality protein and carbs. Oats are rich in oat lipids, particularly unsaturated fatty acids, as well as minerals, vitamins, and phytochemicals.
Because the fiber content in oatmeal is so healthy, we can eat this food for breakfast by processing it in a simple way. However, you can choose to make oatmeal in the microwave. Or as another option, you can use a stove (you can read the recipe here: How to Cook Oatmeal on Stove).
Tips on how to make oatmeal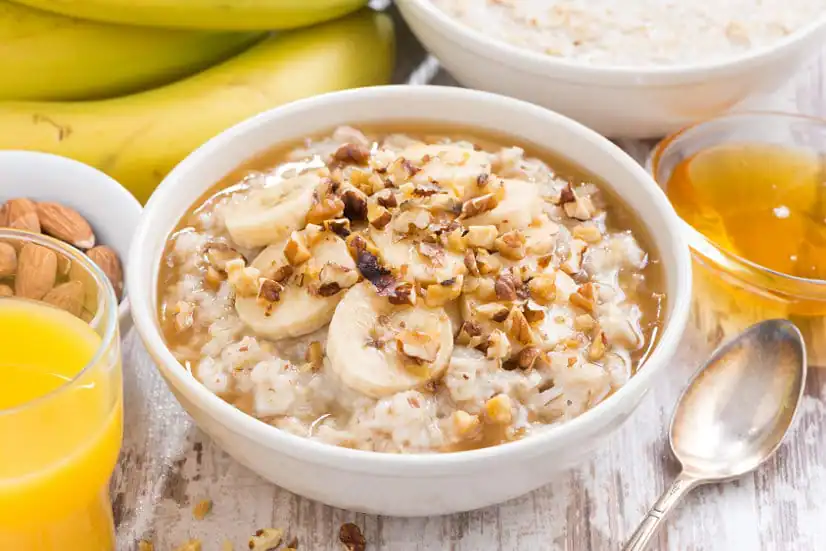 Breakfast of champions is about to begin! There are many different methods to prepare oats, making them a quick and simple way to start your day.
The optimum uniformity comes from using old-fashioned oats. I would strongly advise against using steel-cut oats if you're following this particular recipe because they require a completely different cooking procedure. While quick oats do the trick, we find them to be somewhat mushy. However, because they only require a minute in the microwave and are simpler to chew and digest, they are fantastic for children.
Regarding the oat-to-liquid ratio, be careful. Usually, this is stated on the oats package. As a rule of thumb, mix 1 cup of liquid with 1/2 cup of oats. Less liquid may not be enough to completely cook all of the oats. It could look overly mushy if you add more liquid. Sticking to the ratio is advised, and you may either add toppings to make it thicker or milk to make it thinner.
Keep salt on hand. When I first made oatmeal with salt, it suddenly made sense to me as to why it was necessary. It has a way of enhancing the flavor and making it less dull. It's challenging to explain, but it actually highlights the oats' sweetness and nuttiness. However, you only need a pinch.
Now that you can make your own oatmeal at home, you can wave goodbye to oatmeal packets. I guarantee it will be just as simple but ultimately considerably more affordable and delicious.
The nicest feature is that you can completely customize how to prepare it and what oatmeal toppings you wish to include.
How to Make Oatmeal
Nothing gets the day started like a bowl of steaming oats! And all you need to make it yourself are some oats and water. Use a spoon to consume them hot or cold once they are fully cooked.
Enjoy with your favorite toppings! To prevent them from sticking to the bottom of the pot, stir them every few minutes. Additionally, if you're feeding a large group, consider making oatmeal in a stovetop pot. It won't take long for it to be ready!
Here are instructions on how to prepare oatmeal on the burner, in the microwave, and in four other ways. It's a simple breakfast meal with heart-health benefits.
Ingredients
Base Ingredients for a Recipe
Old-fashioned rolled oats, 1/2 cup
12 cups of any kind of milk
12 cups of water
A dash of salt
Brown Maple Sugar
1 teaspoon brown sugar, packed
Maple syrup, one teaspoon
2 teaspoons of chopped pecans
Cinnamon, 1/8 teaspoon
Fruit Nut
12 sliced banana
2 teaspoons of walnuts
1/4 cup ground flaxseed
Cinnamon, 1/8 teaspoon
Cherry & Strawberry
sliced strawberries in a cup
1 spoonful of the concoction
Honey, 2 teaspoons
One-eighth teaspoon of vanilla extract
Butter Peanut Chocolate
2-tablespoons of cocoa powder
a single tablespoon of creamy peanut butter
Chocolate chips, 2 tablespoons
1 teaspoon of peanuts, toasted
Instructions
Advice on using a microwave
Stir all the ingredients together in a medium microwave-safe bowl. Heat for two minutes on high in the microwave.
Then continue adding at 15-second intervals until the oats puff up and soften. Only the first time you make it do you need to do this. Following that, you can determine the precise amount of time required and repeat. Before serving, stir.
Instructions for the stove
Bring the water and milk to a boil in a small saucepan. Pour the oats in after lowering the heat. Cook for about 5 minutes, stirring regularly, or until the oats are mushy and have absorbed the majority of the liquid. Turn off the heat, cover, and let stand for two to three minutes.
Assembly
Add the toppings after stirring, and set aside to chill. If needed, add a little extra milk to thin. Provide hot.
Find other recipes for making oatmeal on our blog. Go here: How to Make Oatmeal With Milk – The Best 4 Ways to Start Your Day.
---
Conclusion
Cooking oatmeal can be a quick and easy way to get your breakfast fix, and there are plenty of ways to make it delicious!
You may prepare delicious and healthy oatmeal by using the advice in this article. What are you still holding out for? Make some food!
Thanks for your feedback!
Hi there! I'm a food enthusiast and journalist, and I have a real passion for food that goes beyond the kitchen. I love my dream job and I'm lucky enough to be able to share my knowledge with readers of several large media outlets. My specialty is writing engaging food-related content, and I take pride in being able to connect with my audience. I'm known for my creativity in the kitchen, and I'm confident that I can be the perfect guide for anyone looking to take their culinary journey to the next level.