What Is Pour Over Coffee
Pouring hot water through coffee grounds in a filter is…
…the pour over method is the basic of of how to make pour over coffee.
A mug or carafe is used to hold the filtered water after it passes…
…through the coffee. In addition to pour over and drip coffee…
…the terms filter coffee and batch brewers also refer to drip or filter coffee.
The difference is that pour over consists of hand-pouring..
…the water over the coffee. So it may also be referred…
…to as manual brewing or hand brewing.
While the technique has been used in Europe since the 1900s…
…and elsewhere for much longer, it was only recently "rediscovery"…
…by the specialty coffee movement.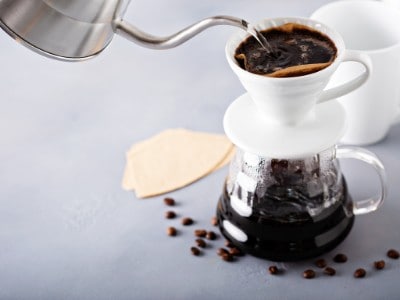 I was taken by the power that savoring a simple cup of coffee can have to connect people and create community."

Howard Schultz, ex Starbuck CEO
Keep reading!
How to Make Pour Over Coffee
Brew guides Big trends in coffee culture, have a way of being so impressive…
…that they seem daunting and complex for the average consumer. If that's you…
…I'm here to tell you that pour-over coffee is the easiest way…
…to enjoy a freshly brewed cup of coffee. Here, we have story…
…from Sean about his experience first exposed with pour over coffee…
…for the very first time. 
Let us hear Sean's story
I have a long history with coffee. And it started when I was quite young…
…since I was 10 I think. How did I become a pre-teen for a penchant for coffee?
It wasn't a need for caffeine. Lord knows, no child needs more of that…
...which is precisely why I was limited to one cup on the weekends.
I truly loved the taste!
The flavor. I got it when I was quite young and living in Panama.
My sister and I had a maid who allowed us enjoy a cup of coffee…
…with a lot of milk and sugar. Looking back, that was definitely…
…not the finest present for a little girl, but it could have been worse.
I drank coffee from that time till I was a college student. Coffee with a regular drip.
My family then relocated to Spain, and I worked at the Embassy in Madrid…
...over the summer between my first and second years of college…
...where I was first exposed to pour over coffee. The flavor was out of this world!
This is the finest cup of coffee I've ever had in my life! After that, when…
…I returned to the United States, I purchased all of the necessary equipment…
…for preparing pour over coffee, and now I drink my own coffee every morning.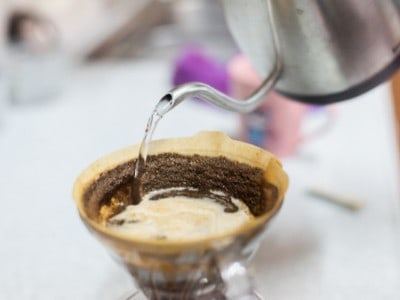 After reading story above, don't you want to have some good pour over coffee?
Don't worry, if you don't know how to do it in here we have step by step guide…
… to help you out make pour over coffee by yourself!
Let's dive in into it!
Step-by-Step Make Pour Over Coffee
Make sure you read through each step before you start if this is your first pour over.
Timing is everything when it comes to this method of brewing…
…and you don't want to end up on the wrong end of the timer…
…while reading up on the next step. While you might be familiar…
…with Hario coffee makers and the like, it doesn't hurt to go over the basics.
Step 1 – Make Pour Over Coffee: Heat Water
For almost any type of coffee that requires hot water, the ideal temperature…
…is between 195 and 205 degrees Fahrenheit (90 and 96 degrees Celsius).
When it comes to experimenting on your own, AeroPress pour over enthusiasts…
…are known to experiment with a 10-degree margin. You should be pleased…
…with the results if you aim for around 200 degrees Fahrenheit (93 degrees Celsius).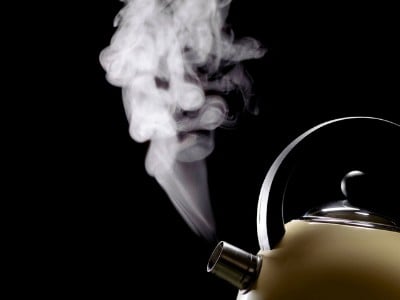 Step 2 – Make Pour Over Coffee: Place and Rinse Filter
For the filter rinse, you can use either hot or cold water, though hot water…
…is more common. Although there are different opinions…
…about what this step does to the final cup, most agree…
…that it's better to be safe than sorry. Wetting the filter first rinses…
…any loose paper fibers and prevents the filter from absorbing…
…too much of the flavorful components of the coffee during brewing.
Be sure to toss out the water that drains into your cup…
…after rinsing your filter over it.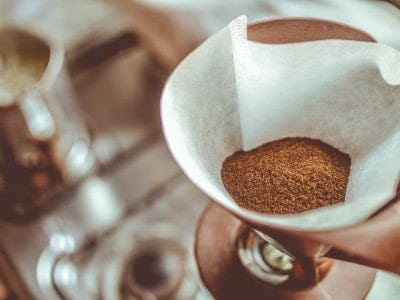 Keep reading…
Step 3 – Make Pour Over Coffee : Place Dripper
Pour over drippers can be made in a variety of ways, but the most…
…popular models fit over the average coffee mug. Demi-tasse cups…
…are too small for most drippers, while extra-large coffee bowls are too wide.
Consider something like a Chemex dripper and carafe set…
…if you want to make a large amount of pour over.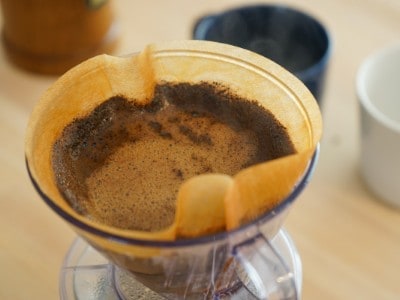 Step 4 – Make Pour Over Coffee: Grind (and Weigh) Coffee and add to Filter
National Coffee Association USA (NCA) claims a standard ratio…
…of coffee grounds to water is about a tablespoon or two of ground coffee…
…for every six ounces of water, then you don't need to weigh out…
…your coffee to the milligram to get a drinkable cup.
In the same vein, I must inform you that you will probably have…
…a better brewing experience if you carefully measure your coffee…
…by weight rather than volume. Inconsistent grinding sizes…
…can result in different volumes measured by weight, so…
…consistent grinding sizes do not matter as much. As a starting point…
…shoot for a 1-to-17 coffee-to-water ratio, which means you would need…
…about 10-11 grams of ground coffee to make that 6-ounce cup.
Pour over coffee ratios and pour over coffee grind size comparisons…
…suggest that most pour over methods require a medium-coarse grind.
The grind size of pour over coffee is similar to that of most prepackaged coffees…
…brewed in automatic drip brewers. You can find more details about drip…
…and pour over differences. During a manual coffee-making process…
….it is tempting to make every step into an opportunity to improve…
…the process a little, but you don't have to be too fussy about…
…how you put the ground coffee into the filter. It doesn't need to be sprinkled…
…like a soft rainfall with a Salt Bae flair. You may find that some aficionados…
…arrange it into a mound, while others, in opposition, create a divot…
…in the center to achieve even saturation. I know my way around coffee…
…but I am not the one to guess how to put coffee in a pour over filter…
…without knowing the science behind it.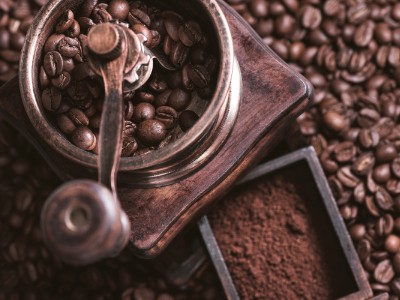 Go on…
Step 5 – Make Pour Over Coffee: Bloom Grounds
I am not convinced that how you stack your coffee grounds…
…in the filter has any significance, but blooming your grounds is a must.
There is enough scientific evidence here that many modern auto-drip…
…brewers come with an automatic blooming timer. This process is simple…
…but it must be completed in a timely manner. By pouring a thin stream…
…of hot water around the outside and inside of the container…
…you introduce a small amount of hot water. You want to get all…
…the coffee wet, but not so much that it starts dripping.
Step 6 – Make Pour Over Coffee: Wait!
I really mean it! It doesn't take long for you to wait. In spite…
…of the mere 15-20 seconds required for a coffee bloom, it's a crucial period…
….during which you should not disturb the coffee at all. You can experiment…
…with bloom time a little depending on your setup, just like you …
…can with temperature. You should wait at least 20 seconds, but…
….you can wait a minute and a half if you want to explore…
…just how much flavor you can extract from your beans before you go too far.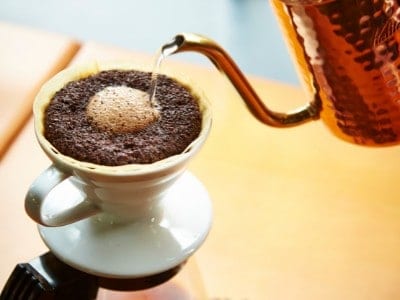 Step 7 – Make Pour Over Coffee: Slowly Pour Water
There's an art to the actual pour-over moment, which elevates…
…this brewing technique to the trendy heights it enjoys. Carefully pour water…
…through the pullover at a speed that will drain the entire volume of water…
…in 2 minutes. You should be careful not only about how much water…
…you pour over your coffee, but also how quickly. To produce the best flavor…
…the coffee must be consistently saturated. In addition to a timer…
…some enthusiasts use a scale so they can match the rate…
…at which they pour with the amount they're pouring. You can't deny…
…those amazing results, even though this is a high-tech and high-maintenance system.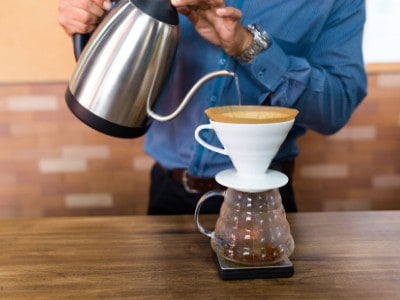 Last but not least…
Finish: Pour, and Enjoy Your Pour Over Coffee
You have earned a moment to enjoy your accomplishment…
…when you've made it to the end of your pour. Manually brewing coffee…
…won't provide instant gratification, but it will provide you…
…with a drink that is as fresh as it can possibly be.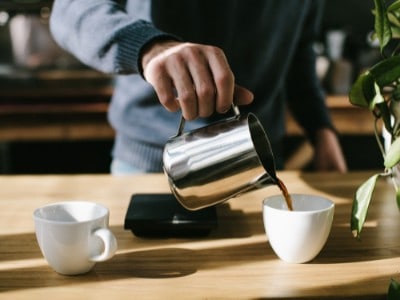 The last part…
After: Rinse and Clean
Aromatic oils give coffee its distinctive flavor, but the build-up…
…of these oils can also make future cups of coffee taste horrible…
…because they turn rancid over time. If you want to keep your brews tasting…
…as fresh as possible, clean your coffee-making accessories regularly…
…with plain white distilled vinegar! If you are looking…
…for best pour over coffee maker recommendation, we have a list for you.
Sum Up
The pour over method is popular among baristas because…
…it gives you complete control over the brewing process. By monitoring…
…the even and thorough saturation of the grounds, baristas..
…may manage the flavor extraction process. It's not only excellent to drink…
…but it's also entertaining to create. Many coffee drinkers, particularly…
….those who enjoy black coffee, prefer the pour over method…
…because they believe it produces a more flavorful cup. Because…
…the brewing process is lengthier, the flavor extraction is more complex.
The more flavor is removed, the slower the water filters through the grounds.
Conclusion
Pour over coffee can be a simple and effective technique…
…to brew your daily cup of coffee. You'll be well prepared to make…
….a respectable brew and have the skills to adjust it until it becomes…
…a superb one if you understand these essential subjects.
That's all I've got for now. Do you have any other questions…
…concerning this subject? or do you want to include a method…
..that will assist you in making pour over coffee? Simply let us know…
…in the space provided above! Don't be afraid to speak up. So…
…what do you have to lose? Grab your tools and make some coffee…
…on your own to experience the wonders of the pour over!
Just For You!
Hi there! I'm a food enthusiast and journalist, and I have a real passion for food that goes beyond the kitchen. I love my dream job and I'm lucky enough to be able to share my knowledge with readers of several large media outlets. My specialty is writing engaging food-related content, and I take pride in being able to connect with my audience. I'm known for my creativity in the kitchen, and I'm confident that I can be the perfect guide for anyone looking to take their culinary journey to the next level.