Buying a KitchenAid artisan sale will not be complete if you haven't collected the attachments.
When the KitchenAid artisan sale hits, you'll want to stock up on the best attachments for your mixer. Here are ten of our favorite places!
---
KitchenAid Artisan Sale: KitchenAid Mixer Attachments
---
Gourmet Pasta Press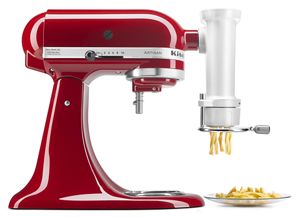 Don't worry if a trip to Italy is out of your price range. You can cook fresh pasta at home on your own. Six different pasta shapes, including spaghetti, bucatini, rigatoni, fusilli, and large or little macaroni, are simple to prepare using this gourmet press.
Simply attach the attachment to the power hub of your stand mixer, then add your preferred handmade dough.
You can read how to mix the dough using a mixer on our blog. Go here: How To Mix Dough With a Mixer, Superb 8 Steps To Do It!
---
Spiralizer
You can buy this spiralizer on amazon if you don't have one yet. This spiralizer attachment is for you if you enjoy the vegetarian noodle craze. Spiralizing potatoes, zucchini, squash, and other produce goes swiftly with the help of your stand mixer's motor and sharp blades.
Five different blades provide a range of cuts, from thick ribbons to tight, spaghetti-like spirals.
---
Ice Cream Maker
Thanks to this bowl attachment, a serve of freshly made, delicious ice cream is only minutes away. Place the bowl in the freezer for the night, then add your preferred frozen dessert recipe and the spinning paddle.
---
Sifter and Scale
This attachment automates the tedious work of measuring and sifting your dry ingredients for you, saving you time!
The attachment quickly weighs, incorporates, and sifts ingredients when it is attached to the mixer's power hub. Additionally, you can use it for wet ingredients because the scale is detachable.
---
Food Grinder
Have you ever tried to mix a meal by hand and felt as though your arm was going to give out from exhaustion? You require this food grinder attachment if so.
It quickly grinds meats, creates breadcrumbs, grates cheese, and combines ingredients when connected to the power hub of your mixer.
---
Food Processor
Thanks to this KitchenAid attachment, you won't need a large food processor. The device plugs into the power hub of your mixer, and a set of discs make dicing, slicing, or julienning ingredients a breeze.
Simply adjust the sliding slicing lever to regulate the thickness of each cut for increased precision. Make one of our favorite salsa recipes, potato pancakes, and much more with your processed bounty.
---
Pasta Cutter
To prepare pasta like a master, read on. So you require this sheet cutter. Choose between the thick-cut Lasagnette Cutter or the thin-cut Capellini Cutter, and it will slice pasta sheets into beautiful noodles after it is attached to the stand mixer's power connector.
You can prepare pasta that would satisfy an Italian grandmother in a matter of minutes.
---
Juicer and Sauce Attachment
This addition to your kitchen is worthwhile if your morning ritual includes a glass of freshly squeezed green juice.
This add-on device can take the place of other large, standalone appliances because it is designed to expertly make juices, sauces, and jams.
Additionally, select from three different pulp screens to guarantee the ideal texture for your finished product.
---
Slicer and Shredder
Although convenient, store-bought cheese shredders fall short of the quality of freshly shred cheese. Cheese, fruit, and other components are simple to shred (or slice!) with this attachment.
To use, just plug in the appropriate blade, connect the attachment to the power hub of your stand mixer, and pour ingredients into the chamber. Nothing could be simpler! Make one of these delicious recipes using shredded cheese.
---
Grain Mill
It might get pricey to purchase pre-ground grains from the shop. Additionally, you're speculating that the oat flour you chose is still fresh.
Thankfully, a better approach exists. Owning a grain mill is simple with this KitchenAid attachment.
---
More Related Articles
Thanks for your feedback!
Hi there! I'm a food enthusiast and journalist, and I have a real passion for food that goes beyond the kitchen. I love my dream job and I'm lucky enough to be able to share my knowledge with readers of several large media outlets. My specialty is writing engaging food-related content, and I take pride in being able to connect with my audience. I'm known for my creativity in the kitchen, and I'm confident that I can be the perfect guide for anyone looking to take their culinary journey to the next level.