Except for cucumber, carrots, or radish…
…with black salt eat in the afternoon…
…salad has mostly been a side dish in the Indian diet.
As an accompaniment to meals, onions, cabbage…
…lettuce, carrots, tomatoes, etc. are usually sliced…
…and sprinkled with salt and lemon.
Salads have recently been accepted as main meals, so it's time to upgrade our diets.
Salads can be prepared in many creative ways so they are tasty…
…appealing, crunchy, nutritious, and filling.
It is easy to make and available at most restaurants and cafes.
Salads are suitable for consumption throughout the year regardless of the weather.
Before we move on to next section, let's hear Clara's story…
I used to consume almost no vegetables because I was such a meat lover.
But then I got sick. I started eating salads as a side dish ever since.
After learning about salad's many health benefits,
I included salad as a main dish on my menu.
Furthermore, I began to suggest to my friend to eat salad because it is so healthy.
Now it's time to get started…
The Benefits of Eating Salads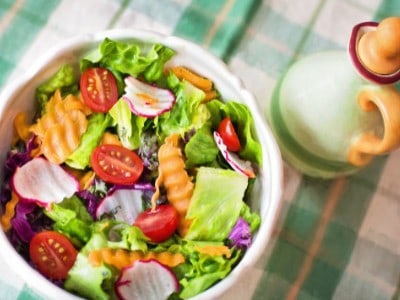 Anti-aging
It's hard to avoid their crunchy texture, vibrant colors…
…and mesmerizing smell once you've tried them.
Eating raw vegetables every day is beneficial to your health.
Vegetables contain nutrients that improve your overall health.
It helps you maintain a healthy weight and an energy level reminiscent of your youth.
If vegetables boost your energy and liveliness, then why not eat them?
A salad is also one of the easiest foods to prepare.
Fiber-rich
Raw vegetables and leafy greens are packed with fiber…
…which is the most important carbohydrate.
Regulates cholesterol levels; reduces LDL or bad cholesterol. 
Fiber helps control blood sugar levels as well.
Fiber-rich foods can help you lose weight and keep it off. 
Fiber promotes healthy bowel movements, preventing bowel disease.
Fiber-rich diets are recommended by doctors…
…because they prevent and reduce the risk of several types of cancer…
…including breast, mouth, colorectal, throat, esophageal, and others.
Packed with Nutrition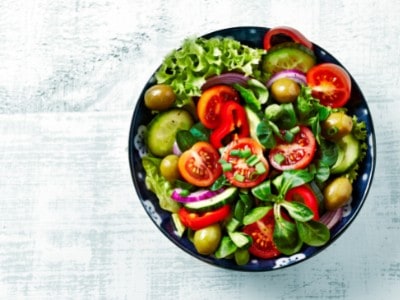 Fresh vegetables and fruits are essential for our well being.
Of course, everyone knows this. What keeps us away from them, then?
By including fruits and vegetables in your diet…
…you may reduce your risk for strokes, heart disease…
…eye problems, and digestive problems. 
Fruits and vegetables also help keep your appetite in check.
Even though the different colors of fruits and vegetables are very natural to us…
…you might not know that they all have different nutrients…
…and you should consume fruits and vegetables in as many colors as possible.
Additionally, you can add both fruits and vegetables…
…and prepare a delicious salad in just a few minutes.
They are packed with nutrients and boost the level of antioxidants in your body.
Some of the best green vegetables include spinach…
…kale, lettuce, beet greens, watercress, etc.
Keep reading…
Weight Management
There are many health benefits that come with fiber.
Eating a salad as an entrée or a main dish fills you up faster, so you consume less.
For this reason, you should include plenty of raw vegetables in your salad.
Vegetables and most fruits are low in calories and high in nutrients.
Eating salads every day can help you stay slim or maintain your weight.
You should replace fatty foods with salads.
You will see a difference within a few weeks if you eat a salad every day.
Good Source of Healthy Fats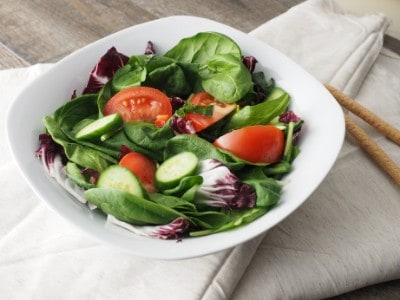 Salads can be topped with several things, such as raw or roasted seeds.
To get your daily intake of good fats…
…include sesame, pumpkin, sunflower, chia, ground flax, and other seeds. 
Add small amounts of healthy oils like olive oil as well. 
You can also add avocado to make your salad even better.
The additions assist the body in absorbing lutein…
…phytochemicals, and protective compounds.
They also make the salad more filling.
"Eating a little good fat (like the monounsaturated fat found in olive oil, avocado and nuts) with your vegetables appears to help your body absorb protective phytochemicals, like lycopene from tomatoes and lutein from dark green vegetables." 

Elaine Magee, MPH, RD – Nutrition Expert and Writer
Go on…
Muscle Performance Improved
Protein is essential for building and repairing muscles…
…as you may have read or heard. There is no doubt about that.
If, however, you neglect other essentials like vegetables and fruits…
…you might not benefit from your efforts.
Spinach is not only good for your bones…
…but it is also good for your energy levels and muscles.
Vegetables contain nutrients that increase the performance of mitochondria…
…the cell's powerhouse. This benefits you when you work out or exercise. 
It is good to consume beets, spinach, mushrooms, sweet potatoes, and peppers.
If you cannot eat them raw, then boil them.
Antioxidant-rich
In the form of carotenoids, several vegetables you add…
…to your salad provide Vitamin A and C.
Leafy green vegetables like spinach and carrots are also high in Vitamin A.
A more balanced mix of these antioxidants can be found in broccoli…
…tomatoes, and red peppers. Red peppers are particularly rich in antioxidants.
Red lettuce, romaine, and spinach are good for your eyes…
…because they help them adjust from bright to dark…
…in addition to filtering out high intensity light.
They protect them from free radical damage.
This part is also interesting…
Types of Salad You Need to Know
Caesar Salad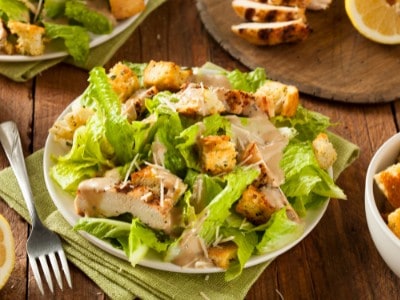 This salad is fit for a king. Salads like this crunchy…
…peppery one are usually tossed in a dressing or vinaigrette.
Classic romaine salads are topped with croutons and shaved parmesan cheese…
…then drizzled with Caesar dressing. 
Homemade dressing really makes this salad stand out.
Caesar dressing typically contains lemon juice, oil, anchovies…
…Worcestershire sauce, garlic, pepper, mustard, and cheese.
Caprese Salad
Caprese salads, made with tomatoes, fresh mozzarella…
…and basil, are a summertime must-have.
And yes, Caprese is a salad.
This Italian classic has only three main ingredients…
…but still provides you with a burst of fresh flavors.
Serve it with balsamic vinegar as an appetizer or as a light lunch.
Chef Salad
Do not be intimidated by its name…
…you don't have to be a culinary expert to make this salad.
In fact, the chef salad recipe is very simple to follow.
The key is in the presentation.
In a chef salad, ingredients such as deli meats, eggs, tomatoes…
…onions, carrots, and radishes are cut…
…into uniform bite-sized pieces over a bed of greens.
All of the ingredients will be able to shine through this way.
Cobb Salad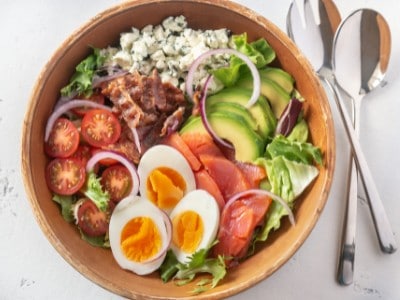 Just like chef salad, Cobb salad is easy to make.
Cobb salads are one of the most popular "composed" salads…
…which means they are arranged side by side…
…or piled on top of one another, not mixed.
Cobb salads traditionally contain chilled chicken…
…bacon, hard-boiled eggs, tomatoes, avocado, and blue cheese.
Crab Louie
Seafood lovers will enjoy the crab Louie.
Crab meat, hard-boiled eggs, tomato, asparagus…
…and Iceberg lettuce are tossed together for an old-school lunch.
Louises are typically served with Louis dressing…
…a combination of mayonnaise and chili sauce…
…though we think you can use any creamy homemade salad dressing.
Fattoush
With this Lebanese salad, you can breathe new life into leftover pita bread.
Middle Eastern food has the best of both worlds in terms of flavor.
Adding sumac elevates the dressing's acidic flavor…
…while the bread's dense and hearty texture balances out the acidity.
Greek Salad
Enjoy fresh Mediterranean flavors without booking a plane ticket.
Authentic Greek salads combine tomato, onion, cucumber, olives, and feta cheese. 
Now…
Our Article About Salad
You can make your own salad.
There's something strangely specific about the taste of salads.
As a result of their construction, they have this characteristic.
In salads, certain ingredients are combined to add a certain amount of spice.
Food items are usually grouped together by the toppings that are available.
The egg salad you'll see mainly consists of raw ingredients.
Read the article to find out more about this topic!
In this 21st century, a number of the ways of diets have popped up even more
Eating salad has become a new trend in our everyday meal time…
…and as globalization has helped us to have the ingredients from all…
…around the world. It's obvious the creativity to make varieties of salads…
…are there. Read the article to find out the recipe!
One of the most important components of a better salad…
…isn't even an ingredient; it's a better dish.
From dressing a salad to serving it for dinner…
…the best salad bowls are adapted to the task at hand.
Read the article if you are interested in this topic.
Sum Up!
Salads can be either your best friend or your worst enemy…
…depending on whether you're trying to lose weight…
…improve your nutrition or simply adopt a healthier lifestyle.
When topped with creamy dressings and packed with fatty…
…high-calorie ingredients, salads can quickly turn treacherous.
You can build a healthy salad that is not only tasty…
…but also healthy if you make smart choices.
Conclusion
Along with their natural delicious taste and wonderful crunchiness and color…
…eating a lot of fresh, raw vegetables each day is known…
…to have significant health benefits.
Let us hope this article encourages you to include…
…a good amount of salad with your meals!
You can get creative with your salad, make it colorful or crunchy…
…and share a pic on your social media!
Hi there! I'm a food enthusiast and journalist, and I have a real passion for food that goes beyond the kitchen. I love my dream job and I'm lucky enough to be able to share my knowledge with readers of several large media outlets. My specialty is writing engaging food-related content, and I take pride in being able to connect with my audience. I'm known for my creativity in the kitchen, and I'm confident that I can be the perfect guide for anyone looking to take their culinary journey to the next level.