Shrimp and sauteed spinach has always been the favorite menu…
…mostly in Asia. In some parts of Asia, shrimp is considered as…
…an expensive dish. However, it's still affordable to buy certain types…
…of shrimp. Do you want to cook them?
Let's hear a story from Stacy!
I am a chef in a Chinese Restaurant in the middle of LA.
I love my job and I like every second of it..
Even though sometimes boredom kills me,
I always find something surprising once in a while..
There's this one day when everything seems to go wrong..
I didn't catch up the metro at the right time,
There's an incident in the middle of my way to the restaurant,
…so I become so late to work, my boss almost kills me!
After a long day of run with no break, I finally took off…
…my cooking wardrobe. Turning off the lights, as I checked out everything.
Until I saw a mother and daughter not so far from my restaurant window.
They look so poor and homeless. The kid starts crying and I just can't help…
…to see more scenes. That day I have a shrimp and spinach leftover..
…from the previous cooking. Without thinking any longer I gave them,
…the food. Some days passed by, I don't see them anymore.
When the pandemic comes, I lost my job as almost everybody else too.
Desperately living for myself, I start to look around and see if there's anybody..
…that could accept me to do whatever, as long as I get paid.
Suddenly there's this new restaurant, I came in since it's still empty,
and ask if I can work there. weirdly, they accept me briefly.
The next day, I found out that the owner was the woman with the small daughter.
It's a touching story, isn't it? So how do you know the menu…
…of shrimp and sauteed spinach? Are you curious about how people made them?
You're already on the right page!
What Do I Need To Prepare For Shrimp And Sauteed Spinach?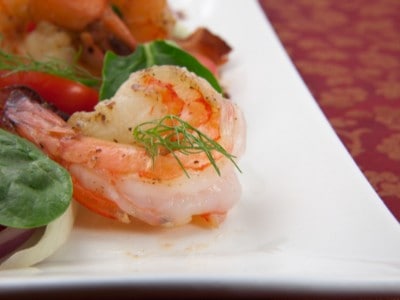 Garlic Shrimp:
1 Tablespoon olive oil or avocado oil
1 pound extra large raw shrimp- approximately 26-30 fresh or frozen, thawed, peeled and deveined
10 cloves garlic peeled and chopped
1/8 teaspoon table salt
Sprinkle of Ac'cent MSG
1/2 teaspoon paprika
red pepper flakes to taste
Spinach:
1 Tablespoon olive oil or avocado oil
1 pound fresh baby spinach leaves prewashed
4 cloves garlic chopped
1/4 teaspoon salt
1/8 teaspoon Ac'cent MSG
1/2 teaspoon black pepper
squeeze of lemon juice about ¼ of a lemon
What To Do With The Ingredients?
On medium heat, heat a sauté pan. Sauté garlic in 1 tablespoon oil until aromatic but not brown, about 30 seconds.
Stir in the shrimp, salt, and Ac'cent until the shrimp is cooked through, about 2 minutes.
Remove the pan from the heat and add the paprika.
To taste, add red pepper flakes (about 1/4 teaspoon).
Heat a second big saucepan with a cover over medium heat while the shrimp is cooking. Sauté the remaining 4 chopped garlic cloves in 1 Tablespoon oil for about 30 seconds, but do not brown!
Cover and simmer for 2 minutes with the spinach, salt, Ac'cent, and pepper.
Remove the lid, toss the spinach to evenly distribute the garlic and spices, and cook for another minute or until wilted, uncovered.
Remove from heat and add a squeeze of lemon juice.
Remove the spinach from the saucepan using a slotted spoon, transfer to a serving dish, and top with shrimp.
How To Pick A Fresh Shrimp?
Let's take a look at what "frozen" and "fresh" imply in the world of shrimp.
Currently, frozen shrimp are available. They're in a bag, and they're in…
…the frozen food area of your supermarket. They're obviously frozen.
And it's probable that they've been like this since they were…
…captured or harvested. When fishermen carry shrimp…
…aboard their boats, they quickly toss them onto the ice,
…causing them to freeze within minutes of being out of the water.
This retains the shrimp's fresh, shrimp flavor by freezing them…
…in time for same-day freshness until they're thawed out again.
Fresh shrimp are a little trickier to trust because they've most likely..
…gone through the same rapid freezing process as the frozen shrimp,
…but have been thawed by the kind people at the fish counter.
The "fresh" shrimp you see heaped on ice mountains in your…
…store was most likely frozen and are now thawed, which means…
…they're becoming less fresh by the hour. So, let us say this:
Unless you're certain that the "fresh" shrimp in the supermarket…
…are truly fresh-off-the-boat, don't buy them!
The frozen shrimp will taste, cook, and feel better than fresh shrimp.
So long as they've been reared appropriately, that is.
We've already expressed our admiration for the flavor of wild-caught seafood,
….and shrimp are no exception. The flavor of wild-caught shrimp is cleaner,
sharper, and more shrimpy than that of farmed shrimp.
It's crucial to look for that indication on the packaging.
If the shrimp aren't wild-caught, it's critical to ensure…
….that they're farmed sustainably and responsibly.
Farms will publicize this, so it's really just a matter…
of spending the extra twenty seconds scanning the packaging.
So do you know about this?
Is it Okay To Sauteed The Spinach?
Sauteed spinach is a nutrient-dense, adaptable vegetable…
…that pairs nicely with a variety of protein sources.
The advantages you get from eating spinach are influenced…
…by cooking techniques and freshness, but the amount…
…you consume is also essential. Although raw spinach…
…has more nutrients, a cup of sautéed spinach has a higher…
…concentration of nutrients, so you get more nutrients per mouthful.
Look at the nutritional content per 100 grams rather than per…
….cup when comparing raw spinach versus sautéed spinach.
Volume Requirements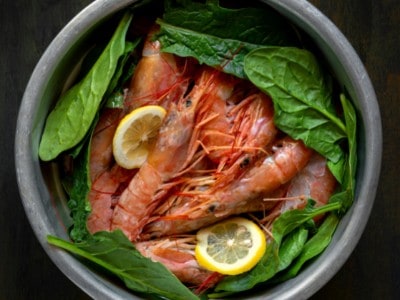 Although sauteed spinach loses some nutrients, you are more likely…
…to consume cooked spinach than raw spinach in a meal.
A 10-ounce bag of spinach, for example, will provide at..
….least two big salad bowls. When you cook the whole contents…
…of the bag, you'll end up with around 1.5 cups of cooked spinach.
Although it is somewhat less nutritious per gram,
it may provide more nutrients because it is simpler to eat…
…the entire bag of spinach in one sitting.
Vitamin C
Vitamin C is a powerful antioxidant. The loss of vitamin C…
,,, is the most significant nutrient-induced by sauteing spinach.
…The vitamin C concentration of raw spinach is 28.1 milligrams…
per 100 grams, However, it drops to 10 milligrams when sauteed.
Water makes up to 90% of raw spinach, making vitamin C…
…a water-soluble vitamin. When spinach is cooked, part of its…
…water-soluble vitamin content is absorbed, depriving it of…
…those elements. However, a 10-ounce bag of raw spinach…
…has 80 milligrams of vitamin C, thus eating the full bag…
…cooked gives the same amount of that essential as eating…
… a salad made using 1/3 of the bag. B vitamin folate
Keep reading, you're almost there!
Absorption Of Iron
A 1.5-cup portion of sautéed spinach has 9.6 milligrams of iron,
…which is 100% of your daily need, but a 10-ounce bag of raw…
….spinach contains just 7.7 milligrams of iron. This mineral is…
…not as easily absorbed by your body from plant foods as it is…
…from animal-based meals. According to Kurt Nolte, an agriculture…
…agent for the College of Agriculture and Life Sciences, in an article…
published on the University of Arizona's "Fresh Produce" website,
…spinach contains oxalic acid, a compound that binds with iron..
… and makes it more difficult for your body to absorb it.
However, you can improve iron absorption by pairing…
…sauteed spinach with a source of vitamin C
Sum Up!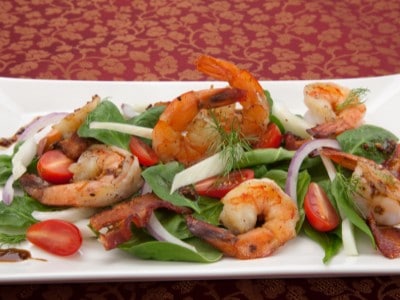 Shrimp and sauteed spinach has been the best duo until today…
Shrimp and sauteed spinach is simple and easy to cook,..
more that it doesn't consume so much of your time, right?
What do you think about trying to make shrimp and sauteed spinach now?
Conclusion
How do you like your shrimp and sauteed spinach so far?
Do you prefer to use spinach or other veggies?
Is there any other seafood that you long to eat during the pandemic?
Share with us your experience and drop your comments below!
Hi there! I'm a food enthusiast and journalist, and I have a real passion for food that goes beyond the kitchen. I love my dream job and I'm lucky enough to be able to share my knowledge with readers of several large media outlets. My specialty is writing engaging food-related content, and I take pride in being able to connect with my audience. I'm known for my creativity in the kitchen, and I'm confident that I can be the perfect guide for anyone looking to take their culinary journey to the next level.