Throughout the years, cookware has improved…
…and incorporated new technologies…
…as well as types of non-stick coatings.
There are so many Types of Non-Stick Coatings for Pans…
You can choose from a variety of nonstick coatings on the market…
Are you confuse to choose one?
Before making a purchase decision…
…it is wise to know what type of coating is used in cookware sets.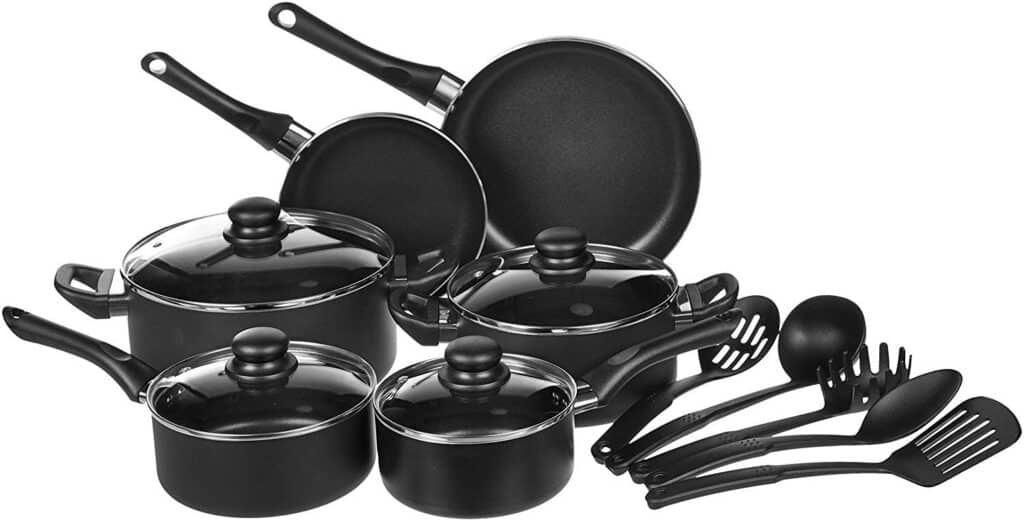 There are several types of nonstick coatings for cookware materials…
…such as polytetrafluoroethylene (PTFE), ceramic coatings…
…silicon coatings, superhydrophobic coatings, and enameled cast iron coatings.
Coatings such as anodized aluminum and seasoned cast iron are also available…
Isn't that interesting?
We also have compiled a guide that will help you choose…
…the highly rated nonstick pans, if you are looking for the best one.
The nonstick coating has pros and cons for humans…
…just like other materials used in cooking appliances.
The purpose of this article is to show the types of nonstick coatings…
..available and their applications. Each of the coatings on popular cookware…
…will be explained, along with their health benefits and hazards.
Licia want to share her thougt…
I am more concerned about the safety of all cookware that I use as a consumer…
Tor coating and handles. When it comes to nonstick cookware…
…the coating makes all the difference. Nonstick cookware is easy to use and clean…
….and can often be purchased for a reasonable price. To help you fry your next meal…
…there are a number of different materials on the market today. The question is, however…
…how effective are each of these coatings and how safe are they to use? 
Nonstick cookware is coated with a material called polytetrafluoroethylene (PTFE), also known as Teflon. The safety of nonstick cookware has been under investigation for the past decade.

coating for pans
Now let's talk about it…
Types of Non-Stick Coatings for Pans
Ceramic Coating (Sol-Gel)
For the first types of non-Stick coatings for pans, we have ceramic coating…
As an alternative to PTFE coatings, ceramic coatings…
…became popular in the 1960s. The material is made from a mixture…
…of silica/clay that is hardened together with binder, oxygen…
…reinforcing chemicals, and color. Initially, ceramic coatings…
…were made of lead and cadmium, both of which are toxic.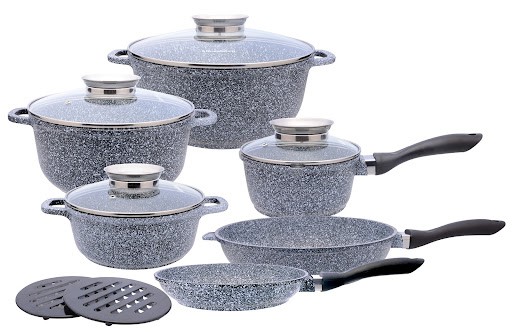 The latest ceramic coatings are free of PTFE/PFOA and other toxic additives…
…making them a good choice for use as nonstick coatings.
Excessive heat does not leach chemicals from…
…the organic compounds used in ceramic coatings.
A disadvantage of ceramic coating is that it wears off easily when scrubbed…
…so it isn't durable. A coating can last at least one year of use…
…which isn't economical for some people.
Ceramic coatings provide amazing health and safety benefits…
They are free of toxins and harmful chemicals…
This is the eco-friendly cookware every kitchen enthusiast needs…
Hand-wash ceramic cookware coatings and use silicon…
…or wooden utensils when cooking.
Do not overheat ceramic cookware to prevent damage to the nonstick coating…
Looking for something else?
Polytetrafluoroethylene (PTFE) Coating
Next Types of Non-Stick Coatings for Pans…
As an accidental experiment, this coating was first discovered in 1938…
Polytetrafluoroethylene is naturally slippery…
…making it a good surface for nonstick cookware.
PFOA (perfluorooctanoic acid) is another component of PTFE manufacturing….
If not used correctly, both of these chemicals have been found…
…to be harmful to the human body.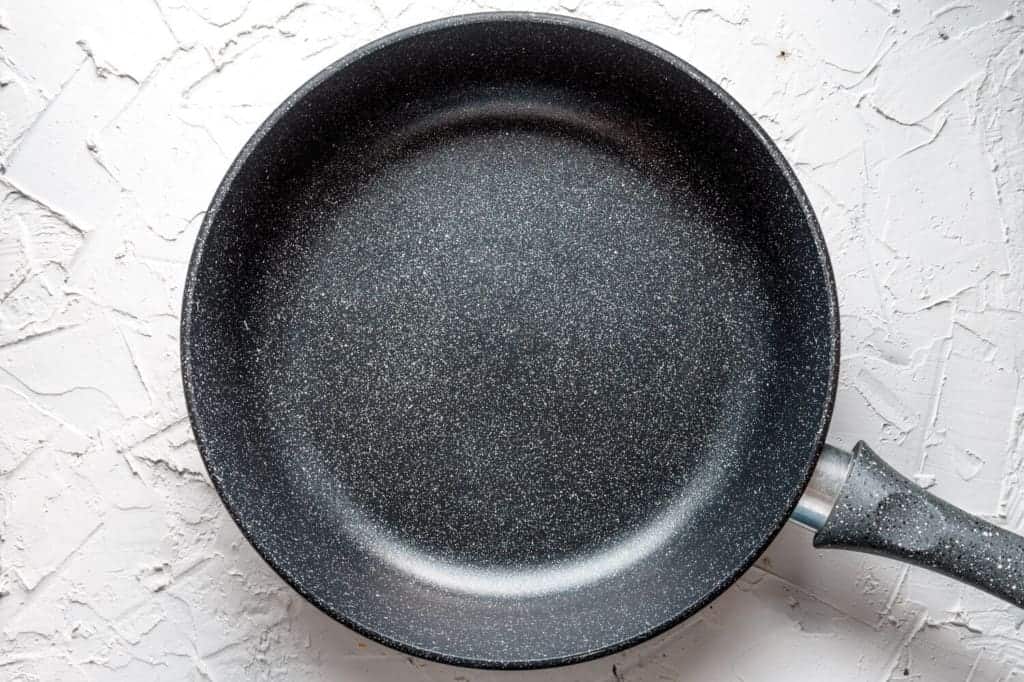 A few risks associated with PTFE are chronic kidney disease…
…cancer, and it can negatively affect a male's reproductive system.
PTFE releases toxic fumes when it is overheated…
The non-stick coating should only be used in low-temperature..
…cooking practices, not above 260 degrees.
You probably wondering…
Can Teflon Cause Cancer?
It's important to understand Teflon is the brand name…
…of a company that manufactures polytetrafluoroethylene (PTFE).
Due to the fact that Teflon coatings are made from a mixture of PFOA…
…and PTFE, PFOA is not much present in the nonstick coatings since it is burned off.
In experiments on animals, exposure to PFOA has increased tumors…
…but Teflon itself has not been found to cause cancer.
There is still much research to be done to confirm…
…the suspicion of causing cancer in humans.
Because of the potentially harmful fumes and chemicals…
…this is not the best nonstick to use for your cookware.
The following measures can be taken to reduce exposure…
…to harmful toxic substances from PTFE;
A PTFE coated pan should not be heated because it overheats quickly and releases fumes that are harmful to humans.
Over 260 degrees damage cookware very quickly. Cooking with low heat will prolong the life of nonstick pans.
If the Teflon pan shows scratches, it is time to replace it or recoat it with a nonstick coating spray.
Make sure you clean with your hands and avoid scratching the nonstick coating.
To avoid scratching, it is better to use wooden or silicone utensils while cooking, as opposed to metal utensils.
As long as you don't get them too hot, don't scratch the surface…
…and store them properly, PTFE pans are safe. With proper care…
…you should be able to use them for 2-3 years.
This is one of our least favorite types of non-stick…
…coatings due to some of the risks involved.
Let's move on to the next one…
Superhydrophobic Coatings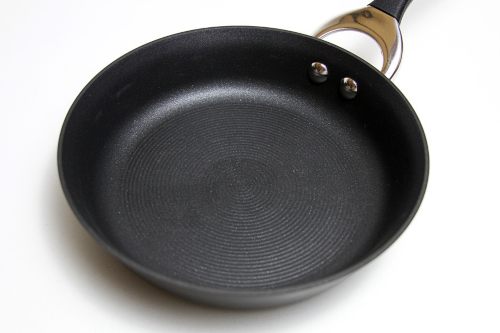 Next Types of Non-Stick Coatings for Pans you can choose…
Cookware with this type of coating is not common yet…
…but some manufacturers are using it. In the future…
…nonstick coatings will have a nanoscopic layer that can resist water.
They are made from a variety of materials, including zinc oxide polystyrene…
…precipitated calcium carbonate, carbon nanotube substances…
…and manganese oxide polystyrene.
Water from rain does not penetrate the windshields of vehicles anymore…
…because they are coated with Superhydrophobic coatings.
Water slides off in less than a 10-degree tilt with this coating….
Superhydrophobic non-stick coatings are definitely the future of cookware!
Researchers are trying to figure out how to apply it to a metal surface….
More types of non-stick coatings for pans…
Silicone Non-stick Coating
A flexible nonstick coating made from silicon is commonly…
…used in bakeware and other kitchen utensils.
In order to make silicone rubber, silicon is mixed with…
…methyl chloride and water to produce polydimethylsiloxane.
It is made from a mineral found in sand that gets heated up to 1800 ˚C…
Afterwards, it is mixed with water to create the…
…rubber silicone that you are familiar with.
As a nonstick coating, silicone rubber is used in bakeware and cookware….
Silicone-coated cookware must be used at temperatures up to 300 degrees….
FDA considers silicon non-stick to be safe to cook with…
…since it doesn't release fumes. Silicone is non-toxic…
…and does not react with alkaline foods.
Silicone is generally regarded as the safest of all the different types…
…of non-stick coatings. Using high quality silicone that does not contain…
…added plastic fillers is the key to success.
Keep going!
Enameled Cast Iron
More types of non-stick coatings for pans…
An enameled coating is applied to traditional cast iron cookware…
…which is the most preferred cookware pan by professional chefs.
Nonstick enamel is made by mixing powdered glass…
…with the base of cast iron cookware and heating it at high temperature.
At a temperature between 700 and 850 degrees, the glass melts..
…and coats the cookware base in a smooth nonstick coating.
FDA considers enameled cast iron non-stick coatings safe for use….
Since they do not require seasoning like cookware made of raw cast iron…
…they are ecofriendly and economical to use. Cast iron cookware…
…is expensive due to its durability and quality material (cast iron).
They are very heavy and have poorer heat distribution…
…than raw cast iron cookware. The enameled nonstick coating…
…prevents iron from leaching into food as it does in bare cast iron cookware.
Seasoned Cast Iron Coating
Next Types of Non-Stick Coatings for Pans…
For those seeking safe, nonstick cooking, cast iron is the best choice…
…because it is free from harmful chemicals.
It is one of the oldest types of cookware used in the kitchen for cooking…
…earing, and frying. To create a non-stick surface, cast iron must be seasoned.
When oil is heated into a pan, the surface becomes smooth and nonstick…
Most people know that cast iron leaches iron into food…
…especially when cooking highly acidic foods. A human body requires…
…iron minerals since iron is a highly reactive metal to alkaline.
It can be dangerous for people who are sensitive to iron…
Cast iron seasoned coating is one of the safest types of non-stick coatings…
Cast iron pans need to be taken care of. Maintaining the nonstick surface…
…of the pans requires regular seasoning. Seasoning carbon steel cookware…
…also results in a nonstick surface, similar to cast iron.
How to season cast iron:
Ensure that all manufacturer-applied coating has been removed from the cast iron.
Spread oil in the pan and wipe the surface with a paper towel.
Heat the cookware at 260 °C (500 °F) for 30 minutes OR on a stovetop on low heat for 20 minutes.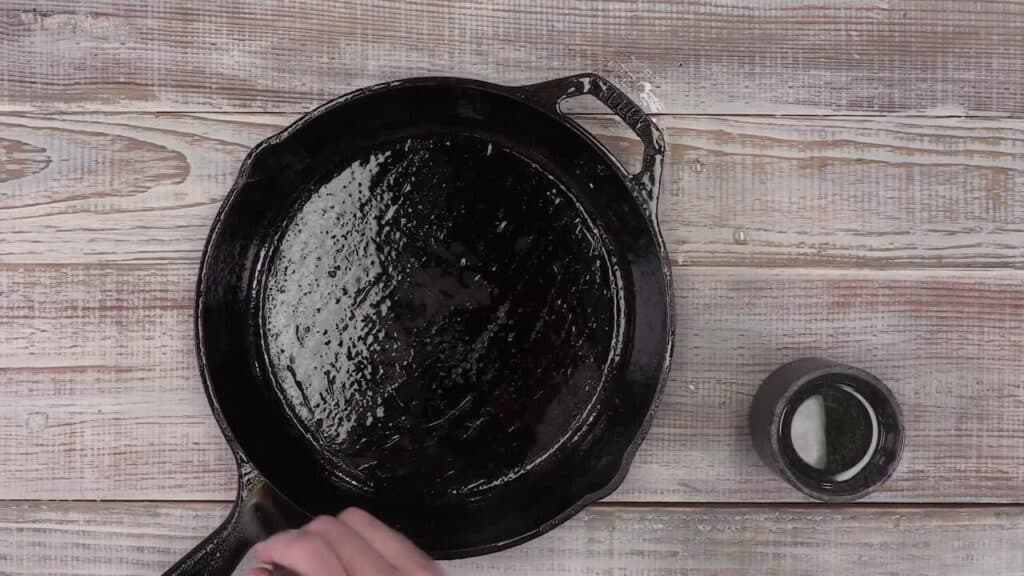 Keep going!
Anodized Aluminum Coating
The last Types of Non-Stick Coatings for Pans…
A properly anodized aluminum nonstick coating is nontoxic and heat-resistant….
A nonstick coating made from anodized aluminum is created…
…by mixing aluminum with an acid to create Aluminum Oxide, which is smooth.
On the market, aluminum cookware is very common and affordable….
Anodized Aluminum nonstick coating has been linked to Alzheimer's disease….
Aluminum coatings of high quality will not leach raw Aluminum into food…
Cookware made of anodized aluminum has a nonreactive surface…
This means that you should NOT scratch the surface…
…or else the food you're cooking could come in contact with the raw aluminum.
All you need to do is use wooden or silicone kitchen…
…utensils to keep the surface safe.
Sum Up
Types of non-stick coatings for pans materials include…
…polytetrafluoroethylene (PTFE), ceramic coatings, silicone coatings…
…superhydrophobic coatings, and enameled cast iron coatings.
Anodized aluminum coating and seasoned cast iron coating are also available…
The nonstick coating has its pros and cons for humans…
…just like other materials used in cooking appliances.
We will discuss the different types and applications of nonstick coatings…
…in this article. You'll learn about the health benefits…
…and hazards of popular cookware coatings.
Conclusion
If you find this is helpful be sure to leave a comment!
Above all, I love to hear from you guys and always…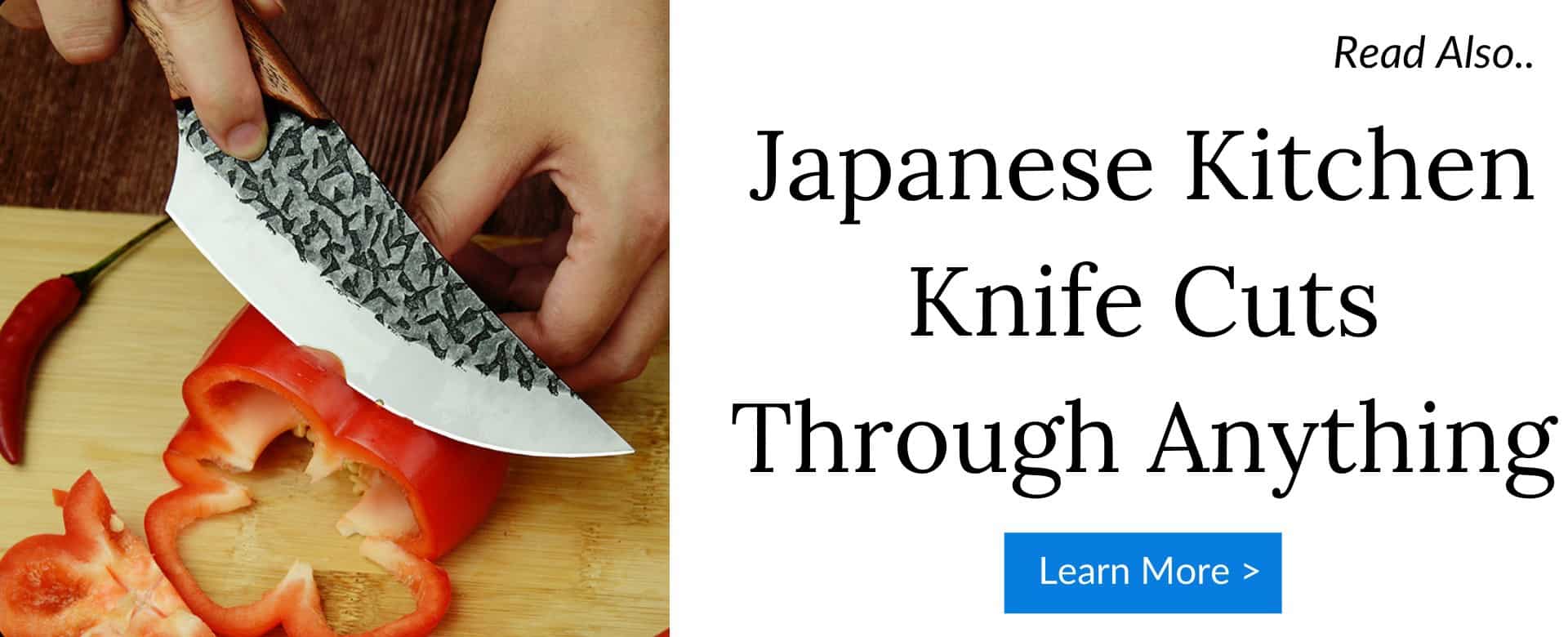 …do my best to respond to each and every comment.
Promoted Links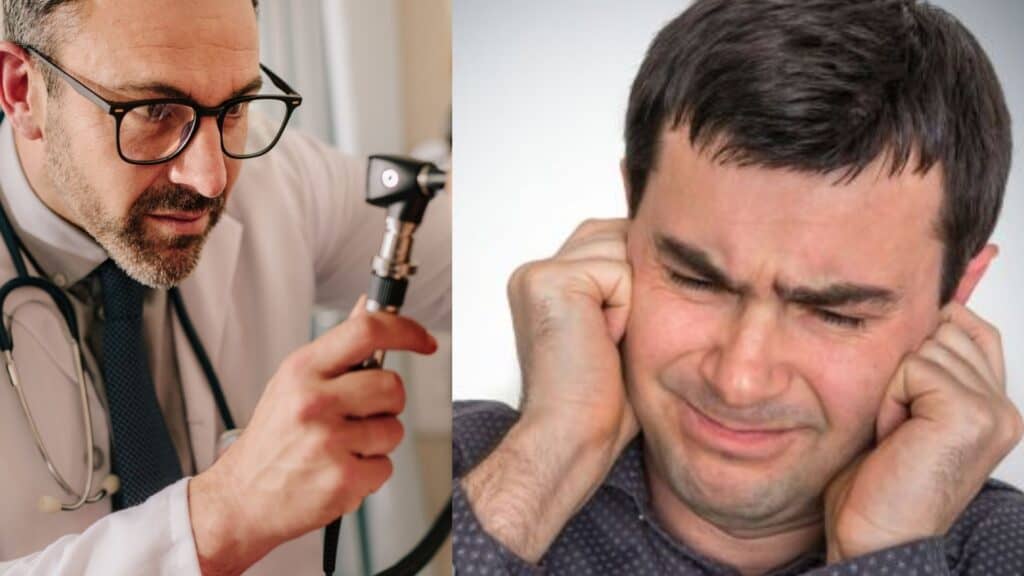 Anyone With Tinnitus "Ends" Should Watch This (Surprising Facts)!
recommended by Dr. Davis (licensed and certified Doctor of Audiology with over 15 years)