Are you a fan of fried chicken? Me too!
We can say that this is the ultimate American comfort food.
The good news is our favorite food not only delicious but also full of benefits. 
Here are the nutrition facts and health benefits of fried chicken.
As a disclaimer, different parts of chicken may contain different amounts of nutrients.
Here we will discuss the health benefit of chicken in general…
…and the nutrition facts of a certain part of chicken: chicken tenders.
Let's hear Erick's story about his dedicated love for fried chicken!
I am not exaggerating if I say that fried chicken is my number 1 comfort food.
I can eat them forever! (I wish)
The tenderness of the meat along with the crispiness is like pleasant music to my soul.
Then it comes to perfection when I dip them into my favorite dipping sauce!
One day, I killed time by looking for fried chicken facts.
So I look for the benefits of fried chicken on the internet.
And I find one. Ha!
They are full of proteins. 
This makes me love them even more.
Of course, I know that too much of everything is not good.
Now I learn to eat them modestly.
Do you want to know about some fried chicken facts?
Fried Chicken Tenders Nutrition Facts and Health Benefits
You can usually find fried chicken on menus of fast-food restaurants…
…or in the frozen food section at the grocery store.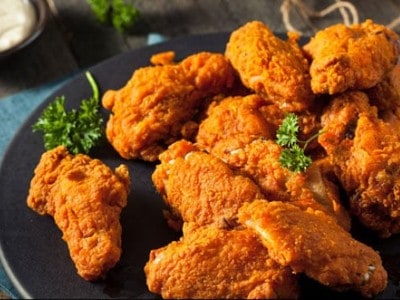 Various parts of the chicken can be used to prepare chicken nuggets…
…sometimes referred to as chicken strips or nuggets.
It is usually fried with breaded tenders seasoned with seasoning.
A healthy diet can include meat from different parts of the chicken…
…but fried foods generally contain excessive amounts of fat and sodium.
Choosing fried chicken tenders as a snack or meal…
…may require you to be mindful of portion size.
Fried Chicken Nutrition Facts
Here are the nutrition facts for one serving (184g)…
…of fast-food chicken tenders provided by the USDA.
Carbohydrates: 31.7g
Calories: 499
Fat: 25.7g
Sugars: 0.7g
Protein: 35.4g
Sodium: 1410mg
Fiber: 2.2g
Carbs
There are 499 calories in one serving of chicken tenders…
…along with 31.7 grams of carbohydrates.
Breading contains a small amount of fiber (2.2 grams)…
and may even contain a small amount of sugar…
…although the exact amount varies by brand.
It is also possible for fried chicken tenders to have a different glycemic index…
…depending on how they are prepared.
However, it is most likely low since protein…
…and fat are its primary components. 
In a four-piece serving of chicken tenders, the glycemic load is estimated to be 5.
Glycemic load considers a food's portion size…
…when estimating its effect on blood sugar.
What about…fat?
Fats
Fried chicken tenders are high in fat even though chicken breast is a low-fat food.
The oil used to fry them adds to the fat.
Approximately 26 grams of fat are present…
…in a single serving based on USDA statistics.
There are 4.6 grams of saturated fat, approximately 9 grams of monounsaturated fat…
…and approximately 10.6 grams of polyunsaturated fat.
Again, these numbers vary from brand to brand.
Chicken can be a healthy food, but if you bread it and fry it in oil, you're going to be adding more calories from fat, and it's likely that trans fats will be in that fat.

Cindy Moore, MS, RD, Spokeswoman For EATRIGHT.ORG
Protein
Chicken tenders provide 35.4 grams of protein per serving…
…making them a good source of muscle-building nutrients.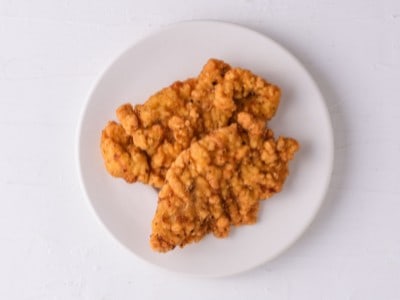 This protein exceeds the needs of an adult in a single sitting…
…which is approximately 20-25 grams per meal.
Hold on, there's more here.
Things To Watch Out For
Although there are several benefits of fried chicken...
…there are also several things to watch out for. 
You should limit portions of protein-rich foods like chicken…
…to 2 to 6 1/2 ounces per day, according to the USDA.
Physically active people might need more.
Make sure your chicken is stored and cooked properly…
…to avoid foodborne illnesses.
Leaving chicken out for too long, or cross-contamination during cooking…
… can result in bacterial growth that can cause serious illness.
Chicken, despite having a lean protein profile, contains some cholesterol.
When buying meat, pay close attention to the amount of cholesterol.
This is especially important for those on a low-cholesterol diet…
…or at risk for heart disease.
You should always let your doctor or dietician know what you eat.
Health Benefits
There are many health benefits of fried chicken associated with chicken breasts…
… and other chicken parts, but you must balance those benefits…
…with some disadvantages, if you consume fried chicken tenders.
A single serving of fried chicken tenders has 1410 mg of sodium.
In the United States, the USDA recommends…
…an intake of no more than 2,300 mg daily.
Americans consume an average of 3,400 mg per day.
Furthermore, the food provides almost 26 grams or 234 calories from fat.
The USDA suggests that no more than…
…20–35% of total calories should come from fat. 
A portion of this food could provide more than 10%…
…of your daily calorie allowance for someone who consumes 2000 calories per day.
Even so, chicken meat offers certain dietary benefits despite these drawbacks.
Here we go!
Helps To Build Muscle Mass
You need protein to maintain your muscle mass.
One of the benefits of fried chicken is helps you to build muscle mass.
As a result, chicken provides the body with amino acids…
…it needs to maintain muscle mass.
Taking part in a strength training program also helps build muscle.
It is beneficial to have more muscle mass in your body.
This can help you to maintain a strong, lean appearance.
Strengthening your muscles can also help you…
…move more easily through your daily life.
Furthermore, a direct correlation exists between losing muscle mass…
…and strength as people age.
Helps Strengthen Bones
The research shows that protein and calcium…
…can work together to protect bones.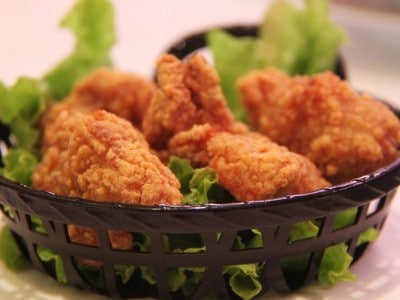 So a diet rich in protein can support the health and strength of bones.
By consuming meat as well as plant-based protein sources…
…you can increase your daily protein intake.
This is one of many amazing benefits of fried chicken!
What else? Keep reading…
Encourages Wound Healing
In particular, people with diabetes and the elderly are at risk…
…of having improper wound healing.
Research has found that a good diet is important for wound healing in the body.
Special attention should be paid to protein consumption.
It is sometimes recommended to supplement certain amino acids…
…(the building blocks of protein) to accelerate wound healing.
What is the relation between wound healing and the benefits of fried chicken?
A chicken's various parts contain amino acids…
…including glutamine and methionine…
…which play a special role in healing wounds.
Reduces The Risk Of Protein Deficiency
Despite the rarity of primary protein deficiency in the U.S…
… it is the leading cause of death among children…
under the age of five around the world.
Other medical conditions (such as cancer, AIDS, or some gastrointestinal disorders)…
…may also contribute to secondary protein deficiency.
Fried chicken tenders contain enough protein…
…even with added fat – to meet the macronutrient needs of these populations.
May Aid Weight Loss
You can reduce food cravings and prevent overeating…
…by consuming foods that contain protein.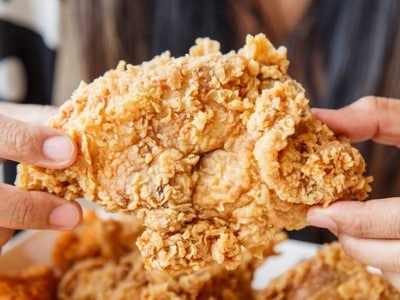 As one example, researchers found in a study of overweight men…
…taking part in calorie-reduced diets than those who consumed more protein…
…experienced enhanced satiety.
However, since fried chicken tenders contain a lot of calories and fat…
…they may not be the best way to lose weight.
Despite providing satisfying protein, they have substantial calories…
… especially when paired with a dipping sauce.
Moreover, some chicken nuggets have a higher fat content than protein.
Is Fried Chicken Breast Healthy?
The nutrient value of your fried chicken is determined by several factors…
…including the serving size, whether you eat the skin…
…and any other ingredients used in the recipe. According to the USDA…
…a 3.5-ounce portion of fried chicken contains 230 calories.
Added fats and carbs account for about half of the calories.
A fried chicken breast delivers the following benefits:
23.5 grams of protein
6 grams of carbohydrates
12.4 grams of total fat
3.3 grams of saturated fat
0.2 grams of trans fats
92 milligrams of cholesterol
Saturated fats should make up no more than 5 to 6% of your daily intake…
…according to the American Heart Association.
If you eat 2,000 calories each day, you'll get a maximum…
…of 13 grams of saturated fat….
Trans fats are the unhealthiest type of fat because…
…they elevate LDL cholesterol while lowering HDL cholesterol levels in the blood.
Professionals have advocated lowering cholesterol intake…
…to fewer than 300 mg per day for decades. The American Heart Association…
…on the other hand, believes that existing data is insufficient..
…to indicate that dietary cholesterol raises blood cholesterol levels.
However, foods high in cholesterol are typically heavy in fat….
According to the National Academies of Sciences…
…fried chicken breast nutrition has 8 mg of niacin per serving…
…which is almost half of the daily intake. It contains a sodium content…
…of 655 milligrams and a potassium content of 282 milligrams.
High blood pressure can be caused by a high-sodium, low-potassium diet…
…which increases your risk of heart disease, kidney disease, and stroke.
The American Heart Association recommends a daily salt…
…consumption of no more than 2,300 milligrams or 1,500…
…milligrams if you have heart disease risk factors.
Try using an air fryer if you like the taste of fried chicken breasts…
…but want a healthier option. The air fryer is a countertop gadget…
…that circulates hot air at high temperatures to fry food without the need of oil.
Using an air fryer reduces overall calorie intake considerably…
…according to the Cleveland Clinic.
Anyway, is there any disadvantage of fried chicken?
Does Fried Chicken Cause Allergies?
There is no specific data about whether chicken allergies are common…
…but experts do say the consumption of chicken can trigger severe reactions.
Chicken consumption has increased dramatically in recent years…
…which allows researchers to study the impact of this allergy…
…on the human body in greater detail. In earlier studies, abdominal cramps…
…hives, chest tightness, and trouble breathing have been reported.
A person who is allergic to eggs may also be allergic to poultry.
Usually, reactions to this allergy occur when coming into contact…
…with raw meat, not when consuming cooked meat.
Sum Up
In addition to the delicious taste of fried chicken…
… surprisingly it also has several health benefits.
For example, the proteins will help you to build muscle mass…
…strengthen bones, encourage wound healing, and so on. 
Conclusion
We love fried chicken!
We love it even more after learning about the benefits of fried chicken.
However, you should also consider the recommended amount…
…of fried chicken consumed per day.
Frequently Asked Questions
Should fried chicken be covered when frying?
There is a lot of heated debate surrounding the question of whether or not fried chicken should be covered when frying.
On the one hand, many say that the oil and spices coating the chicken can cause it to become greasy and heavy.
On the other hand, some people believe that the coating gives the chicken a wonderful flavor and allows it to cook evenly.
Reasons for and against covering fried chicken while frying
When it comes to fried chicken, there are pros and cons to covering them while frying.
Ultimately, it comes down to personal preference. Some people prefer their birds covered,
…while others do not mind them being naked. However, there are also disadvantages to covering the fried chicken.
It can increase cooking time and make for a drier bird. So,
whether or not to cover them while frying is ultimately up to you and your family.
In the end, it all comes down to how much you're willing to compromise on the quality of your chicken.
Hi there! I'm a food enthusiast and journalist, and I have a real passion for food that goes beyond the kitchen. I love my dream job and I'm lucky enough to be able to share my knowledge with readers of several large media outlets. My specialty is writing engaging food-related content, and I take pride in being able to connect with my audience. I'm known for my creativity in the kitchen, and I'm confident that I can be the perfect guide for anyone looking to take their culinary journey to the next level.