Fried chicken is the best when it's fresh, juicy, and crispy…
It doesn't matter whether it's your mom's secret recipe..
…or your favorite fast food joint, fried chicken is the holy grail of deep-fried foods.
You'll love this keto fried chicken recipe with a homemade…
…low carb breading and marinade.
Are you ready?
 But First, Lily has something to say…
What a difference a couple of decades can make. About once a week…
…I used to make fried chicken for my family! I'd use a deep frying pan,
Crisco vegetable oil, and high-starch bread crumbs. About half an hour later..
..we would have a heart attack on a plate. The taste was fantastic, though.
I managed to get all the dishes done even though I was in a food coma after the meal..
//blissfully unaware of the grease coating and clogging my insides.
It's good to report that these days, after my switch to low carb,..
…you can make keto fried chicken that is just as tasty as your old-school version.
Keto is like marriage. It just doesn't work if you cheat!

The lovely balanced life
First thing you need to know…
Is Fried Chicken Keto?
Traditional fried chicken recipes are filled with spices and meat…
…but even air-fried fried chicken isn't keto. It is because regular recipes…
…call for breaded chicken made with wheat flour.
Even though regular southern fried chicken may be easy to make…
…it certainly isn't keto. There are 5.3 grams of carbs in one small drumstick!
The serving size of our low carb fried chicken recipe…
…is more than an entire serving.
So, here we go…
How to Make Keto Fried Chicken
Keto fried chicken with a kick is the best for me!
Paprika is used in this recipe, but it adds more of a smoky flavor…
…than anything else. Add a little cayenne to the breading spices…
…and low carb hot sauce to the marinade for a true spicy low carb breading.
There will be a different spicy kick to each piece of chicken!
Oil Options for Frying Keto Fried Chicken
After you have gathered all your ingredients and are prepared to cook…
…the final step is deciding which type of oil to use. A good quality oil is beef tallow..
…which has a high smoke point and tastes delicious in most low carb keto recipes.
If you use beef tallow to fill an entire pot, it can become expensive…
Try low omega 6 oils to cook keto fried chicken instead, such as:
Coconut Oil – We often buy large buckets of coconut oil for keto friendly deep fryer recipes. This one is refined so it won't give a coco-nutty taste to your chicken. We also recommend refined coconut oil for recipes because it has a higher smoke point than it's unrefined counterpart.
Organic Coconut Oil – Unrefined, Cold-Pressed Extra Virgin Coconut Oil, USDA Organic and Non-GMO Cooking Oil, Great as Hair Oil and Skin Oil, 16 Oz
Naturally Nourishing Coconut Oil for Hair - With its unique combination of natural fats, coconut oil helps hydrate hair and nourish the scalp. It's ideal for use as a conditioner, detangler, or coconut oil hair mask.

Hydrate Naturally With Coconut Oil for Skin - Coconut oil organic is a naturally moisturizing body oil that can help skin feel soft, smooth and hydrated. Use our coconut oil for face as a moisturizer or makeup remover—or even as a natural alternative to massage oils.

Perfect Coconut Oil for Cooking and Baking - An unrefined coconut oil with a naturally high smoke point (350°F), this is the perfect cooking oil for baking, frying and sautéing. Our pure coconut oil is cold-pressed from fresh, organic coconuts, delivering a rich flavor and aroma.

A Kitchen and Beauty Staple - Whether you're using our coconut oil for body moisturizer, as a coconut hair oil or as a cooking oil, it's an all-natural, easy-to-use addition to any lifestyle. It's perfect for keto, paleo, or gluten-free diets, or just as a tastier alternative to cooking with olive oil or butter.

USDA-Certified Organic & Non-GMO - Using some of the world's highest-quality organic coconuts, our cold pressed coconut Oil (aceite de coco) is USDA-Certified Organic, non-GMO, and gluten free, plus its grown and harvested organically without the use of harmful chemicals or additives.
Prices pulled from the Amazon Product Advertising API on:
Product prices and availability are accurate as of the date/time indicated and are subject to change. Any price and availability information displayed on [relevant Amazon Site(s), as applicable] at the time of purchase will apply to the purchase of this product.
Olive Oil – Olive oil is an excellent choice for this recipe because it is inexpensive and has a high smoke point of roughly 400 degrees. This recipe only requires you to heat to 300 degrees, so it won't be an issue( Avocado oil is another another excellent alternative. It has a high smoke point of 520 degrees, similar to olive oil. (Oils low in omega 6's decrease inflammation and irritation in the body.) Use one of these high-quality keto oils the next time you create a tasty deep-fried food, such as this keto fried chicken.
Prices pulled from the Amazon Product Advertising API on:
Product prices and availability are accurate as of the date/time indicated and are subject to change. Any price and availability information displayed on [relevant Amazon Site(s), as applicable] at the time of purchase will apply to the purchase of this product.
How to Make Keto Fried Chicken
If you're wondering how to make regular fried chicken low carb…
..this is your recipe. Let's make crispy keto fried chicken.
Ingredients:
The ingredients for our low carb chicken breading and marinade…
…should be mixed together before making fried chicken.
Mix paprika
garlic powder
black pepper
pink Himalayan salt
mustard powder
ground ginger,
ground cinnamon
Do not skip the cinnamon and ground ginger because they add a ton of extra flavor and spice to these chicken pieces.
You'll need half of the spice mix, unflavored protein powder…
…and a few tablespoons of the marinade liquid to make…
…the keto friendly gluten free breading. In addition to adding flavor…
…to your fried chicken, a bit of the marinade will create little crispy…
…chunks outside of it for an extra authentic texture.
Finally we'll make the marinade (which will serve as our "egg wash")…
…and the longer your chicken marinates, the better. The other half of your spices…
…heavy cream, unsweetened almond milk, white vinegar…
…and two large eggs will also be needed.
Making This Keto Fried Chicken Recipe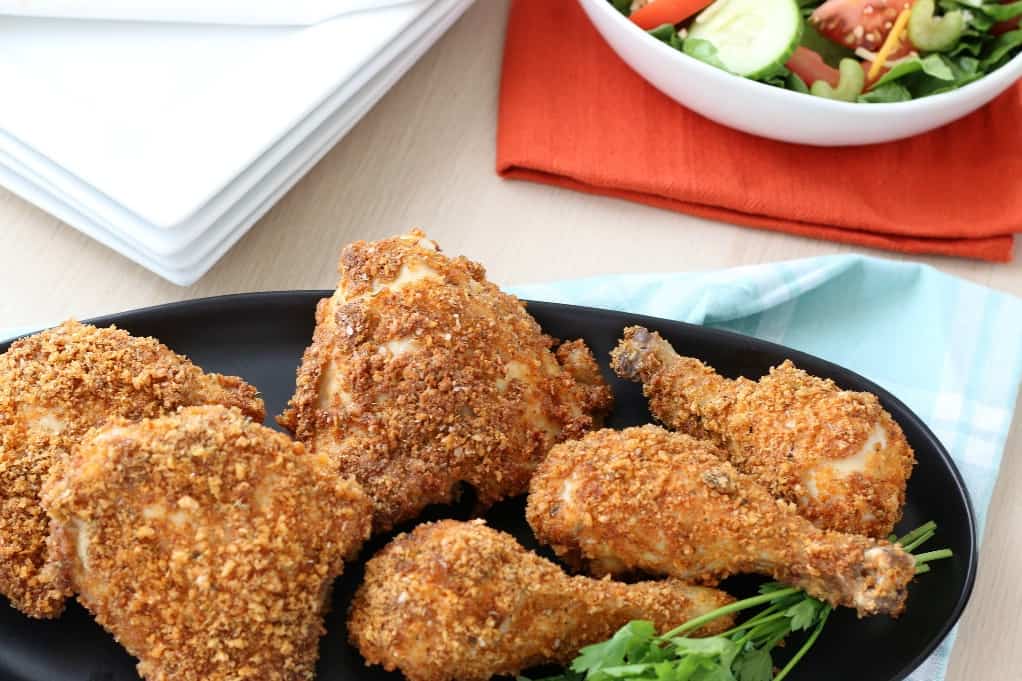 This recipe begins by mixing all of your keto spices (black pepper, salt, paprika, etc.) for a breading without all the carbs.
Combine the almond milk, heavy cream, vinegar, eggs, and half of the spice mix in a separate large bowl. Mix well with a whisk until everything is well combined.
Then place your chicken thighs and other pieces of chicken into the marinade. Cover the bowl with plastic wrap and place it in the fridge so that the chicken can marinate. Marinate the chicken for 4-12 hours. The longer the pieces of chicken sit, the more flavor they can absorb.
The cooking can now begin! Pre-heat your oil in a deep fryer, Dutch oven, or deep pot that's suitable for deep frying. The oil should be deep enough to fully cover the chicken, and remain at about 300 degrees the whole time. To prevent the oil from getting too hot or too cold, use a food thermometer.
As the oil heats, mix the remaining spice mix with it. Combine 1-2 tablespoons of the marinade liquid with your dry mix and stir with a fork to create small lumps. On chicken thighs, the breading crisps up well for extra texture.
Dip each piece into the breading from the marinade one at a time. Make sure the chicken is completely coated and set aside on a plate or parchment paper-lined pan. Continue with the remaining chicken and dip each piece to create the gluten free keto breading for our southern fried chicken
Once the chicken is coated, check the temperature of the oil. It should be about 300 degrees when you start frying. If a piece of chicken is placed in lukewarm oil, it will become soggy. The cooking time of chicken varies depending on the piece. Chicken breast cooks much faster than chicken thighs or any bone-in dark meat. Fry the breaded chicken in batches according to the cooking time listed on the package.
It's Cooking Times
The chicken breast strips will take 8-10 minutes to cook…
Drumsticks will take 15-18 minutes, and chicken thighs will take 17-20 minutes…
You can check the internal temperature of the chicken…
…it should be at least 165 degrees Fahrenheit.
Put the chicken on a dish lined with paper towels once cooked…
…and remove it from the oil. To avoid sogginess…
…you should drain the oil on paper towels.
Keto Fried Chicken with Pork Rinds
The Preparation:
12 ounces chicken breast, cut in half
½ cup crushed pork rinds
1/3 cup shredded Parmesan cheese
1 large egg
1 teaspoon pepper
1 ½ tablespoons olive oil coconut oil
The Execution:
In a Ziploc bag, crush your pork rinds. I strongly advise doing this by hand, as larger crumbs will contribute to the texture. I used BBQ pork rinds, but ordinary pork rinds will suffice if that's all you have on hand.
Combine the pork rind crumbs, 1/3 cup Parmesan cheese, and pepper in a mixing bowl.
Crack an egg into a separate basin and scramble it thoroughly.
Combine all of the pork rind ingredients in a mixing bowl to ensure that the chicken is evenly coated.
Coat your chicken in egg, then coat it in pork rind crumb mixture. We're going to conduct a double dip to achieve a good crust. Dip it in the egg mixture once more before dipping it into the pork rinds.
Combine the olive oil and coconut oil in a pan. Turn the heat to medium-high and wait for it to get hot.
When the oil is hot, add the chicken to it. DON'T GET YOUR HANDS ON IT! Allow it to sit for a while, almost until you detect a burning odor. We want the crust to be beautiful and crisp when we serve it.
When you notice the burning, flip it over and repeat the process on the other side. You can flip it over a second time once you smell burning again.
Turn your heat down to the lowest setting, and let your chicken cook for about 6-7 minutes per side (depending on thickness of the chicken breast).
Cook your chicken until it is almost done. I like my chicken to be lovely and juicy on the inside, just over the pink side in the center – but it's entirely up to you.
Serve with broccoli, spinach, or cauliflower as a side dish.
I dunked this in some ranch dressing with a dash of spicy sauce. It was simply incredible!
Keep in mind that you may always use less chicken and less oil to reduce the calories!
This makes a total of 2 servings of Low Carb Crispy Fried Chicken….
Each serving comes out to be 575 Calories, 32.11g Fats…
…1.07g Net Carbs, and 66.04g Protein.
Storing and Reheating Fried Chicken
The chicken can be stored in an airtight container for up to five days….
Place the cooked chicken on a baking sheet lined with aluminum foil..
..for reheating in the oven. Keto fried chicken should be baked…
…at 375 degrees for 10-15 minutes or until crispy and warm.
It's time to whip out your air fryer. When reheating keto fried chicken…
…pop it in the air fryer at 375 degrees for 5-6 minutes…
…or until the chicken is crispy and heated through.
Let's move on…
Can I Cook Chicken in the Air Fryer?
Keto fried chicken is one of the best keto recipes…
…but we do say fried for a reason! It's hard to get a crispy…
…juicy chicken breast from an air fryer. It is possible for air fryers…
…to cook the outside too quickly or to dry out the inside.
The air fryer can be used, but there are a few things to keep in mind:
You should keep an eye on your air fryer to make sure the outside isn't too brown or the inside isn't overcooked. Use a meat thermometer throughout the cooking process to ensure even cooking
You might be tempted to crank up your air fryer to 400 degrees, but resist the urge. The gluten free breading will burn before it can cook the chicken at a high temperature.
Spray the basket- There is nothing more disappointing than having half of your air fryer covered in breading. To prevent sticking, spray the bottom with cooking spray
For this keto fried chicken recipe, set your air fryer's temperature to 350F and allow it to cook for 8-18 minutes, depending on the cut and thickness. The chicken breast and light meat will cook faster than the dark meat. 
Looking for a great air fryer? Here's what I recommend you…
Instant Pot Vortex Plus 6-in-1 Air Fryer, 6 Quart, 6 One-Touch Programs, Air Fry, Roast, Broil, Bake, Reheat, and Dehydrate
6-in-1 Appliances: Air fryer, broiler, roaster, dehydrator, plus baking and reheating

6 Smart Programs: Customizable one-touch programs for air frying, roasting, broiling and more

Easy-to-Use Display: Touchscreen shows each stage of cooking

Easy-Clean Basket: Non-stick air fry basket holds enough food for a small family

Fast Preheating: Little to no preheating time. Adjustable Temperature: select from 95 to 400 °

6-Portion Capacity: Perfect for growing families

Compact Design: Countertop-friendly size fits any kitchen

Stainless-Steel Accents: Perfectly combines function and style

No Worry Operation: Built-in safety features including Overheat Protection and auto-
Prices pulled from the Amazon Product Advertising API on:
Product prices and availability are accurate as of the date/time indicated and are subject to change. Any price and availability information displayed on [relevant Amazon Site(s), as applicable] at the time of purchase will apply to the purchase of this product.
Sum Up
Keto fried chicken is crispy, succulent, full of flavor, and a crowd favorite.
Almond flour low carb breading is super easy to make.
For lunch, dine on keto fried chicken and cauliflower mashed potatoes.
Even fried dishes (which are higher in calories) can be healthier..
…when made at home. A number of choices are available…
..including the frying oil, coating, seasonings, and sugars.
Conclusion
If you make this recipe, be sure to leave a comment!
Above all, I love to hear from you guys and always…
…do my best to respond to each and every comment.
Our latest articles:
💻 Amazing Keto Drinks | Best Milk For Keto | Low Carb Milk For Keto
Hi there! I'm a food enthusiast and journalist, and I have a real passion for food that goes beyond the kitchen. I love my dream job and I'm lucky enough to be able to share my knowledge with readers of several large media outlets. My specialty is writing engaging food-related content, and I take pride in being able to connect with my audience. I'm known for my creativity in the kitchen, and I'm confident that I can be the perfect guide for anyone looking to take their culinary journey to the next level.