Let's all insert jaw-dropping, mouth-watering…
…and heart-eye emojis here.
The charcuterie trend is one of the hottest food movements of the moment.
If you look at a charcuterie board once, you might just decide…
…that being a self-proclaimed charcutier…
…is your next career goal or expressive hobby.
Well, think of yourself as on your way. Let's begin with the basics.
However, before we proceed to the next section, let's hear Audrey's story…
During her childhood, my mom's family lived in Paris, France.
They brought back and passed down to me the desperate need
for warm French bread and goat cheese.
I would eat cheese and salami for hours at my grandmother's table. It's still my favorite.
For Thanksgiving this year, we decided to eat Thanksgiving for lunch
and then have a charcuterie platter for dinner.
The charcuterie platter was very tasty while we played Mexican Train
(a fun domino game for ages 7 to really really old).
Even my daughter ate a little bit of everything, but her favorite was goat cheese, just like her mom.
Now, it's time to get started…
What is Charcuterie?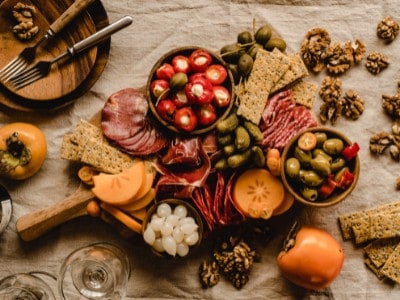 A charcuterie board is a beautiful expression of beauty…
…and deliciousness designed for bringing people together…
…around simple but elegant food.
Obviously, charcuterie can be defined as the culinary art…
…of preparing various cured meats and presenting them in diverse ways.
The word "charcuterie" means a line of cooking…
…devoted to prepared meat products, primarily pork.
Today, charcuterie is synonymous with wooden boards piled high…
…with meat and delicious accompaniments…
…including cheese, crackers, bread, artisan bread, dips, and sauces.
How Do You Say It?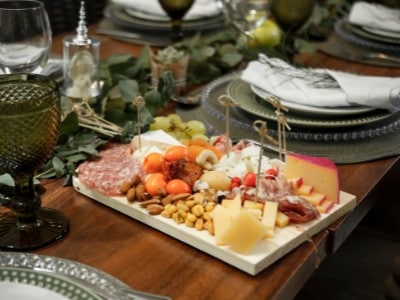 If you want to make a show-stopping charcuterie board…
…you don't have to know how to pronounce it…
…but wouldn't knowing how to pronounce it make you feel more like a charcutier?
In French, the word is pronounced "shar-coo-tree,"…
…while in English it is pronounced "shar-coo-tur-ee.".
Feel free to use any pronunciation you like…
…as long as you make your guests feel top-notch.
What Is the Origin of Charcuterie?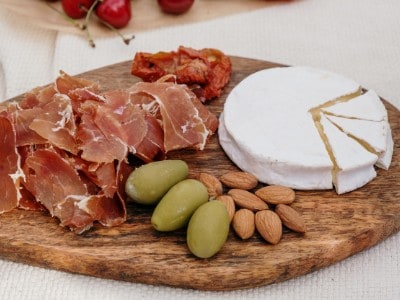 Charcuterie is a culinary art developed out of necessity…
…when meats were preserved before refrigeration in order to extend shelf life.
The practice of salting and smoking meats…
…to preserve them dates back thousands of years.
It is believed that some sausage recipes date back to ancient Greece and Rome.
"Charcuterie" originated in France in the 15th century…
…when nearly every household raised pigs, and shops couldn't sell uncooked pork.
As of today, meat is still prepared this way…
…because, let's face it, the flavors from the preservation process are simply incredible. 
Perhaps you are wondering…
Why Is Charcuterie a Thing?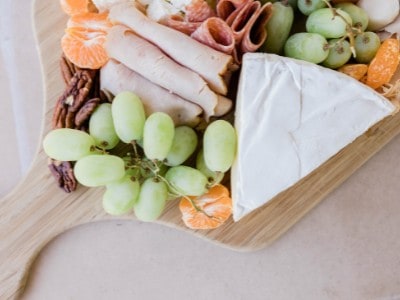 It doesn't matter whether you think of charcuterie…
…as the adult version of Lunchables…
…or as the most beautiful type of party platter you've ever seen…
…charcuterie is becoming increasingly popular…
…and a great outlet for food influencers or wannabe home decorators.
A shared meal experience provides a sense of community…
…for foodies and casual dinner hosts alike.
Charcuterie is a popular item on American restaurant menus…
…because the colors and products available…
…on the boards are captivating and irresistible to consumers.
Make it an event to remember by going big and holiday-themed…
…or by keeping it small and intimate.
Pair or contrast flavors to excite your guests' taste buds and wipe the rule book clean.
The table is essentially limitless in terms of budget…
…so pick your favorite budget and have fun…
…with your easy-to-assemble, show-stopping feature.
Here are some things you may be interested in…
Charcuterie History and the Cheese & Charcuterie Board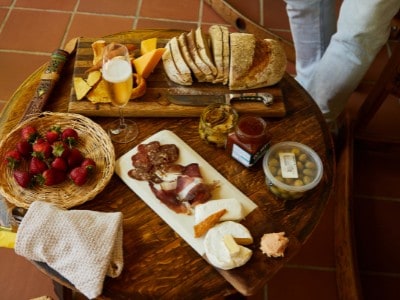 The French word "charcuterie" means "cooked flesh.".
The word was used to describe charcuterie shops in France in the 15th century…
…that sold salted and smoked pork products to preserve the meat.
Those methods were similar to those used in Ancient Rome.
In the form of salumi, pate, rillettes, etc., charcuterie refers to cooked, preserved meats.
Charcuterie includes all cooked meats…
…including pork and other game meats today;
…however, salumi is more specifically used to refer to salted and dry-cured meats…
…such as salami. These words are often used interchangeably today…
…when putting together a platter of meats, cheeses, and snacks from around the world.
The influence of social media has greatly contributed…
…to the popularity of cheese and charcuterie boards today.
This is a pretty food that goes well with wine.
The charcuterie can include salami, prosciutto…
…Parma ham, jamon, coppa, lomo, dried chorizo…
…mortadella, pates, rillettes, terrines, sausages, and so forth.
Cheese can be both soft and hard…
…such as brie, cheddar, gouda, and Parmigiano-Reggiano.
There are also accompaniments such as bread, fruits…
…dried fruits, nuts, honey, mustard, pickles, olives, etc.
Depending on what's available, flavor combinations…
…or personal preferences, the board is formed.
There are cheese and charcuterie boards on the menus of wine bars and restaurants.
You can share them as an appetizer.
Alternatively, if you prefer small bites…
…this can also serve as a meal as it has every component…
…including protein, carbs, and fiber.
The main purpose of these boards is to share them with friends and family.
It is social – you drink, eat, talk, sip, and on and on until the board suddenly appears.
Tips for Wine & Charcuterie Pairing
We're telling you about the origin of the charcuterie board for a reason, right?
Because it's the perfect companion to wine!
Wine and the board items themselves allow you to accentuate a multitude of flavors. 
Any bottle you choose is sure to satisfy, especially if it's an affordable bottle online! 
Here are a few of our favorite charcuterie pairings!
Pinot Noir
Rosé 
Sparkling
Pinot Grigio
And so much more!
"A hearty red wine (but not too heavy) will make a good accompaniment, such as Côtes-du-Rhône, Gigondas or Madiran."

Center of the Plate
Our Articles About Charcuterie
Since cured meats like salami and prosciutto are generally the cornerstone…
…of most classics, the question of what is traditional charcuterie board…
…when it comes to charcuterie platters is frequently asked around here.
There is a lot of variety, which isn't necessarily a bad thing.
There's a reason why classics are classics…
…and why they've been so popular for so long across Europe.
I enjoy fusion and new ideas, but I believe that the hundreds, if not thousands…
…of years of tradition surrounding cured meats must be respected at times.
Read the article to find out more about this topic!
For your next party, toss sharing out the window…
…and make these simple Single Serving Charcuterie Boards!
Perfect for one person and keeps the party moving…
…instead of everyone congregating around a single snack board.
Cheese boards can be customized with your favorite cheese…
…seasonal fruit, salami, nuts, and other items.
Backyard parties are on my mind now that summer is approaching.
And to keep your guests satisfied, every party needs an epic cheese board…
…or charcuterie platter. The traditional charcuterie board…
…however, is a little too shareable and cozy for today's times,
…so……into the Single Serving Charcuterie Board!
Read the article to find out more about this topic!
More than just a meat and cheese board… 
…cheese and charcuterie boards are an art form…
…that entails much more than slapping some cheeses…
…and crackers on a plate and serving it to guests.
Let me begin by addressing a frequently asked question:
…what exactly is a charcuterie board?
It's the art of putting together meats and cheeses with fruit, nuts…
…and crackers for simple and quick hors d'oeuvres.
More than just a meat and cheese board…
…cheese and charcuterie boards are an art form that entails much more…
…than slapping some cheeses and crackers on a plate and serving it to guests.
While any reasonable person will enjoy whatever cheese and crackers you serve…
…I'll help you wow your guests with cheese board ideas and more.
Trying to choose just a few of my favorite cheeses is like trying to choose…
…just one favorite television show; there are so many to choose from.
When it comes to television, I enjoy comedies at times…
…and crime shows or dramas at other times.
The same is true of cheeses; sometimes I want firm Parmesan…
…and other times I want super creamy Brie.
Read the article to find out more about this topic!
Sum Up!
Charcuterie, a term derived from the French chair ("flesh") and cuit ("cooked")…
…describes a variety of cured meats, from hard, thin-sliced cuts to soft spreads.
In France, the word is also used to describe the shop that sells them.
Charcuterie can be served as a starter course for a formal affair…
…or it can serve as the centerpiece of a casual gathering.
Charcuterie boards are incredibly versatile.
The flavors and textures can be mixed and matched.
The focus can be on a particular style or region.
Some items can be omitted completely.
For example, you could omit the bread or crackers from a gluten-free board…
…or substitute fig salami for Italian salami..
…and hummus for pâté on a vegetarian board.
Or, play with variations of an old favorite…
…(a culinary tour of the pâtés of various regions of France maybe?)
Conclusion
With the knowledge of the charcuterie board…
…you can now build your own culinary adventure…
…by setting up the charcuterie yourself!
Served with the right beverage, the results are savory, complex, and gratifying…
…as well as delicious fun.
---
---
Our Latest Post:
💻Traditional Charcuterie Board | Different Types of Charcuterie Boards | Best Cheese For Charcuterie
---
Hi there! I'm a food enthusiast and journalist, and I have a real passion for food that goes beyond the kitchen. I love my dream job and I'm lucky enough to be able to share my knowledge with readers of several large media outlets. My specialty is writing engaging food-related content, and I take pride in being able to connect with my audience. I'm known for my creativity in the kitchen, and I'm confident that I can be the perfect guide for anyone looking to take their culinary journey to the next level.