For anyone who is satisfied with the cup of coffee they get…
…from pre-ground coffee, that's a great option.
The fact that you have ended up here is probably a sign…
…that you belong to another category of coffee drinkers.
If you grind your coffee yourself directly before you brew…
…your coffee will be fresher than ever.
As a coffee lover, you know how important freshness is to the perfect cup.
You don't just want a cup of coffee that wakes you up…
…you want one that delivers a satisfying experience in every sip…
…a cup of coffee with complex flavors and aromas.
You might be that kind of coffee drinker…
…and if you are, then our buyer's guide to coffee grinders…
…can help you find one of the most important tools you need…
…to make the perfect cup every time.
Here are some words from Jean before we begin…
Over the past decade or so, I have become a coffee snob,
and I had no idea that a burr grinder could make such a huge difference
in the flavor of my Morning Addiction.
I don't know how I ever lived without this!
Now, let's get started…
Types of Coffee Grinders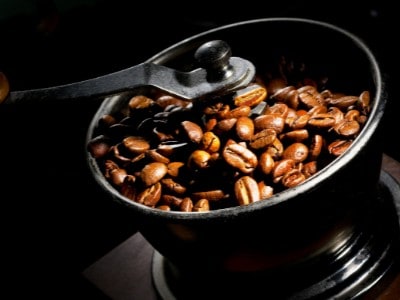 In your search for the best coffee grinder, you'll find two main options…
…each offering a different level of quality.
Blade Grinders
Blade grinders, or manual grinders, are cheap and readily available.
However, they're cheap for a reason.
This type of grinder is widely criticized for being inconsistent…
…the beans will come out partially coarse, partially powder, and all sizes in between.
Using a blade grinder for too long may burn the coffee…
…which further affects the quality of the flavor.
In fairness to blade grinders, they are great for spices.
Even if you normally drink cheaper types of coffee…
…you might not notice much of a difference between a blade grinder…
…and a higher-end grinder. Besides, that low price tag is tempting.
If you intend to purchase high-quality coffee beans…
…you're probably better off investing in a grinder that's made for them.
Burr Grinders
When it comes to getting the best possible flavor out of your coffee…
…you'll be better off getting a burr grinder rather than a blade grinder.
Burr grinders produce uniformly ground coffee…
…all the particles are about the same size.
Coffee connoisseurs find that this consistency…
…makes a huge difference in the taste of the coffee.
There are two types of burr grinders: conical and flat plate.
While there are slight differences in how they work, in general…
…the quality of the results is the same.
Flat burr grinders cost more but produce more consistent particles.
Conical grinders are less expensive and quieter.
However, at this point in your journey…
…you need to decide whether a blade grinder or a burr grinder is best for you.
"Since the force of impact isn't concentrated on one specific point, the grind tends to be more consistent. You will still get some fines and boulders, but less than you would see with a blade grinder."  

Rafaella Rossi – Writer
Perhaps you are wondering…
What to Consider When Buying a Coffee Grinder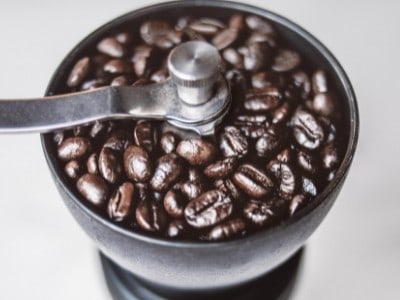 There are hundreds of coffee grinders on the market…
…all performing the same simple task.
Considering that they all offer a similar set of features at different price points…
…it can be difficult to choose the best grinder for your morning coffee.
In order to narrow down your options and figure out which one is right for you…
…here are a few main factors to consider.
Particle Size and Consistency
If you are looking for a new coffee grinder…
…you need to consider this factor most carefully.
It's the factor that most directly relates to the taste and smell of your coffee.
To fully enjoy high-quality coffee, you'll want to grind your beans…
…right before you make your coffee in order to get the grounds…
…as fine and consistent as possible. This is the key to making great coffee.
Almost all burr grinders will do this…
…but there is some variation in how well they'll do…
…and how fine of a consistency they'll be able to achieve.
If you're an espresso lover, be sure to choose a coffee grinder…
…that produces consistent, fine coffee grounds.
Cost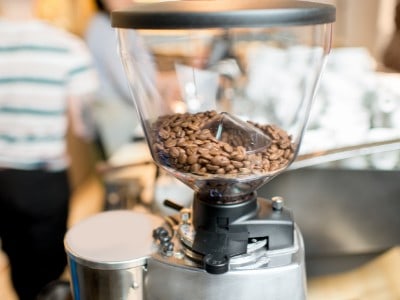 It's not cheap to buy a good coffee grinder.
If cost is a major concern for you, then a blade grinder may make sense.
If you're willing to spend more money on a grinder that will do the job well…
…you'll be looking at burr grinders in the $100-$500 range.
The more you spend on coffee beans, the more you'll get out of a high-end grinder.
It may seem more difficult to swallow the higher upfront cost in the moment…
…but if you spend a lot on high-quality coffee…
…and you aren't enjoying its full flavor, you are wasting your money.
In addition, as with any purchase you make…
…coffee grinders that cost more are usually made of better materials…
…that are durable and will last longer.
High-quality grinders typically last much longer…
…than cheaper models when properly cared for.
Having to buy a new model every few years could save you money.
Keep reading…
Capacity
You will find that each grinder you look at is designed…
…to hold a certain amount of coffee each time you use it.
If you grind the beans before you brew your coffee, you'll get a better flavor.
This logic suggests that you won't necessarily need a high capacity grinder…
…unless you regularly make coffee for several people.
If it's just you, a small-capacity grinder will do.
You should look for something that can accommodate you…
…and your roommates or co-workers.
Speed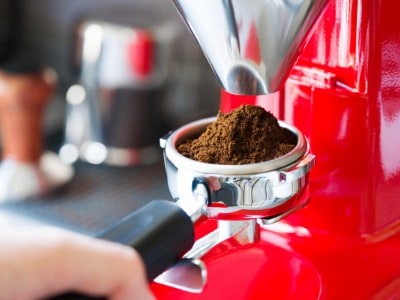 Buying a coffee grinder that runs fast may seem like a great idea…
…but it's a sign of a less durable product.
Using coffee grinders with high-speed motors produces more heat…
…which may burn the coffee and negatively affect its flavor and aroma.
To avoid the heat, you must grind the beans all at once each time…
…which actually takes longer to grind a cup of coffee.
Furthermore, the start-and-stop process…
…can wear out the machine more quickly, resulting in a shorter machine life.
Gear reduction in high-speed grinders can solve some of those problems…
…but in general, you should prioritize grinders that grind at a lower speed.
Heat
Heat is the second main factor that affects the taste…
…of your coffee after particle size.
While grinding, if your grinder gets the beans too hot…
…it will burn the grounds and potentially change the flavor.
In addition to the speed of your grinder…
…how the motor operates is the main factor…
…that affects the heat of your ground coffee.
Some of the more expensive coffee grinders have the ability to control the speed…
…to reduce the amount of heat they produce.
It can add a lot to the initial cost…
…but it can also significantly affect the quality of your coffee.
Depending on your tastes, you may wish to invest in it.
Go on…
Size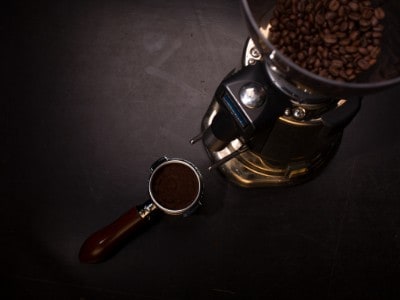 Before buying any new appliance or item for your kitchen…
…it is a good idea to consider its overall size.
In most kitchens, regardless of the size or layout…
…the counter space or cabinet storage is limited.
It's probably safe to assume…
…that you already have a coffee maker and, possibly, an espresso maker…
…in your kitchen because you're looking for a grinder.
Therefore, choosing a coffee grinder…
…based on its overall size is an important factor… to consider.
Make sure you know how much space you have…
…to work with before you start your search.
Coffee grinders aren't particularly large, but they'll need to be stored somewhere.
Make sure you buy a product that will fit in the space you have in mind…
…whether it sits on the countertop or gets stored away when not in use.
Ease of Use and Cleaning
People may be willing to put some effort into making the perfect cup of coffee.
Others may prefer a simpler process.
The complexity of using and cleaning coffee grinders varies.
You should read reviews about a product before purchasing…
…if you know you will be frustrated by a machine…
…that requires extra steps each day to use…
…or that requires a lot of time and effort to clean.
When you don't feel annoyed every time you use your grinder…
…you are more likely to appreciate and enjoy it.
Material
It is most common to find stainless steel burrs or ceramic burrs in burr grinders.
Ceramic burrs generally last longer and are better suited…
…to achieving the fineness you need for espresso…
…so burr grinders with ceramic burrs usually cost more.
Ceramic has a longer life span in most cases…
…however, if something gets into the machine that chips…
…or breaks the ceramic, replacing the burrs will be more difficult.
The stainless steel burr is more common and generally works well…
…but you may need to replace it after a few years.
Replacing steel burrs is generally an easy process…
….much easier than replacing ceramic burrs.
Durability
If you're only going to spend $10-$20 on a blade grinder…
…how long it lasts may not matter all that much.
But if you're going to spend over $100 on a burr grinder…
…you'll want to know it's going to last.
Some of the higher-end models with especially high price tags cost…
…what they do partly because they're built to last a long time.
In general, ceramic burrs will last longer than stainless steel ones…
…and direct drive grinders will last longer than high speed ones.
You can read customer reviews to get an idea of how long…
…you can expect a particular model of coffee grinder to last.
If a coffee grinder doesn't last as long as expected…
…customers will complain, and if it exceeds expectations, they will praise it.
Our Articles About Coffee Grinder
When it comes to purchasing a burr grinder, you want…
…to look for one that gives you both versatility and consistency.
The Oxo Burr Grinder's design allows you to grind your…
…coffee beans into uniform particles for the perfect cup of coffee.
The OXO Burr Grinder allows you to choose whether to grind…
…the beans coarsely for the french press or finely for the espresso maker.
Read the article to find out more about this topic!
Espresso machine with grinder? is that possible?
Getting your day started or revitalized with espresso is always a pleasure.
It might be wise to get an espresso maker…
…if you would like to skip the coffee shop lines.
You can freshly grind your beans without having to purchase…
…an additional appliance with the most convenient models…
…coming with built-in grinders.
Read the article to find out more about this topic!
When a coffee bean is ground, all of its wonderful flavors…
…and aromas are most evident. To get the most out of your daily cup of coffee…
…experts recommend grinding the beans just minutes before brewing.
Nevertheless, grinders are hefty investments.
Many budget grinders are blade grinders…
…which are less durable and more inconsistent than burr grinders.
Burr grinders are praised for their evenness and consistency…
…(with blade grinders, fine particles often mix with large chunks)…
…and they produce less heat, so they don't change the flavor of the coffee.
They can cost hundreds of dollars, possibly even more than your actual coffee maker.
We have compiled a list of reliable options for coffee lovers on all budgets.
Sum Up!
When buying a grinder, there are so many factors to consider:
…size, number of grind settings, dosing options…
…hopper size (where the beans sit), speed of grinding, price point, voltage…
The first point to consider is whether or not you want a specialist espresso grinder:
…these tend to be more robust (and expensive!)
Similarly, some models offer a standard dosage, whereas others do so based on time.
Obviously, there is no perfect machine.
Nevertheless, numerous great machines are available…
…that offer a wide range of capabilities.
Grinder manufacturers are working hard to constantly improve their products.
Consider your coffee-drinking habits and search for the grinder that suits your needs.
Conclusion
Your choice of coffee grinder will have a direct effect…
…on the quality of the coffee you drink every morning.
Making the right choice can help you achieve the perfect cup of coffee every time.
Think about your options and decide what you really want.
The outcome will be worth it.
Hi there! I'm a food enthusiast and journalist, and I have a real passion for food that goes beyond the kitchen. I love my dream job and I'm lucky enough to be able to share my knowledge with readers of several large media outlets. My specialty is writing engaging food-related content, and I take pride in being able to connect with my audience. I'm known for my creativity in the kitchen, and I'm confident that I can be the perfect guide for anyone looking to take their culinary journey to the next level.