Many people think it is hard to cook goat meat..
…they think it is a challenge, especially to get rid of the smell.
But, if you know what to do with every cuts you have it's actually easy…
Goat meat is not only tender, delicate, mild and sweet..
…but also extremely sustainable.
We will answer the questions about what goat cut is best for which occasion..
…as well as how to cook goat meat in the oven and what cuts we like to grill.
But first, Why cook goat meat?
Goat is lower in sat-fat and just as high in protein as beef, pork, lamb and chicken…
….making it a healthy and tasty red meat option.
It is best to slow-cook goat meat…
…but there are some cuts that can also be used for a quick midweek meal.
Let's hear Anna's story…
I tried to cook goat meat for family gathering…
This is my first time cooking goat meat…
…and I thought it just the same as other meat.
So I cook it…
..and my mistake is I didn't try it before serving the food to my family.
That is when I received a weird gaze from them..
…I realized something is wrong.
So I finally tried the goat meat and it was really hard to chew..
I was so sad…
Thankfully I have other thing to cook..
..but it is still such a waste of food..
But i still want to learn how to cook goat meat..
Here is the solutions…
Ultimate Guide to Cook Goat Meat Cuts:
Here is how you can cook goat meat based on the cuts:
Kid Goat Leg
Is the best for slow-cooking Cut from the thigh…
…the leg joint can be deboned and stuffed or cooked with the bone in.
In this recipe, we'll show you how to cook goat leg using an oven…
A low and slow roast, it has a beautiful flavor from being on the bone…
A four-hour low oven cooking method is recommended for this kid goat…
It's a Middle-Eastern feast for the whole family….
…shredded and served with warm flatbreads, garlic yoghurt, herbs, and pickles.
How much should you get: 4 to 6 people can be served from a single leg….
Loin of A Kid Goat
Goat kid Barnsley chops are a type of loin chop…
The loin, which is sliced from the top of the back…
…is prized for its super-tender flesh.
Roasting it is delicious..
…but because it lacks a covering of protective fat…
be careful not to overcook it…
The loin is available in a variety of cuts..
Loin chops Best for: grilling, frying, or barbecuing…
…Chops from the loin are chunky and boneless.
Barnsley chops are a combination of two loin chops…
or a double-sided chop cut across the entire loin with the bone in.
How to cook Barnsley loin chops..
The Barnsley chop equires slightly more time in the oven than a regular chop…
…so roast it for 10 to 15 minutes in the oven…
with a bottom layer of onions, celery, and carrot before finishing it off…
on the barbecue for a delicious, smoky flavor…
Alternatively, marinate them overnight..
…in a rich and tangy combination of pomegranate molasses and suma…
….before slow-roasting them in the oven.
We recommend pan-frying normal loin chops…
….until browned all over before finishing in the oven or on the grill.
To guarantee delicate, luscious meat…
…brown the loin all over in a hot frying pan…
…cover with a couple of inches of stock or white wine…
and simmer slowly in a low oven…
covered with baking paper and foil..
You can order 1 wrapped loin and can comfortably serve 2 persons…
Kid Goat Rack
Kid goat rack is a quick-cooking midweek cuts…
…try this recipe for delicate goat rack.
Best for: grilling or quick roasting The rack…
….which is made from the rib of a goat…
….is an excellent all-arounder.
It's great for quick cooking..
…because it may be cooked whole or portioned into cutlets.
Next one is…
Shoulder
Slow-cooking is the best method…
Goat shoulder can be prepared in a variety of ways…
A complete young goat shoulder, similar to the leg,,
..is wonderful when slow-roasted.
Replace it in this recipe for goat and broad bean pilaf…
When sliced into small bits..
the shoulder can be used as a stuffing for dumplings or buns…
You can orde a 1.5-2 kilogram bone-in shoulder can feed four people…
Neck
Braising and slow-cooking are the best uses for this herb..
Because of its high fat and bone content…
…this cut is best cooked slowly to allow the marrow to be released..
…and the fat to render into the meat.
How to make goat neck tacos…
Cook the goat neck whole in a lot of spices..
…then let it cool before tearing it apart and filling it into tacos.
How much to buy a young goat neck weighing 800g-1kg will feed four people..
Have you tried kid goat diced…
Kid goat diced is a delicious cut for curries or skewering and grilling…
Braising, slow cooking, and skewering on the grill are all good options…
Diced kid goat meat is commonly a mix of neck, breast, shoulder, and leg meat…
…carefully chosen for a variety of flavor and texture.
And the last one is..
Shank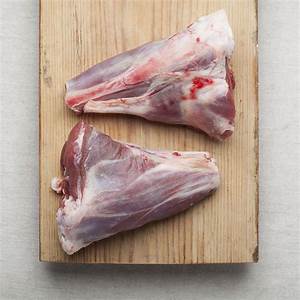 Slow-cooking is the best method…
To prepare a goat shank marinate the shanks in a mixture of olive oil...
…fresh herbs, chili flakes, and garlic.
Cook in a low oven for roughly 2 hours…
… or until falling off the bone…
after searing on all sides in a hot skillet till golden…
Serve with buttery mashed potatoes, rice, or noodles…
…1 shank per person is the amount to receive.
Benefits of Goat meat
In Africa, Asia, Europe, and other nations, goat meat is quite popular…
…but not so much in the United States…
…where beef, hog, and chicken reign supreme.
Surprisingly, goat meat is far healthier than beef…
despite the fact that many people are unaware of this.
Beef, hog, lamb, and chicken all have more calories…
…but it also offers higher protein and iron.
Goat meat is very low in saturated fat..
…which is important for a low-carb diet.
Goat meat should be cooked with fats…
…which I will demonstrate in this dish.
Goat meat is sometimes seen to be tough and difficult to deal with…
…which may put some people off..
..but knowing how to prepare goat meat is essential to unleashing its rich aromas.
Because of its leanness, it is naturally tough…
…but slow cooking softens the connective tissues and makes it easier to eat.
The intense flavors of the goat meat are enhanced by roasting it in the oven..
…resulting in an exceptionally flavorful dish.
Because the goat was also roasted…
…there was no need for a slow cooker in this dish.
A slow cooker or pressure cooker, on the other hand…
…will soften the meat in goat stews or curries.
A 100-gram serving, or 3.5 ounces, has 109 calories and contains 20.6 grams of protein. With low cholesterol and zero carbohydrates, and only 2 grams of fat, chevon certainly qualifies as a lean, healthy protein with numerous nutritional benefits. "

USDA
How to Get Rid of Goat Meat Smell
If you've ever been near a farm with goats…
you'll know that the goats stink like hell!..
Unfortunately, this also applies to the meat…
…so if you eat a male goat, expect it to stink.
If you're buying a goat from a butcher…
…ask for a female goat because they stink less.
There is a solution to save the situation…
if you already have goat meat and can't take the strong odor.
Wash it thoroughly with saltwater and marinate it overnight…
allow the marinade's spices and tastes to penetrate the flesh…
…and mask the goat meat's odor.
A marinade of olive oil, black pepper, garlic, oregano, curry powder, and salt..
Combine the ingredients and rub them into the goat meat..
Refrigerate overnight…
To Sum It Up
Goat meat is not that hard to cook…
..you just need to know which cuts you have and find the right wat to cook.
Also, you can get rid of the smells with some herb..
now go try it!
Conclusion
After seeing all the processes of cooking goat meat..
Do you want to try cook them at home?
You don't need to be afraid to fail anymore…
Share your moments and your point of view with us by…
drop some comments below. We love to hear it from you
Hi there! I'm a food enthusiast and journalist, and I have a real passion for food that goes beyond the kitchen. I love my dream job and I'm lucky enough to be able to share my knowledge with readers of several large media outlets. My specialty is writing engaging food-related content, and I take pride in being able to connect with my audience. I'm known for my creativity in the kitchen, and I'm confident that I can be the perfect guide for anyone looking to take their culinary journey to the next level.