Do you need a new kitchen aid stand mixer sale? Lucky you! KitchenAid Stand Mixer Sale is the focus of this blog.
This blog has it all, from the top 4 models to the greatest prices. And this blog has everything you need to know about small kitchen aid stand mixers as well as big ones.
It's difficult to know which one to purchase when there are so many great alternatives. But don't fret – by following the steps outlined in this article, you'll have no trouble making the best decision!
Kitchen Aid Stand Mixer Sale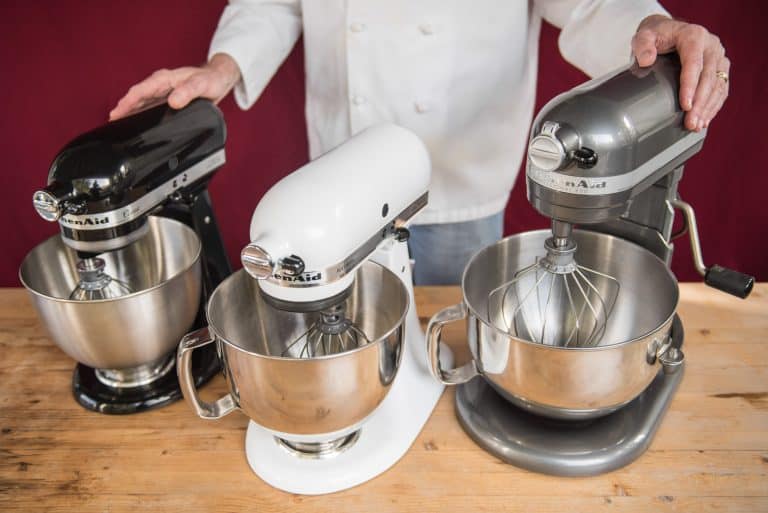 There are a few steps you should take if you're interested in buying a new Kitchen Aid stand mixer in order to receive the greatest price. What you should know is as follows:
First, look up costs online.
Examine features and prices
Examine costs at various stores
Examine warranties
Take dimensions.
Examine costs at various stores
---
Comparison of KitchenAid Stand Mixers
---
KitchenAid Classic
The least powerful motor is found in the KitchenAid Classic, the smallest of the three full-size models. This machine is ideal for beginners who want to make whipped cream and cakes.
For beating stiff cookie dough or kneading heavy dough, we don't recommend it.
This series of mixers include a 4.5-quart mixing bowl and three standard attachments (whisk, beater, and dough hook).
To insert or remove the mixing bowl and accessories, you tilt the head back on these models, which have a tilt-head design.
---
KitchenAid Artisan
We believe the KitchenAid Artisan Series is the best stand mixer for most people, out of all the stand mixers we've tested.
In addition, the Artisan series offers a variety of hues and finishes, including special edition hues like the Color of the Year and the 100th-anniversary hue.
The machine struggled with heavier bread doughs during our test, but everyday tasks like creaming butter and sugar, whipping up cookie dough, and mixing cake batter are a breeze.
This series features ten speeds, like other KitchenAid models, and comes with three standard attachments.
A 5-quart mixing bowl (your option of stainless steel or glass) and a pouring spout are unique to the Artisan line. A tilt-head design is also seen in these models.
---
KitchenAid Pro
This is the line for you if you prefer to bake thick bread and cookies at the same time.
When making bigger batches of batter, the Pro Line's Soft Start function, which begins the mixer at a slower speed to avoid ingredient splash-out and "flour puff," is a huge help.
This line offers a bowl-lift, which can be difficult when removing any one of the three standard accessories. In place of a tilt-head, this line offers a bowl-lift. The KitchenAid Pro Line mixer has ten speeds, similar to the Artisan and Classic.
The Pro-Line provides the ability to use a bigger mixing bowl (6- or 7-quart), which is likely to be the biggest attraction. It, however, lacks a pour spout.
The lack of a pour spout is compensated for by its power. The most powerful of all the models, the 1.3 horsepower motor, gets the job done without strain.
---
KitchenAid Mini
The mixing bowl of KitchenAid's latest stand mixer series is 3.5 quarts, which is geared toward smaller kitchens and lower mixing volumes.
However, don't let the size deceive you. According to the brand website, the KitchenAid Mini series is made with the same motor power as the Artisan but takes up 20% less countertop space.
The basic three attachments are included with all Mini models, which have ten speeds. There are a variety of colors and mixing bowl designs available for the models.
This line is ideal for anyone who wants to cook in a tiny kitchen or bake on occasion.
---
Conclusion
The KitchenAid line of tilt-head stand mixers comes in a variety of designs and sizes, each with its own set of qualities and flaws.
The Pro Line's Soft Start feature is truly useful for preventing flour puffing while baking bigger batches, whereas the Mini series' decreased bowl size may be suitable for buyers seeking a cost-effective option without sacrifice.
---
More Related Articles
Hi there! I'm a food enthusiast and journalist, and I have a real passion for food that goes beyond the kitchen. I love my dream job and I'm lucky enough to be able to share my knowledge with readers of several large media outlets. My specialty is writing engaging food-related content, and I take pride in being able to connect with my audience. I'm known for my creativity in the kitchen, and I'm confident that I can be the perfect guide for anyone looking to take their culinary journey to the next level.