It's safe to say that most adults love…
…a great mac and cheese recipe just as much as our kids do!
While my kids will happily eat Kraft macaroni and cheese…
…they get especially excited when I make this homemade…
…mac and cheese from scratch, and for good reason!
How about you?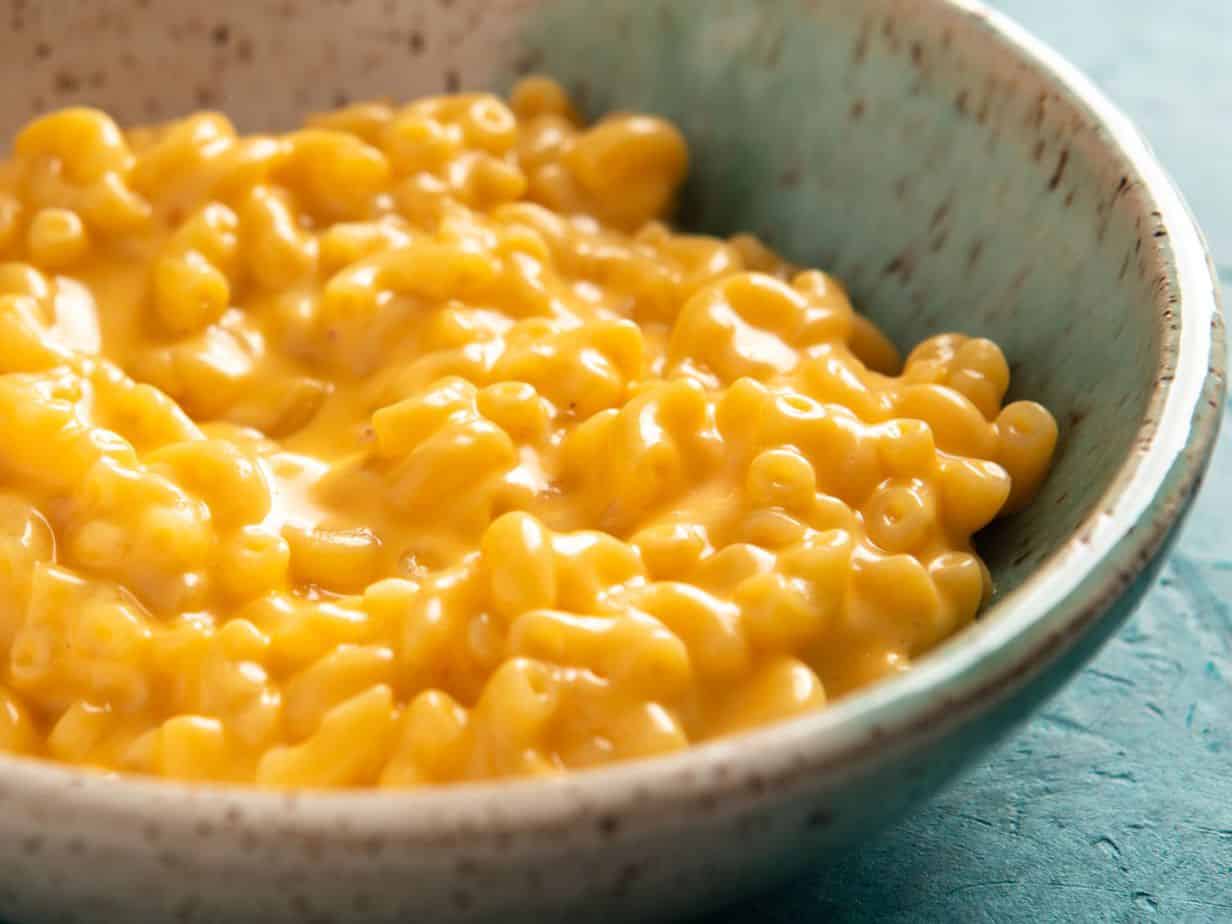 Your kids will probably enjoy helping you make this recipe…
…since it is so simple! As I grated the cheese and measured the noodles…
…I let my little ones help.
My mac and cheese must have a smooth and creamy cheese sauce…
…and I have discovered that there are a few simple things…
…you can do to achieve that smooth sauce we all desire!
Here is Evas's story…
I love cheese more than anything else…
What happens when you add pasta to it? Wonderful!
One of those recipes that can take so many forms is mac and cheese…
I love mac and cheese any way I can get it, but baked mac and cheese is my favorite…
Let me explain. When I make mac and cheese, I occasionally top it with breadcrumb…
… however, a Panko topping is better.
Another surprising health benefit of macaroni and cheese? The average store-bought brand is an excellent source of copper. Copper plays a significant role in the absorption of iron and can help increase energy, too.

Mac and Cheese good side
Let's start from here…
Brief Mac and Cheese History in America
During Jefferson's time at Monticello, he introduced…
…the recipe of macaroni discovered in Paris by his chef James Hemings.
Jefferson drew a sketch of the pasta and took detailed notes…
…regarding the extrusion process. A machine for making…
…it was ordered from the US ambassador to France, William Short, in 1793.
Jefferson imported both macaroni and Parmesan cheese…
…for his use at Monticello, so the machine was not suitable.
A state dinner served by Jefferson included a pie called macaroni…
Reverend Manasseh Cutler reported the dinner menu…
…but he did not seem to enjoy the cheesy macaroni casserole.
However, baked macaroni and cheese has remained popular…
…in the United States since that time.
Making Mac And Cheese
If you're boiling pasta, cook it for a shorter amount of time than usual…
Boiling elbow pasta for four to five minutes is my favorite method…
In the oven, the pasta will continue to cook, and you don't want it to become mushy…
It is best to use room temperature liquids – if you can…
Cold liquids tend to take longer to thicken than warmer ones…
When the water for the pasta is coming to a boil…
…I usually set out the milk and half and half.
Cheese – choose your favorites!
Our favorite cheeses to use in this recipe are cheddar and gruyere…
…but you are free to use cheeses of your choice.
Among the cheeses on the menu are mozzarella, gouda, smoked gouda…
…swiss, monterey jack, colby jack, and colby. Several readers commented..
…on which cheeses they used on the page below the recipe!
You have to shred your own cheese – I know it's a pain…
…and it's so tempting to use the pre-shredded cheese in the bags.
But those bags of cheese contain a starchy substance…
…that prevents the cheese from clumping…
…which also prevents it from melting well.
Variation of Mac an Cheese
If you love bacon, feel free to add some crispy, crumbled bacon to the topping…
…or even inside the mac and cheese as well!
If you don't want to bake this mac and cheese, you can make it on the stovetop!
Please make sure that your pasta is al dente…
…and you will only need 3 – 3 1/2 cups of cheese.
There is no need to layer the pasta and cheese…
…just add all the cheese to the sauce, then combine with the pasta.
I love the cheese layer on top, since it gets nice and crispy…
…but we also love tossing 1 cup of panko with 2 Tbsp of melted butter.
You can also use 1 cup of crushed Ritz crackers and 2 tablespoons of butter…
Different Baking Times – The recipe calls for a lower baking temperature and time…
…but I usually adjust it to fit my family's tastes.
I like to bake this mac and cheese at 350 degrees for 30 minutes…
…then broil for 2-3 minutes to get that wonderful crust of cheese.
Other things you need to note…
Making Mac and Cheese Ahead of Time
Make according to directions (but don't bake), transfer to a baking dish and let cool completely. Place in the refrigerator 1-2 days before serving. Wrap tightly in foil.
Let the dish sit on the counter for 30 minutes before baking.
Bake for 25-35 minutes at the recipe temperature, until hot and bubbly.
This recipe loses some of its creaminess when made ahead, as with most mac and cheese recipes. Making this dish immediately has yielded the best results, so we've tested it.
If you need to prepare this recipe ahead of time, you may wish to increase the sauce amount slightly.
How to Store Mac and Cheese
Any leftovers should be refrigerated and covered tightly. Hence, mac and cheese can be stored for three to four days in this manner.
Stir in a little milk or cream and microwave partially covered with plastic wrap. Reheat the mixture frequently by stirring.
How to AVOID grainy cheese sauce..
There is a difference in the type of cheddar. You will experience a stronger flavor and a smoother texture with aged cheddar. Mild and inexpensive cheddar cheeses tend to taste gritty.
Cheese should be grated fresh. Freshly grated cheese melts more smoothly and evenly in the sauce than pre-shredded store-bought cheese.
Room-temperature cheese is best. First I like to grated the cheese, before proceeding with the recipe. During the preparation of the white sauce, I can leave it at room temperature.
Set the heat at a low level. To ensure the cheese melts smoothly, we want it to go through gradual changes in temperature (like how we shredded the cheese and allowed it to come to room temperature before starting the recipe). If you are adding cheese to the white sauce, remove the sauce from heat and allow it to cool for a few minutes. The temperature only needs to be warm enough to melt the cheese.
During the cheese melting process, don't over stir the sauce. Once the noodles are added, assemble the pan in a hurry and bake.
What Type of Cheese?
Cheddar cheese is used in this classic mac and cheese recipe….
Any type of cheddar cheese will do for me, but I particularly…
…enjoy medium and sharp cheddar cheeses. Use a combination of cheeses…
…if you want a more luxurious mac and cheese…
….or if you really want to impress a crowd. If you're melting cheese…
…then choose cheeses that are good for melting, like cheddar…
…smoked gouda, gruyere, brie, goat cheese, mozzarella, or fontina.
Additional Add-in & Toppings
Check out my Gourmet Mac and Cheese if you want to take…
…the classic Mac and cheese to the next level, or consider adding some of the following:
Freshly grated parmesan cheese can be sprinkled on top of the dish before baking.
Combine 1 cup of breadcrumbs with 3 tablespoons of melted butter in a bowl. When the macaroni and cheese are just about to be baked, sprinkle over the top.
About 4-5 slices of bacon should be cooked. After cooking the bacon, cut it into small pieces and stir it into the mac and cheese before putting it in the baking dish.
Our Article About The Amazing Waffle
A lousy batch of mac & cheese is one of our pet peeves.
When cooking it at home, the most common mistake…
…is using the wrong kind of cheese.
Though there's a lot of the best cheeses for mac and cheese…
…you should choose to have a significant impact…
…on the sauce's flavor and texture.
Cheese is another great way to make your dinner…
…party feels special. You can find just about any…
…combination of cheeses you like and select from…
…a wide selection of both red and white slices of cheese
This is the best stovetop mac and cheese recipe I've ever tried!
It only requires one pot (no additional pot for the pasta)…
…takes about 20 minutes to prepare from start to finish…
…and is creamy, cheesy, and delicious.
Sum Up
I think mac and cheese must have a smooth and creamy cheese sauce…
…and I've done enough trial and error to understand…
….that there are a few simple things you can do to achieve that smooth sauce.
Your kids will probably enjoy helping you make this recipe, since it is so simple!
As I grated the cheese and measured the noodles, I let my little ones help…
Conclusion
If you find this is helpful be sure to leave a comment!
Above all, I love to hear from you guys and always…
…do my best to respond to each and every comment.
Hi there! I'm a food enthusiast and journalist, and I have a real passion for food that goes beyond the kitchen. I love my dream job and I'm lucky enough to be able to share my knowledge with readers of several large media outlets. My specialty is writing engaging food-related content, and I take pride in being able to connect with my audience. I'm known for my creativity in the kitchen, and I'm confident that I can be the perfect guide for anyone looking to take their culinary journey to the next level.