General Meaning For Seasoning
Herbs and spices, which are frequently referred to as "seasonings"…
…are examples of seasonings. However, according to Larousse Gastronomique…
…"seasoning and flavoring are not the same thing," with seasoning referring…
…to the addition of a large or small amount of salt to a dish. Depending on the dish…
…salt can be used to draw out water or to enhance a natural flavor of a food…
..making it richer or more delicate. This procedure is similar to curing. For example…
…sea salt (a coarser-grained salt) is used to tenderize and enhance…
…the flavor of chicken, lamb, and beef. Black pepper and basil, for example…
…impart some of their flavor to the food. Seasonings that complement each other…
…can be combined in a well-designed dish. In addition to the herbs…
…and seasonings used, the order in which flavors are added has an impact…
…on the final product. In some cultures, meat is seasoned at the table…
…by pouring a seasoning sauce over it. Various cultures use a variety…
…of seasoning techniques. Seasoning refers to enhancing or enhancing…
…the natural flavor of food without altering it. Seasonings are typically added…
…towards the end of the cooking process. Salt, pepper, and acids…
…are the most common seasonings (such as lemon juice). Seasonings can't be tasted…
…when they're used correctly; their job is to bring out the flavors…
….of the original ingredients.
The key to a good meal is simplicity and the right seasoning."

Buddy Valastro, American Baker
Keep reading…
So, Why Do We Need Seasoning Anyway?
Seasoning is what distinguishes a chef from an inexperienced cook, and it entails…
…far more than just salt and pepper. Here's what you need to know…
…about seasoning and why it's so important. Seasoning is a noun that refers…
…to the addition of salt, herbs, or spices to food to enhance the flavor.
When we asked about seasoning, the first thing the chef said was that it is crucial.
It creates complex flavors and combines various ingredients…
…to produce well-balanced, flavorful food. Sweet, savory, acidic, or…
…bitter seasonings are all options. A dish can be bland without it.
It's probably the simplest way to make a delicious meal.
Go on…
When To Add Seasoning?
Seasoning can be added at the start of a recipe to allow the flavors…
…to develop during cooking, or at the end to adjust the taste subtly.
If you're working with meat or fish, season the fillet directly before cooking.
You can add it at the end of a sauce if you're making one.
Seasoning follows a set of rules. Seasoning can draw out moisture…
…which can be beneficial or detrimental to your dish. When it comes to meat…
…you can season the fillet right before putting it in the pan, or a long time ahead…
…of time if you want the meat to firm up. Curing meat is a step further…
…and it is used to preserve food.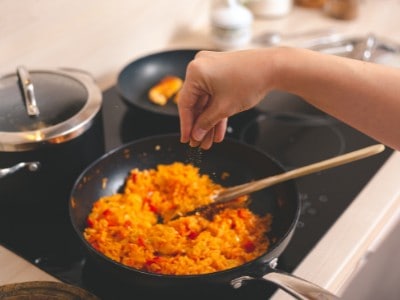 Let's jump into the topic!
Different Types of Seasoning
Seasoning includes herbs, spices, lemon juice, vinegars, and sugar…
…but it also includes salt and pepper. Salt is probably the most popular…
…and depending on the dish, it can be used to draw out water or to enhance…
…a natural flavor, making it richer or more delicate. To tenderize meat…
…and improve flavor, salt is sometimes rubbed into chicken, lamb, and beef.
Other seasonings, such as black pepper and basil, impart some of their flavor…
…to the food, and a well-designed dish may incorporate a variety of seasonings…
…that work well together. Here's some divides for seasoning: 
Saline seasonings: salt, spiced salt.
Acid seasonings: vinegar (sodium acetate), lemon juice, orange juices.
Hot seasonings: peppercorns, ground or coarsely chopped pepper, paprika, curry, cayenne, and mixed pepper spices.
Infused oils are also used for seasoning, especially in pasta and salads.
Oil infusion
Seasoning is also done with infused oils. An infusion can be done…
…in two ways: hot or cold. Olive oil is a good base for some herbal infusions…
…but it goes rancid faster than other oils. Oils that have been infused…
…should be kept refrigerated.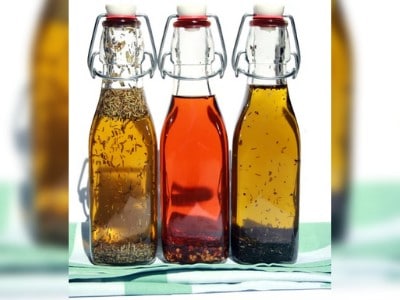 Keep going!
Are Seasoning  Is The Same Like Flavoring?
Seasoning and flavoring are distinguished by the fact that seasoning enhances…
…or brings out the flavor of the food without significantly altering it…
…whereas flavoring alters the taste of food by introducing a new flavor.
Although most people confuse the two terms, there is a distinction…
…to be made between seasoning and flavoring. Seasoning only refers…
…to enhancing flavor, whereas flavoring refers to a change in taste.
The difference between seasoning and flavoring can sometimes…
…be determined by the quantity of an ingredient used.
What is Flavoring?
Flavorings are ingredients that alter the flavor of a food or dish significantly.
The most common ingredients we use as flavorings are spices and herbs.
Additionally, garlic, onions, sauces, acids, and alcohols can be included…
…wine, brandy, cognac, etc. Heat is required to activate some ingredients.
Furthermore, timing is critical because various ingredients require time…
…to release their flavors, and if we cook some ingredients for too long…
…their flavor will be lost. However, some flavorings can be added…
…at the end of the cooking process.
Here's the main part!
What is the Difference Between Seasoning and Flavoring?
Seasoning is an ingredient that enhances a food's natural flavor…
…whereas flavoring is an ingredient that changes a food's natural flavor.
As a result, the key distinction between seasoning and flavoring is this.
The distinction between seasoning and flavoring, on the other hand…
….may be dependent on the amount of an ingredient we use in a dish.
Seasoning a dish with a small amount of nutmeg is one example…
….but flavoring a dish with a large amount of nutmeg to change the flavor is another.
Salt is the most commonly used seasoning ingredient. Flavorings such as herbs…
…and spices are commonly used. Furthermore, most seasonings are added…
…to a dish near the end of the cooking process, whereas flavorings..
…can be added at any time.
Our Articles About Seasoning For You!
With a few strategies up your sleeve, you can easily recreate…
…restaurant-quality steaks at home if you know the right…
…guide to seasoning steaks There are many meat myths out there…
…and it's hard to figure out what's true and what's not.
You can make the perfect steak every time with this cheat sheet….
A seasoning is the key to it all. Read this article to know more about it!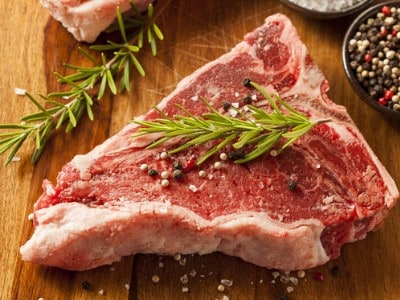 Some people can't get enough of steak, but may not be able…
….to prepare it or enjoy it every day. Therefore..
..steak is taken very seriously and is often treated like a special dish.
When you can use store-bought seasonings for steak…
.It's a meat that can be prepared in a variety of ways..
…and adding the best steak seasoning to a cut of meat…
…can enhance its flavor even further. Read this article to know more about it!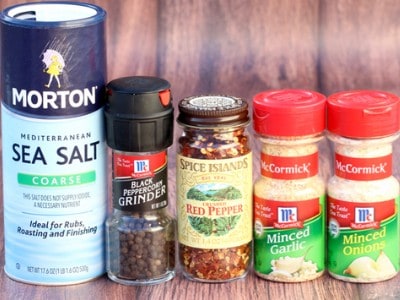 Next up!
Grilling salmon can be seasoned in so many different ways…
The flavor profile of salmon is delicious.
It can therefore be seasoned simply with fresh salt and pepper…
A marinade can be elaborate or simple. You can top salmon…
…with mango habanero sauce as well. No matter which way you choose…
…you'll have a healthy and delicious meal! Read this article to know more about it!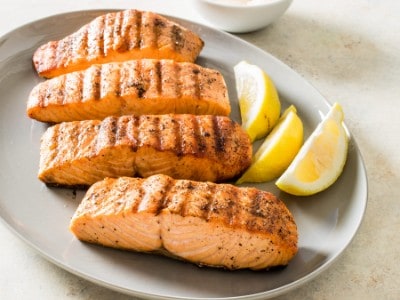 A 3.5-ounce (100-gram) serving of salmon provides 75–85% of the DV of selenium…
….a mineral that may support bone health, improve thyroid function…
…and protect against cancer. The oven baked salmon is a moist and flaky fillet that is…
…highly seasoned and has a lemony and spicy kick to it.
It's the perfect easy weeknight meal for those on the go…
…or for Lenten meals. Perfect for Lenten preparations, this salmon dish comes…
…together in just minutes. Read this article to know more about it!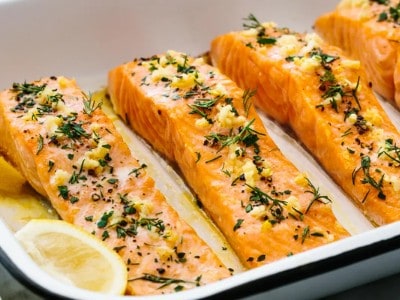 Last but not least…
From weeknight fillets to weekend entertaining…
Salmon has been always a great choice!
Here we'll go overall on everything you need to know…
…about salmon including what cuts and varieties to…
…buy what tools you'll need, how to prepare it, and…
….what it's the best seasoning! Read this article to know more about it!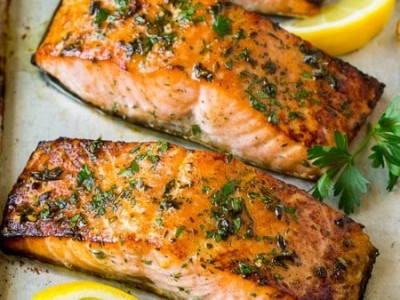 About Cooking For You!
Hi there! I'm a food enthusiast and journalist, and I have a real passion for food that goes beyond the kitchen. I love my dream job and I'm lucky enough to be able to share my knowledge with readers of several large media outlets. My specialty is writing engaging food-related content, and I take pride in being able to connect with my audience. I'm known for my creativity in the kitchen, and I'm confident that I can be the perfect guide for anyone looking to take their culinary journey to the next level.