When the cold weather sets in…
…many people with diabetes find themselves struggling…
…to keep their blood sugar levels under control.
To help combat this, I've put together a short  list of delicious recipes…
…that are guaranteed to make you feel warm…
…and fuzzy and help your blood sugar stay in check.
What could be better than sitting by the fire…
…with a nice cup of tea or coffee and a good book?
Well, if you happen to have diabetes…
…a winter season full of comfort foods might not be the best thing for you.
But, there are a few seasonal treats…
…that are low in blood sugar, yet still delicious.
Here are 5 great (and guilt-free!) winter comfort foods for diabetics…
…that will keep you going all through the coldest part of the year.
 Winter Comfort Foods for Diabetics
Many people with diabetes need to lower…
…their carb intake in the winter months.
This is because it's harder for their bodies to use sugar for fuel.
However, this doesn't mean that you have…
…to give up all your comfort foods.
In fact, there are certain comfort foods for diabetics …
…that can be part of a healthy diet for people with diabetes.
The truth is, many people with diabetes can enjoy the foods they love.
With a little planning and preparation…
…it's easy to make your favorite comfort foods healthier…
…without sacrificing flavor. The trick is to simply substitute…
…healthier ingredients for those containing high levels of sugar and starch.
Replacing white flour and white rice…
…with whole-grain products is only the beginning.
Swap out refined oils and margarines for olive oil and avocado oil.
Reduce the amount of salt you use by preparing your food…
…in advance and serving it up plain.
Swap out regular sugar for stevia, honey, or xylitol.
Make the commitment to add a few new healthy recipes…
…to your repertoire every week…
…and you'll be on your way to a healthier, happier you. 
"Making a few simple substitutions can transform conventional dishes into diabetes-friendly meals for the entire family to enjoy,"

Athena Philis-Tsimikas, MD – Scripps Endocrinologist & Corporate Vice President of the Scripps Whittier Diabetes Institute.
In Your Coffee, Swap Cinnamon for Pumpkin Syrup
With cooler temperatures, a whole new group…
…of foods have come to the fore.
The problem is, cold-weather favorites like apple pie…
…and pumpkin spice lattes are typically high in sugar and carbohydrates…
…which can derail your efforts to maintain a healthy blood-sugar level.
"A pumpkin spice latte can easily run over 50 grams (g) of sugar;
…which can cause a quick spike in blood glucose,"…
…says Erin M. Shyong, RD, MPH, a certified diabetes care…
…and education specialist based in Closter, New Jersey.
Combining that with cool-weather comfort foods…
…such as mashed potatoes, cream-based soups…
…and warm bread, your diet can quickly become a blood glucose disaster.
"The cooler weather creates cravings or desires for comfort food,"…
…says Angela Ginn-Meadow RD, CDE, senior education coordinator…
…for the University of Maryland Center for Diabetes…
…and Endocrinology Food in Baltimore.
Recent research suggests that the change in season…
…may influence ghrelin and leptin…
…two hormones responsible for hunger and satiety, respectively.
These fluctuations may cause you to eat more calories.
Although some comfort foods may contain excessive fat, sodium…
…or carbohydrates, you need not deprive yourself…
…simply because you have diabetes. 
If you reduce portions or make some…
…comfort food classics healthier…
…for example, you can enjoy your favorite foods for diabetics…
…without putting a negative impact on your health. 
"Try modifying ingredients, such as butter, eggs…
…whole milk, or heavy cream, to lower-fat options…
…such as beet puree, or egg whites…
…and nonfat Greek yogurt," Ginn-Meadow suggests. 
Changing seasons also means you can try savory foods…
…and drinks you may have neglected during the summer months.
"Instead of sweetened beverages, think of herbal tea…
…that has flavors such as pumpkin, apple spice, or cinnamon," says Shyong.
With the change in seasons comes the opportunity…
…to enjoy cool-weather foods that may offer additional health benefits…
…to those with diabetes. From nutrients that may boost…
…blood glucose and cholesterol levels to high-fiber foods…
…that can help you lose weight…
…these cooler-weather foods can be beneficial to all.
Cooler weather also means that hot drinks become more popular. 
As opposed to sugary coffee shop drinks like hot chocolate…
…which has an average of 380 calories…
…52 g of carbohydrates (50 g of total sugar)…
…and 14 g of fat per 16-ounce serving…
…to try instead a cinnamon latte with low-fat milk. 
The U.S. Department of Agriculture (USDA) states…
…that this swap offers 144 calories, 21 g of carbohydrate (20 g of sugar)…
…and 14 g of protein per 8 oz, which may help reduce blood sugar levels.
Moreover, an earlier review found that consuming…
…only 120 milligrams (mg) of cinnamon…
…which is equivalent to 12 teaspoons…
…may lower fasting glucose levels and LDL cholesterol levels…
…while increasing HDL cholesterol levels in individuals with type 2 diabetes. 
According to a study published in April 2017…
…in Dermatology & Metabolic Syndrome…
…people with diabetes have a higher risk…
…of developing heart disease than the general population.
White Potatoes Can Be Traded for Jicama As Part of Your Diabetes Diet
Try cooking with jicama this season if you've never done so before…
…since jicama and diabetes go well together!
Jicama contains half the calories and carbohydrates…
…of a white potato and can be made into anything…
…from french fries to taco shells. 
A cup of raw jicama contains just 49 calories, 11.5 grams of carbohydrate…
…and 6 grams of fiber, according to the USDA…
…making it a versatile root vegetable to incorporate into many meals. 
Slice or cube the fruit after removing the skin with a vegetable peeler.
It can also be eaten raw as a dipper…
…for hummus or as a crunchy topping for salads.
Spaghetti Squash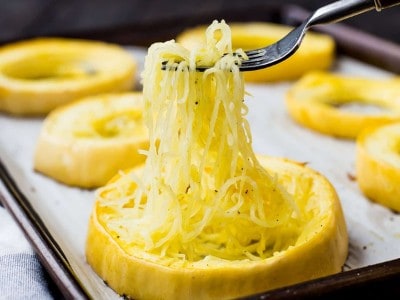 A steamed pot of pasta warms the whole kitchen…
…but the simple carbohydrates in white pasta can add up quickly.
Rather than regular wheat spaghetti, use spaghetti squash…
…which, when cooked, separates into long orange strands that mimic pasta…
…but without the high carbohydrate content.
One cup of spaghetti squash has about 10 grams of carbohydrates.
For a filling lunch or dinner, bake or steam the squash until cooked…
…then scoop out the insides and top with your favorite sauce.
It's important to remember that tomato-based sauces…
…like marinara tend to have fewer calories…
…and fat than creamy or cheese-based sauces.
Roasted Vegetables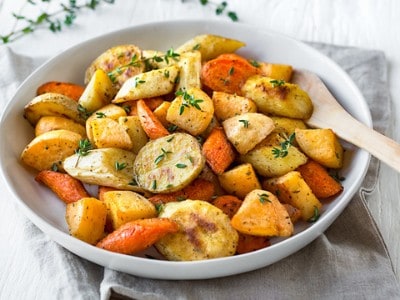 There are many low-glycemic vegetables available at this time of year…
…including broccoli, cauliflower, Brussels sprouts, and garlic.
By roasting them, their flavors are enhanced.
Spread on a baking sheet, toss lightly with olive oil…
…roast until crispy on the outside and tender on the inside…
…and season as needed. If you want to add squash…
…or sweet potatoes, do take into account the higher carbs.
Baked Apples
From traditional varieties such as Red Delicious and Granny Smith…
…to newer favorites such as Honeycrisp and Pink Lady…
…apples provide a sweet snack or dessert without extra sugar.
They can be baked whole or sliced.
"Apples are a fruit, so they do have sugar," Dr. Tsimikas said.
"But the high fiber helps keep blood sugar levels steady."
With this program, you can reverse your diabetes as well as spend your cold-weather time enjoying a special tea recipe…
Deep Sleep Diabetes Remedy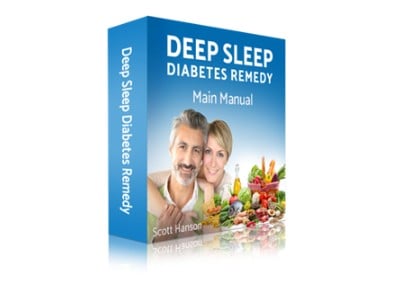 The unique tea recipe that was developed…
…by the creators of the system is what makes this system unique.
It is known for offering a lot of assistance…
…when it comes to managing diabetes-related problems.
Scott Hanson creates the drink from herbs…
…and natural ingredients that he studied deeply. 
In the course of his research…
…he discovered a strong connection between sleep and diabetes.
The effects of diabetes can be exacerbated…
…as well as strengthened by inadequate sleep patterns and insomnia.
Through the development of this tea…
…he made sure that his users would have a good night's sleep.
This, in turn, helped them to deal with their diabetic problems.
Several users have cited a variety of benefits from the program.
The solution is tried and tested…
…so many people will be pleased and impressed.
Here are a few words from Audrey…
I have been diagnosed with type 2 diabetes about four years ago. 
In the past four years, I have tried different approaches to managing it. 
One of them was exercise, and another was healthier eating and losing weight. 
On top of that, I drink herbal tea every day for diabetes.
Even if these methods worked, I would still have high blood glucose and not be cured of diabetes. 
I was able to take control of my diabetes with the Deep Sleep Diabetes Remedy.
Because I was sleep deprived, my blood sugar was out of balance.
As a result of my new lifestyle I have been able…
…to eat whatever I want and reverse my type 2 diabetes.
You should also try it! 
Finally…
Sum Up!
  For people who have diabetes, it is important to eat foods…
…that will keep them full for a long time.
This is especially true during the winter months…
…when they tend to have more energy-sapping illnesses.
One great way to get this type of food is to have some comfort foods…
…that are considered "winter comfort foods."
These types of foods include rice pudding, sweet potatoes…
…cranberry sauce, chocolate chip cookies, and many others.
You should eat these foods occasionally but not every day.
It is important to stay well-hydrated while you are eating them.
Try to drink a glass or two of water with each serving.
This will flush out the toxins from your body and help you to feel better.
Eating these foods will also give you a sense of satisfaction.    
Conclusion
  Diabetics need to eat more fiber, potassium…
…magnesium, vitamin B6 and vitamin C…
…and less sugar, saturated fat and cholesterol.
They need to pay attention to their portion sizes…
…and watch what they eat over the holidays.
Make sure you include some healthy options like vegetables…
…fruit, whole grains, low-fat dairy, lean meats and poultry…
…and nuts and legumes in your meal planning and shopping.
Include a little sugar, chocolate, or alcohol on special occasions…
…to keep your blood glucose level from getting out of whack.
Keep a food journal for a week and you will see…
…how your diet affects your blood sugar levels.
Also, be sure to check with your doctor to see…
…if any changes are needed in your diet or medication plan.
---
Our Latest Post:
💻 Deep Sleep Diabetes Remedy| Sleep Better With Diabetes | Can Sleep Lower Blood Sugar Level? 
---
Hi there! I'm a food enthusiast and journalist, and I have a real passion for food that goes beyond the kitchen. I love my dream job and I'm lucky enough to be able to share my knowledge with readers of several large media outlets. My specialty is writing engaging food-related content, and I take pride in being able to connect with my audience. I'm known for my creativity in the kitchen, and I'm confident that I can be the perfect guide for anyone looking to take their culinary journey to the next level.