Pellet grills from Camp Chef have improved tremendously…
…in recent years, with most now including a new…
…and more accurate PID controller, as well as sidekick attachments.
Take a look at our review of the midrange Camp Chef SmokePro DLX Pellet Grill.
We answer all your questions in our Camp Chef SmokePro DLX pellet grill review…
…about this mid-tier smoker that is capable of handling…
…all your outdoor cooking needs with a single unit!
Grilling and smoking are your passions…
…but neither your outdoor space nor your budget allow you to do both?
It so happens that there are 2-in-1 solutions available…
…that might solve all your problems…
…including this beast with a stunning appearance.
This is said with respect and affection.
Will a single device really serve as both a smoker and a grill, and can it do both jobs well?
Let's have a closer look at this fascinating outdoor cooker!
Here are a few words from Sharon…
For anyone who enjoys smoky flavors and cooking at home slowly, this is the right choice.
My first experience with a pellet grill comes after reading…
…and studying them for some time.
As I was looking for a solution for outdoor cooking…
…I wanted to have the ability to cook like the pros…
…without having to haul a huge trailer.
After deciding to use the Camp Chef, I haven't been disappointed.
The temperature control is perfect, so you can adjust the cooking time as needed.
The other day I smoked chicken and the red smoke ring was a 1/2″ deep.
It's like a convection oven so there are no cool or hot spots…
…it'll keep the heat even and consistent.
I've noticed even if smoke isn't pouring out, the wood flavors are still evident.
It's a unique system that cooks at a slow rate.
It won't sear thin cuts of meat like steaks…
…but it will have an excellent smoke flavor.
So, it's not a good solution for all your outdoor cooking needs…
…but if you enjoy cooking slowly, it's great.
Now let's get started…
What is the Camp Chef SmokePro DLX Pellet Grill?
Even though it looks like a standard barbecue…
…that has gained a few pounds, the SmokePro DLX is anything but standard.
However, unlike the grills we are more familiar…
…with the SmokePro uses wood pellets for heat and smoke.
Like chips, wood pellets are compressed sawdust that comes in a variety of flavors.
Fill up the hopper with pellets, set your desired temperature on the keypad…
… and the machine does the rest.
An auger continuously feeds pellets into the burn chamber…
… where an electric heat rod ignites them.
Smoke chambers are set up much like standard barbecues…
… with a main grill and an upper grill.
SmokePro is capable of smoking, roasting, baking and grilling…
…due to its configuration and temperature range.
Searing, however, isn't one of its capabilities.
Although you can easily cook your burgers, other meats, and vegetables…
… there simply isn't enough heat generated to get the job done.
Here's the main thing…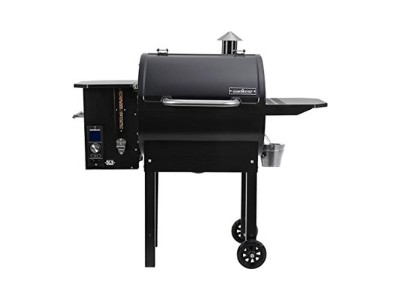 Take a look at one of Camp Chef's most popular products:
…the SmokePro DLX Wood Pellet Outdoor BBQ Grill and Smoker.
First Impressions
Assembling the SmokePro DLX is not difficult, even though it is well packed.
There is an Allen key included for your convenience.
There is no doubt that the unit looks robust and well built…
…everything fits together well, and I like the little bucket provided for collecting grease.
Thanks to the large cooking chamber and the massive hopper on the side…
… this smoker certainly makes a statement.
It's nice to see that they included a worktable on the side…
… as well as wheels for moving it.
With its charming chimney and conical hood, it's a good-looking smoker.
The bronze model is particularly attractive.
Although it is huge, it doesn't seem overwhelming…
… as many horizontal and offset smokers do.
The control scheme is straightforward.
You can easily access the temperature dial…
… and the digital readout lets you know how hot it is inside.
All the controls are clearly labeled, so there should be no confusion.
All in all, my first impressions of the SmokePro DLX are positive.
Keep reading…
Key Features of the Camp Chef SmokePro DLX Pellet Grill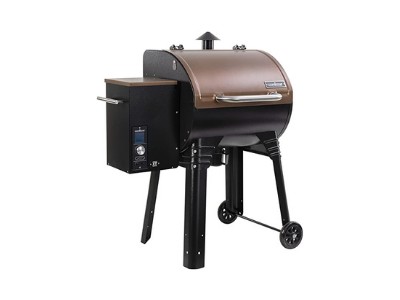 Large Hopper
You can fill the hopper with up to 18 pounds of your favorite pellets for hours of smoking.
For most jobs, you won't need to refill…
…but the amount you go through will depend on the time and temperature.
Automatic Auger
There's nothing better than a fire that feeds itself!
By delivering the pellets in the right quantity…
…the auger speed controls the temperature.
Actually, it's really impressive technology…
…which takes a lot of guesswork out of the process.
LED Temperature Readout
When you use a thermometer with a digital display…
…you won't have to guess where the needle points.
It can even be read in the dark if you are smoking for an extended period.
PID Controller and Temperature Selection
Makes it simple to get the temperature you want.
With a simple turn of the dial, the 2nd Gen PID controller…
…will control the auger, pellet burn rate…
…and fan to ensure the desired temperature is achieved. User-friendly much?
Temperature Probe
It's almost hard to believe Camp Chef…
…included a probe-style thermometer in the box, as it is so useful.
When you want to check if your meat is done, you don't want to slice it open…
…nor do you want to leave the lid open while you insert a thermometer.
Simply insert the probe through the special hole and plug it into the main panel.
Press a button to switch from internal to probe to see if it's ready!
Covered Smokestack
The chimney, or some other form of vent, should be installed…
…on all smokers to ensure proper flow…
…and to minimize soot buildup inside the smoker.
Since the weather doesn't cooperate all the time…
…it's nice to have a cap over the chimney to prevent rain and snow from getting in.
Pellet Purge System
Some grills can be difficult to remove the pellets, but not the SmokePro DLX.
The hopper empties from the bottom when you pull the knob.
Besides being great for removing unused pellets…
…it also gives you the option of changing pellets midway through a smoke.
Ash Cleanout System
It is an unavoidable problem when you burn wood…
…whether it is chips, charcoal, or pellets.
The process of dealing with it can be messy, and it tends to get everywhere.
There is a cup attached under the burn chamber for collecting ash.
The bottom of the chamber can be accessed by pulling on a handle.
There is a cup of ash in the bottom of the chamber.
Side Shelf
Whether you're grilling or smoking, a side shelf can come in handy.
The extra space to rest utensils, or to set down meat trays as you open the lid…
…can be incredibly helpful. This is another nice touch from Camp Chef.
Go on…
Important Details
There is no way to learn everything you need to know…
…about a product from a manual.
These are some good-to-know facts you won't find on the spec sheet.
Ease of Use
The main advantage of pellet smokers…
…and so much of what this smoker does, is that everything is automatic…
…making it very user-friendly, even for people who aren't familiar with smoking.
"From the push-button starter to the automatic auger, and, finally, the shutdown mode, it's incredibly simple to operate." MARK JENNER – Founder, author, and chief editor at FoodFireFriends.com
It's really only the pellet hopper you need to worry about…
…and it's so large that it rarely needs to be refilled mid-smoke.
Cleaning and Maintenance
Ash forms where there is smoke, and fire forms where there is smoke!
The most dirty part of smoking is messing around with ash…
…but the SmokePro DLX takes care of this.
Pulling the ash dump knob, the ash falls into the collection cup…
… at the bottom of the smoke box, where you can dispose of it.
Except for that and the occasional scrape of the grill (as with any BBQ)…
…there isn't much to do on a regular basis.
According to Camp Chef, a deep cleaning is recommended every 50 hours.
Remove any loose debris, and gently scrape away any buildup.
Warm, soapy water should be used to clean the interior and removable parts.
Rinse it off, let it dry, and you're done!
Available Support
Specifically for Camp Chef smoker owners…
…there is a decently large Facebook group.
It has about 5,400 members, and hundreds of posts are made each day. 
Camp Chef can be reached by toll-free phone call, email, snail mail, online form…
…or live chat from Monday to Thursday, 7a-5p (Mountain Time).
In addition to their social media feeds on Facebook, Twitter, Instagram…
…YouTube, and Pinterest, they also maintain a blog on their website.
Their customer service seems to be excellent from what I can tell.
It seems that nobody complains about them…
…and there is ALWAYS someone complaining about everything.
In my opinion, this implies the department is doing well.
Available Upgrades, Accessories and Attachments
Cover
Sear box — A 16,000 BTU propane burner that mounts where the side table typically goes
Sidekick – An attachment that allows you to sear on it, or add a griddle, pizza stone, or boil a pan
Jerky rack
Rib rack
Pellet grill blanket
Warranty Details
3-year "Hassle-Free" warranty on all parts
No coverage for paint
Does not cover abuse, neglect, misuse, accidents, and modification
Quick Tips To Get the Most Out of Your Camp Chef SmokePro DLX Pellet Grill
To prevent auger stoppage, remove wet pellets
For winter smoking, but a pellet grill blanket to keep in the heat
Try a variety of foods and cooking styles – bake, roast, smoke, grill: do it all!
You can change the pellets halfway through the smoking process to enhance the flavor.
Pros:
Automatic temperature control
Well thought out convenience features (ash dump, pellet chute, probe)
Handles all outdoor cooking jobs
It doesn't have to be all black
Cons:
It doesn't sear without adding the sear box (which is really just a small propane grill attached to the side), but then again, most smokers only smoke
Not all the ash is going to end up in that cup, and you'll likely still need to vacuum out the smoker – better than nothing, though!
Sum Up!
Anyone adventurous enough to take advantage…
…of this piece of equipment will be able to cook all kinds of foods in the backyard.
This grill excels at just about everything…
…unlike many multi-purpose items that are jacks of all trades, masters of none.
The unit can easily replace both a smoker and a standard barbecue…
…with the addition of the sear box.
However, this quality and versatility don't come cheap.
A smoker of this caliber is a high-end product.
While it is an investment, it seems to be worth every penny.
In fact, we wholeheartedly recommend this very cool smoker and grill.
The Camp Chef SmokePro DLX will completely transform…
…your backyard cooking experience.
Conclusion
Were you curious before reading this article about pellets…
…if you had no idea what they were?
With all the technology included in this very cool smoker and grill…
…you don't have to worry about guesswork…
…or dealing with a steep learning curve as you master the art of smoking.
Also, being able to grill and smoke is a nice bonus.
Having read our Camp Chef SmokePro DLX Pellet Grill review…
…are you convinced this is the grill for you? If so, congratulations!
Now that you've found what you're looking for…
…it's simply a matter of ordering and looking forward…
…to sharing some great meals with friends and family.
Lastly, we welcome your comments, concerns…
…and non-philosophical questions in the section below…
…we do barbecue, not existentialism.
Happy grilling!
---
---
Our Latest Post:
💻 Hybrid Grills| Best Infrared Grills| Gas Grills|
---
Hi there! I'm a food enthusiast and journalist, and I have a real passion for food that goes beyond the kitchen. I love my dream job and I'm lucky enough to be able to share my knowledge with readers of several large media outlets. My specialty is writing engaging food-related content, and I take pride in being able to connect with my audience. I'm known for my creativity in the kitchen, and I'm confident that I can be the perfect guide for anyone looking to take their culinary journey to the next level.