Spending time in the kitchen is great…
…but do you ever manage to find the right spatula for the job?
Read on to find out spatula buying tips!
Here are a few words from Sofia before we get started…
The little things are what make a difference.
Instead of continuing to "make do" with the hard plastic one…
…I picked up somewhere along the way, I bought this one.
The silicon heat resistance would provide the added security…
…I'd become accustomed to while maintaining the firmness…
…I'd grown used to. Mission accomplished!
I use it every day, and it makes life much simpler.
Heat transfer and warping are no longer a concern.
It doesn't cut as well as hard plastic, but that's expected.
Let's get started…
Overview of the Spatula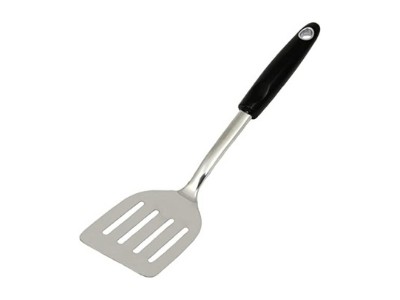 For the first two decades of my life…
…I was unaware of the conflict surrounding the term spatula.
In the beginning, I didn't realize how many different utensils…
…people refer to as spatulas until I started working at a diner.
Some people think of them as wide, flat, and used to flip eggs or burgers.
Others consider them thin metal blades good for smearing sugary icing on cakes.
For individuals like me, they are soft rubber-tipped tools…
…that were designed to scrape the cookie dough bowl clean.
At that diner, we had a few good-natured…
…if not a little heated, debates about what constituted a true spatula.
We were all a little bit right and a little bit wrong in the end.
There are as many origins of the word spatula…
…as there are uses for it today – literally.
The word can be traced all the way back to the Roman Empire…
…where it refers to a broad-bladed sword. 
The word first appears in English in 1525, when it morphs…
…from being a weapon to a utensil used at apothecaries.
These days, it refers to any cooking tool…
…with a long handle and a thin, flexible blade.
It is likely that you don't spend too much time thinking about spatulas…
…but you have likely used one of these marvelous kitchen tools.
Whichever side of the spatula debate you choose…
…I think we can all agree that the spatula is a widely used…
…and underappreciated cooking tool.
Without further ado, let's talk about the spatula buying tips.
Here's the real deal…
Spatula Buying Tips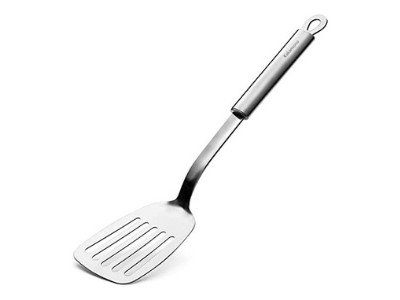 Materials
Different types of spatulas are made from different types of materials…
…and each material has its own advantages.
Stainless steel, plastic, silicone…
…and wood are the most common materials…
…used to manufacture spatulas.
Stainless Steel
Materials made from stainless steel are highly heat-resistant…
…due to the composition of the material.
Spatulas made of this material are ideal for use in high-heat cooking.
They can scratch non-stick pots and pans…
…which is a downside of stainless steel spatulas.
Further, using them in cast-iron pans with enameled surfaces is a recipe for disaster.
Silicone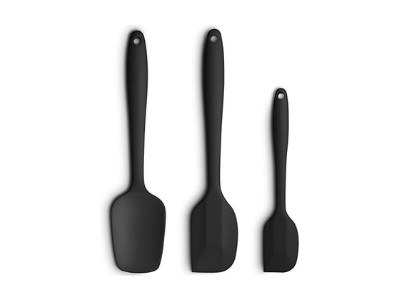 The most common material used to make spatulas is silicone.
Like stainless steel spatulas, they can be used in high-heat conditions.
Furthermore, they do not scratch your pots or pans like those above.
However, you must consider the range of heat resistance before buying a silicone spatula.
"Silicone spatulas are great for your kitchen because of their overall versatility. Theyre heat resistant which makes them great for cooking in your favorite frying pan on high heat. Plus, they are great for scraping the sides of a mixing bowl or a condiment jar."

Urvashi Pitre – Cookbook Author
Plastic
Plastic spatulas are cheap options.
Because they are made of plastic…
…they do not perform well in high temperatures.
Plastic spatulas are a decent option for activities like baking or low-heat cooking.
Wood
Wooden spatulas are some of the best spatulas on the market.
They are highly heat resistant and are ideal…
…for high-heat cooking conditions.
Additionally, they do not scratch the surface…
…of your pans like silicone materials.
However, they do have some drawbacks.
Due to the possibility of splintering…
…they are not as durable as silicone spatulas.
Furthermore, they are more difficult to clean.
Leading Edge
Flipping or lifting your perfectly fried eggs…
…only to have them crumble or tear can be frustrating.
Using a leading edge on the spatula…
…can affect the effectiveness of flipping your food.
If you are making delicate meals, such as pancakes…
…you should choose a thin and sharp edge.
Metal spatulas usually have the sharpest…
…and thinnest leading edges, based on our research.
Furthermore, make sure your frying pan…
…or stir-fried pot will not be damaged by the spatula.
On the other hand, if you are cooking heavy foods…
…you might need a spatula with a thicker leading edge.
Keep reading…
Length of the Handle
You must consider the handle length of the spatula…
…if you want control over your food while cooking.
There is no denying that shorter handles put your hands…
…closer to the heat, but there is also no denying…
…the greater control they give you.
Their simplicity or efficiency cannot be denied.
Long handles are an excellent choice…
…if you don't care so much about control…
…and want to cook in comfort farther away from the heat.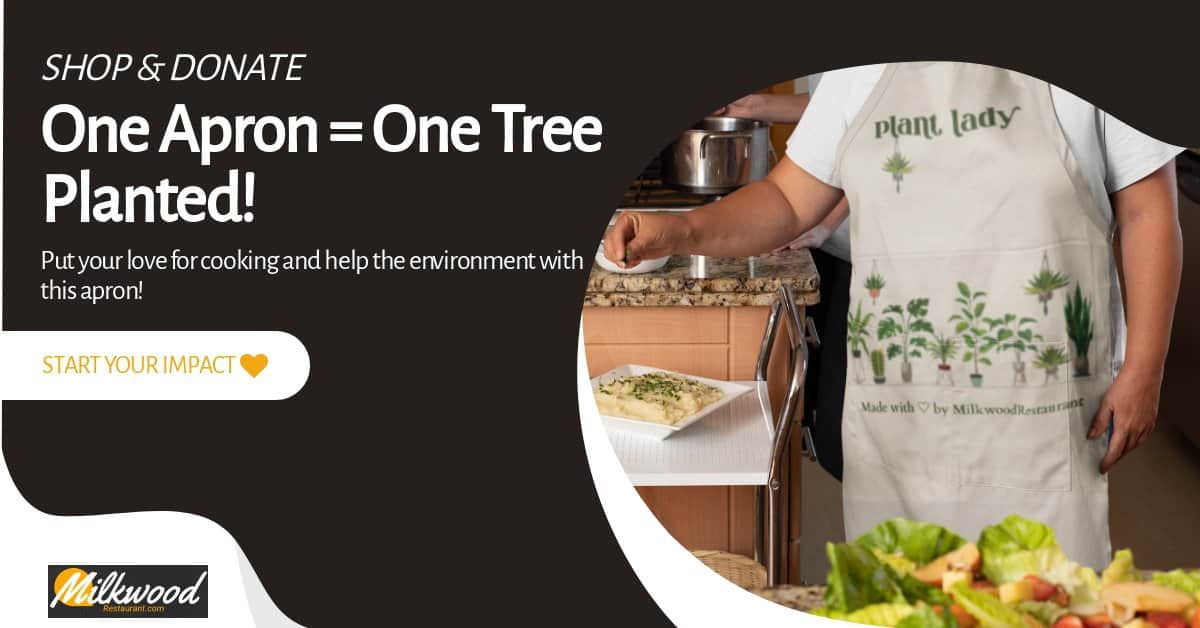 Therefore, these types of spatulas are ideal for high-heat cooking.
Additionally, if your spatula has a wide head (more on that later)…
…a longer handle can actually give you more control.
Head Width
There are various head widths available.
A wide head will make cooking easier…
…for people who want greater control over stirring and moving the food.
A medium width head is ideal for delicate foods like fish.
Especially for foods that need to be cut into small portions…
…such as cakes, a smaller head width is a great option.
Flexibility
The flexibility of the spatula is great…
…but it can become problematic when it is too flexible.
Even with a little force applied, if the spatula bends alarmingly…
…then prepare for a frustrating cooking experience.
Therefore, test the spatula's flexibility before buying.
Consider the effect of applied heat on the flexibility of the spatula as well.
Ease of Cleaning
For most people, dishwasher-safe spatulas are the best.
A spatula should not be difficult to clean after use…
…regardless of whether it is dishwasher safe or not. 
A spatula that is easy to clean makes life easier…
…and even results in a healthier spatula.
Go on…
Types of Spatulas
Spatulas are made of different materials and come in different shapes.
There are four major types of spatulas on the market.
There are a wide variety of options and features available in each…
…each serving a specific purpose.
Selecting the right one for the job is half the battle…
…deciding which model is the other half.
Rubber Spatula
Turner
Frosting spatula
Fish spatula
Let's see the features of each kind…
Rubber Spatula
Rubber spatulas are excellent if you use them to make omelets…
…scrape baking bowls, or transfer stuff from one container to another.
They are flexible and can transfer all food…
…without dropping since they are made of rubber.
This makes cleaning a lot easier.
Turner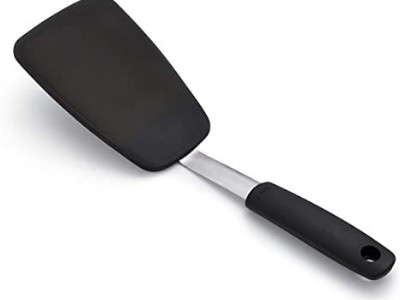 Metal, plastic, or silicone are usually the materials used for Tuner spatulas.
Due to its constitution, it is ideal for cooking at high temperatures.
They are the most commonly used spatulas on grills.
In addition, they are an ideal choice if you have a lot of food to transfer.
Frosting Spatula
As the name implies, this spatula is designed…
…for applying and spreading frosting.
They are incredibly popular among bakers due to their unique shape…
…which provides a complete and easy control for the user.
They are available in many different sizes.
Fish Spatula
Fish spatulas are handy for flipping cooked fish without breaking it.
These tools are also useful for flipping omelets, griddle cakes…
…and a wide range of baked goods.
You can use this tool to master any fish recipe from a cookbook.
Our Articles About Spatula
What is silicone spatula safety?
I felt silicone cookware was too wonderful to be true when I first found it.
I was baking a lot at the time, and it bothered me…
…to use throwaway cupcake covers and reams and reams of baking paper.
I was not going to use hazardous nonstick aluminum bakeware…
…and I hadn't yet purchased any cast iron bakeware.
Silicone muffin and cake pans appeared to be a dream…
…but I'm still not sure of their safety.
Before I get into my advantages and drawbacks…
…for using silicone cookware, let's first define the material.
Thin metal spatulas can be square or rectangular…
…but they are most frequently wedge-shaped…
…because the larger area at the top allows you…
…to slip beneath the food and the narrower base provides you control.
Choose a thin spatula with slots in it.
It will make lifting foods much easier than one without slots…
…which may have sharp edges that could tear delicate items…
..such as eggs or fish fillets.
Before that, let we take a look of what is spatula it self.
Read the article to find out more about this topic!
What We Enjoy about OXO Good Grips Silicone Spatula Set…
…of three pieces Heads are quite adaptable.
Shapes that are useful What We Don't Care For It is not molded in a single piece.
There are no color options.
The OXO Good Grips are a pair of gloves designed by OXO.
For home kitchens, the three-piece silicone spatula set…
…is a must-have or at the very least a must-want.
The sizes and shapes are ideal for everyday kitchen use…
…and they have the proper amount of flexibility, neither too soft nor too rigid.
Sum Up!
The best spatula makes cooking more enjoyable…
…as it is a great tool in the kitchen.
Use this buying guide to find the best spatula for you.
A spatula kitchen utensil's list can be practically endless…
…but there are quite a few that should be considered a must when cooking.
You should choose products that adapt to what you need…
…if you are starting to organize your kitchen or replacing your old utensils.
Conclusion
Quality spatulas offer great functionality.
When you cook with it, you don't have a hard time scraping or stirring.
In order to make your life easier…
…we have compiled a list of some of spatula buying tips.
It has similarities and differences, but their primary purpose is…
…to make your cooking and baking process easier.
---
---
Our Latest Post:
💻 Thin Metal Spatula| Silicone Spatulas| Best Spatula For Nonstick Pan
---
I always loved food! It was my favorite topic and it's what I love to talk about.
My favorite thing to do is research new restaurants in the area, plan out a Yelp guide for those places, and write a blog post on them once they're done. Those of us who understand the value of food are fortunate enough to know it, and for those who do not, I would like to share my knowledge with them!