Do you own a restaurant or cafe…
…or are you thinking of opening one?
If so, you'll need the right commercial dishwasher for the job.
The cleanliness of your dishes is essential…
…if you want customers to return to your restaurant again and again.
Additionally, you will save on labor costs and meet food safety requirements.
In a busy establishment, operating without a commercial dishwasher…
…becomes increasingly impractical.
It's not good to be that restaurant that runs out of silverware constantly…
…because the (human) dishwasher can't keep up with the load.
You can solve your food service woes with the right commercial dishwasher.
What are the best commercial dishwashers?
How do you decide which one to purchase?
Various models are available on the market…
…and some are better suited to certain purposes.
We'll cover everything you need to know…
…about the best commercial dishwashers in this detailed guide.
Before we get started, here are a few word from Andy…
We have now purchased three Dish Drawer dishwashers.
In the early 2000s, we purchased our first one based on the recommendation…
…of a homeowner who had rehabilitated it extensively.
Having never seen anything like it, I hunted it down and bought it for my wife…
…(I know – a sexist gift, but she loved it).
Several years later, we purchased a foreclosed home and had to install all new appliances.
Because we loved it so much, we went out of our way…
…to find one for this home and we loved it!
Let's get started…
What Are Commercial Dishwashers?
The speed of commercial dishwashers makes them different…
…from regular dishwashers.
It usually takes a commercial dishwasher…
…less than a few minutes to wash a load of dishes. 
You'll never run out of tableware for your customers.
Commercial dishwashers should be a must-have…
…since home dishwashers typically take 1.5 to 4 hours.
Speed isn't the only advantage of commercial dishwashers.
Additionally, they are easy to use, so all employees…
…can master it without extensive training.
Moreover, these dishwashers meet sanitary requirements…
…so you can maintain high health standards.
Perhaps you are wondering…
Features To Look For When Choosing A Commercial Dishwasher
Your commercial dishwasher has to meet a lot of practical needs.
A good one will help you increase profits by keeping operations running smoothly.
But the wrong one might cost more than you can afford…
…make your kitchen less efficient, or take up too much space.
Size
Depending on the space you have, some models might be too big.
Take measurements of your kitchen so that you know exactly how much space you have.
In addition to considering the space you have…
…you should also consider maintaining a good work flow in the kitchen.
Make sure that your dishwasher doesn't interfere with anyone's work.
A dishwasher that fits doesn't necessarily fit well.
"Consider the size of the dishwasher and make sure you have space for it. Measure the dimensions to be sure it will fit. Undercounter dishwashers are the most space-saving, but we do have one countertop version if you want something very small." 

Roman Peysakhovich – Onedesk Co-Founder
Ease of Use
The ease of use of the machine is also important.
Your employees will use your commercial dishwasher multiple times per day.
It will quickly become a problem if it is difficult or awkward to use.
Some models can be difficult to use if they are placed in an area where they do not fit. 
If you place a door type dishwasher somewhere…
…that makes it difficult to open the door, for example, it won't work well.
Consider any potential problems that may arise…
…before investing in a commercial dishwasher.
Consider features that might make it easier to use…
…such as fast-loading racks or the right settings.
Keep reading…
Temperature
Commercial dishwashers are available in both high- and low-temperature models.
With a 180-degree rinse cycle, high-temperature models sanitize dishes with heat.
Chemicals are used to sanitize dishes instead of getting…
…that hot in low-temperature machines.
It's more common to use a high-temperature dishwasher…
…but it's not necessarily better.
Although the high-temperature models are more expensive…
…and consume more energy, the dishes dry faster…
…and you save money on sanitation chemicals.
Low-temperature models are cheaper to buy and to use…
…but you'll also have to purchase chemicals regularly.
Furthermore, some types of dishes may be damaged.
A chemical-free high-temperature model is a must…
…if you're concerned about the environment.
High-temperature dishwashers may also get your dishes cleaner.
Noise
The final consideration is noise, which is easy to overlook until you've made a purchase.
There is no way around the fact that commercial dishwashers are loud.
Powerful dishwasher models are louder than others.
Small undercounter models are the quietest…
…making them ideal for small establishments…
…where customers sit close to the dishwasher.
However, if you need a larger model, expect it to be noisy.
Nevertheless, some brands are known for making quieter machines.
If you are concerned about noise, look for brands…
…that are known for being quiet (more on this below).
Here's the main part…
What Are the Best Commercial Dishwashers? 4 Top Picks
Let's go through them one by one…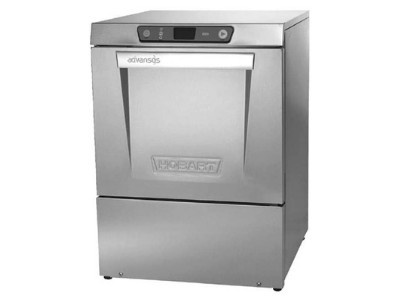 Your business will benefit from this undercounter…
…Energy Star stainless steel dishwasher.
It is a great size, which takes up minimal space in a kitchen…
…since it can be put underneath the countertops.
It can clean up to 30 racks an hour, which makes it great…
…for high traffic businesses, cafes, and restaurants.
What We Love
Useful Alerts
It's a huge bonus that this dishwasher has alerts…
…that catch your attention when you're otherwise occupied in busy kitchens.
Because it's a high-temperature dishwasher…
…it alerts you if the water temperature drops too low.
The sound alerts you if the water is dirty…
…so you can clean it before giving customers these dishes.
Lastly, it has a clogged wash arm notification…
…so you don't have to troubleshoot tons of issues before discovering it.
Many Racks Per Hour
There are up to thirty racks that can be cleaned in an hour with this dishwasher.
Each cycle takes less than two minutes.
You can set this if you wish to do more intensive washing.
This dishwasher will still be able to do 13 or 24 washes an hour, which is very useful.
Low Water Consumption
The dishwasher uses 0.62 gallons of water per cycle.
As a result, the water usage is low, but the dishes are still clean…
…so every customer is satisfied.
Keep In Mind
Low Capacity
The dishwasher isn't the largest in the world.
The table is designed to hold six place settings…
…but depending on the type of tableware used…
…it can sometimes hold four place settings and a few other pieces.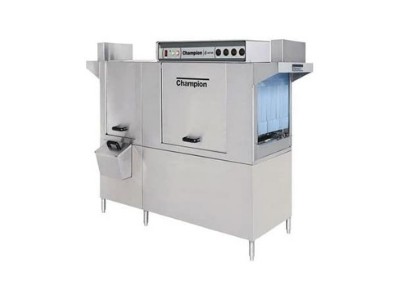 Are you looking for a conveyor dishwasher?
Conveyor dishwashers are ideal for busy restaurants, hotels, and hospitals.
The dishwashers are easy to use and provide quick results.
This Champion dishwasher can clean 266 racks per hour! That's amazing.
You can almost say that having this in your business is a no-brainer.
What We Love
266 Racks Per Hour
It's a fact we can't ignore. 266 racks per hour is impressive.
No matter how busy your restaurant is…
…you'll always have clean dishes for your customers.
Hospitals can also use it to clean all the dishes quickly after meals.
Schools can also use it!
Prewash and Rinse Technology
Enjoy cleaner dishes than ever due to the way this machine cleans.
Firstly, it has a prewash setting, so you don't have to rinse anything by hand.
The machine prewashes everything in preparation for washing.
Once the dishes have been washed…
…the Dual Rinse feature provides a final rinse…
…so you can be sure they're as clean as possible.
Energy Efficient
The dishwasher conserves water and electricity.
An idle pump shut-off makes sure…
…you never waste energy with the Energy Sentinel feature.
Also, a ball valve ensures that you won't…
…waste water through leakage with the Never Leak drain closure.
And last but not least, it's an ENERGY STAR-qualified appliance.
Additional Handy Features
The top-mounted control cabinet, which is always dry, may also impress you.
In addition, the anti-jam drive system prevents jams and saves you time.
It's exactly what you need in a busy work environment.
Keep In Mind
One Year Warranty
It is never ideal to offer a one-year warranty on such an expensive product.
You can, however, insure your kitchen appliances…
…to make sure you're covered if anything goes wrong.
Go on…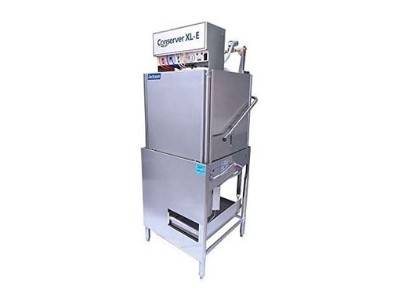 A door style dishwasher is a popular choice for businesses.
It's durable and efficient, thanks to its stainless steel construction.
During a cycle, it uses only 1.02 gallons of water per rack to clean 39 racks per hour.
With its sturdy construction, the Jackson Conserver is ideal…
…for high traffic areas in the kitchen.
With its cool features, it's easy to use.
As you wait tables, you can take advantage of features…
…such as a low product indicator light and a self-draining pump.
What We Love
Self-Draining Pump
This dishwasher features a self-draining stainless steel pump.
As a low-temperature dishwasher, it uses chemical cleaners…
….which makes this pump useful.
During wash and rinse cycles, it ensures no detergent is left behind. 
When items are rinsed, it uses 100 percent water.
Indicator Lights
You'll know when cleaning chemicals are low with this dishwasher.
The indicator lights will come on, allowing for easy monitoring of the appliance.
Double Wash Arms
A thorough clean is assured with two wash arms…
…one for the lower rack and one for the upper rack.
In addition, the arms are interchangeable…
…so if you find another arm you like, you can swap it out.
Keep In Mind
Scrape and Pre-Rinse Plates
You should scrape your plates and possibly even pre-rinse them.
Before the plates go into the dishwasher…
…they should not have any food on them.
Otherwise, the food will fly around and end up on other items.
Chemical Sanitization
If you want to eliminate harsh chemicals…
…you may want to consider a high-temperature dishwasher.
Despite the fact that it is cheaper, this low-temperature dishwasher…
…uses chemicals rather than hot water, which is harsh on the environment.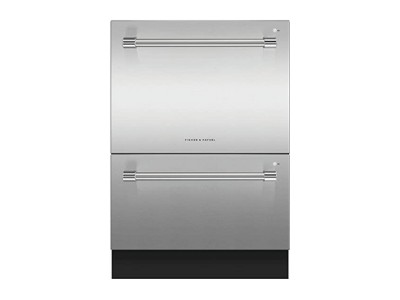 A professional dishwasher is a nice and quiet appliance to have in the kitchen.
It goes down to 44 decibels, which is the same sound as washing your hands.
If your business is already on the quiet side, this won't disrupt anyone's day.
Keep in mind that this is best for small businesses that don't have a lot of traffic.
It doesn't have the fast cycles of other dishwashers.
In actuality, the speed cycle lasts a maximum of 46 minutes…
…while the normal cycle lasts over two hours.
What We Love
DishDrawer
This dishwasher has two drawers, referred to as DishDrawers.
Stacking the dishwasher is easy with these two drawers…
…since they are easy to open and close.
It is also possible to place them at bench height…
…so that people don't have to bend over too far.
In addition, the flexible racks can be customized…
…to accommodate a variety of dishes.
Independent Wash
Each drawer can be used independently or together.
You can now select different wash programmes for either drawer.
So in the top drawer, wash pots and pans that are heavily soiled.
Wash delicate glasses in the bottom drawer.
Eco-Friendly
We told you that commercial dishwashers use around 4,000 kilowatts each year.
This one only uses 276! With less than two gallons of water per drawer…
…and an Energy Star rating, this is an environmentally friendly appliance for businesses.
Keep In Mind
Longer Cycles
In spite of being a commercial dishwasher, the cycles on this dishwasher are longer.
This dishwasher is intended for smaller businesses with less traffic.
The fast cycle lasts just over 46 minutes…
…whereas the other main cycles all last over two hours.
Chaotic Control Panel
Customers have complained the control panel has a mind of its own.
You will be given random options, receive error messages…
…when there aren't any, or have your computer automatically go…
…into child lock, even if you don't click it.
This can make it difficult to use the dishwasher.
Where to Buy Commercial Dishwasher Detergent
If you own or operate a restaurant, kitchen, cafeteria, hotel, hospital, or school…
…you will almost certainly need to choose a dishwashing detergent to meet…
…your facility's needs. You have many options, but with the appropriate information…
…you can choose the best product for you.
Finish Jet-Dry Rinse Aid, Dishwasher Rinse Agent and Drying Agent, 23 fl oz, Packaging may vary
Fill your rinse aid dispenser with Finish Jet-Dry Rinse Aid, and it will be released automatically during the rinse cycle each time your dishwasher runs.
The following smells are available: Liquid Original, Green Apple
We're here to help you with your purchasing experience as the maker of Finish. You can reach out to us via phone or social media for support 24 hours a day, seven days a week.
The following scents are available: Liquid Original, Green Apple.
Prices pulled from the Amazon Product Advertising API on:
Product prices and availability are accurate as of the date/time indicated and are subject to change. Any price and availability information displayed on [relevant Amazon Site(s), as applicable] at the time of purchase will apply to the purchase of this product.
GreenFist Dish Soap Professional Detergent Liquid Pot & Pan Dish-Wash – Light or Heavy Use, 128 ounce ( 1 Gallon)
YOUR HANDS WILL REMAIN SOFT – Your hands will thank you no matter how many dishes you wash with our mild, soft hand dishwashing compound. Unisoft hand wash detergent liquid was created with the goal of assisting you in cleaning quickly while keeping your hands soft.
YOUR HAND WASHING IS MORE ENJOYABLE AND EFFECTIVE – Our innovative no-rinse formula emulsifies grease fast and effectively, allowing you or your employees to work more efficiently. Furthermore, even the greasiest pans only require a minimal amount of our highly concentrated nontoxic dish soap.
FORMULA FOR COMMERCIAL USE Exclusive suds stabilizer has been added to the commercial grade hand dishwashing liquid.
SECURE FOR YOU AND THE ENVIRONMENT Our phosphate-free liquid dishwashing is both biodegradable and non-polluting. It's also free of animal testing.
Prices pulled from the Amazon Product Advertising API on:
Product prices and availability are accurate as of the date/time indicated and are subject to change. Any price and availability information displayed on [relevant Amazon Site(s), as applicable] at the time of purchase will apply to the purchase of this product.
Dishwasher Sanitizer, Commercial-Grade, Makes Four 5-Gallon pails
One concentrate container yields a 5-gallon solution containing 2.8 percent free chlorine by weight.
Set proper chlorine levels between 50 and 100 ppm by following the instructions on the bottle.
Intended for low-temperature dishwashers with water temperatures over 120 degrees Fahrenheit.
Prices pulled from the Amazon Product Advertising API on:
Product prices and availability are accurate as of the date/time indicated and are subject to change. Any price and availability information displayed on [relevant Amazon Site(s), as applicable] at the time of purchase will apply to the purchase of this product.
And, finally…
Sum Up!
When it comes to your business, investing in a dishwasher…
…that can meet your needs is extremely important.
There are some businesses that require extremely fast dishwashers…
…that can handle high traffic and busy days.
Other options are available for a fraction of the price…
…such as a countertop dishwasher.
You should always consider the size and type…
…of dishwasher regardless of your needs.
Lastly, make sure to check how many cycles it has…
…how fast it runs and how much water it uses per cycle.
Conclusion
A commercial dishwasher is far more complicated…
….to choose than a dishwasher for home use.
It's important to find the right machine…
…for your establishment in terms of size, capacity, and price.
There are so many models available out there…
…that making the right choice can be difficult.
Commercial kitchens, however, usually have constraints…
…that make it easy to narrow things down.
As soon as you measure your space, consider your budget…
…and consider your establishment's capacity…
…choosing the right dishwasher style becomes easier.
The brands listed here make reliable appliances that will do the job well.
Choosing the right one for you depends on the pros and cons…
…that are most important to you.
Do you want a quieter dishwasher or a larger one?
Would you prefer an easy-to-use machine…
…with customizable wash cycles or a machine…
…that is simple and straightforward?
That depends on your priorities.
What features are most important to you in a commercial dishwasher?
We'd love to hear from you!
---
---
Our Latest Post:
💻 Countertop Dishwasher| Portable Vs. Countertop Dishwasher| Portable Dishwasher Machine
---
Hi there! I'm a food enthusiast and journalist, and I have a real passion for food that goes beyond the kitchen. I love my dream job and I'm lucky enough to be able to share my knowledge with readers of several large media outlets. My specialty is writing engaging food-related content, and I take pride in being able to connect with my audience. I'm known for my creativity in the kitchen, and I'm confident that I can be the perfect guide for anyone looking to take their culinary journey to the next level.