There is a wide range of brewing methods…
…as there are coffee preferences.
You can choose from simple drip coffee makers…
…to complicated espresso machines.
It's easy to prepare a classic French press…
…which produces aromatic coffee with a great taste.
French presses release natural oils that create a robust flavor…
…by allowing the grounds to steep before pushing them through a filter.
The whole process takes only a few minutes…
…so this brew method is ideal for households on the go.
You might be wondering what a french press is…
"A French press, also known as a cafetière, press pot, coffee press, or coffee plunger, is a coffee brewing device, although it can also be used for other tasks. In 1923 Ugo Paolini, an Italian, lodged patent documents relating to a tomato juice separator, and he developed the idea of making a coffee pot with a press action and a filter." 

Wikipedia
This simple 'coffee plunger' can be easily used…
…yet it still produces a fine cup of brew.
So what exactly is it that makes it the best coffee maker?
Let's jump right in!
What Makes French Press Coffee the Best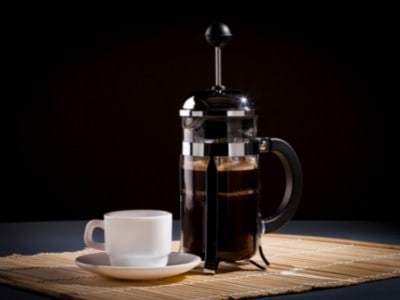 French Press Steeps Your Grounds
Your coffee grounds will steep in the French press.
For making good tea, people use bulk tea leaves that are steeped…
…for a few minutes in boiling water.
Using this process, you can get perfectly brewed tea.
The same is true for coffee. As your grounds are steeped instead of filtered…
…your coffee will have a rich and full taste. 
No Filters to Take Out Flavors 
Using a French press allows you…
…to preserve all the natural flavors in your coffee.
Since oils usually have the most flavor…
…it makes no sense to let paper filters absorb all of it.
The French press, on the other hand…
…will preserve all the robust natural flavors of your coffee.
French Press Achieves the Right Temperature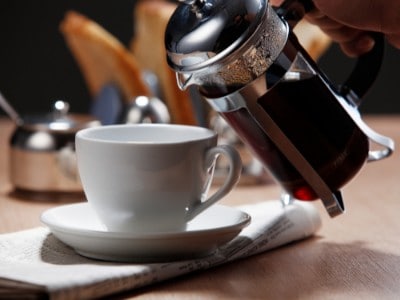 The water in your French press will stay at the right temperature…
…throughout the brewing process.
Since drip machines typically heat and cool the liquid rapidly…
…the temperature will stay optimal only during the middle part of the process. 
It's Perfect for Cold Brewing
There's nothing wrong with hot coffee, but what about the cold brew?
You will quickly get the hang of making a good hot or cold brew…
…when you learn how a French press works.
 Simply add the grounds to cool water, let it rest, then prepare your coffee as usual.
The result will be a low-acid cold brew that's ideal for people with sensitive stomachs. 
Does Not Contain Any Impurities
Using drip machines and other devices…
…leaves a tiny amount of impurities in your coffee.
Impurities come from the manufacturing…
…and distribution processes as well as from the drip machine.
With a French press, you can enjoy top-quality coffee that's impurity-free. 
You Get Full Saturation
With a French press, no amount of coffee grounds is missed.
If a drop machine misses some of the grounds…
…a French press will ensure that all the oils and coffee are absorbed.
This high saturation gives the coffee a flavor that you won't find in a drip or percolator.
All the Flavours Are Here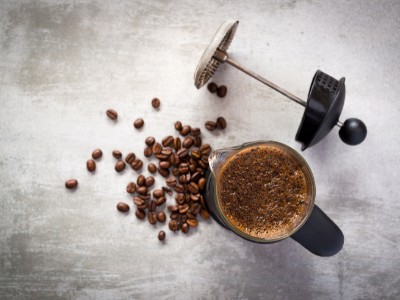 Everything you put into your French press…
…will end up in your coffee (except the grounds).
As a result, you will be able to experience all the flavours…
…that make your coffee experience unique. You will be able to satisfy all five senses.
Your Coffee Can Be Customized
The French press offers the benefit of allowing people…
…to prepare coffee according to their individual tastes.
The amount of time you steep your grounds…
…the size and type of coffee grounds, the temperature…
…and many other factors influence the taste of your cup of coffee. 
It's Super Practical
You don't often hear about this benefit, but it's still very important.
The French press does not contain any electrical parts…
…so you do not need electricity to prepare your coffee.
As a result, it is ideal for those who are often away from home.
This machine is nothing more than a beaker…
…without any electronic components…
…so it is lightweight and ideal for hiking or traveling.
To make a tasty cup of coffee in nature…
…all you need to do is heat the water over a campfire.  
French presses produce coffee that has a unique flavor…
…that will definitely appeal to coffee drinkers.
In addition, the simple process makes the experience very relaxing and authentic.
You're in charge and no one can force you to drink coffee you don't like…
…but with the French press, you'll be blown away by its rich taste and purity.
Let's listen to Janine's story before moving on to the next section…
As I have used several French presses over the years (all glass),
they eventually cracked and broke but I never had any real complaints.
Having had my last Press cracked after accidentally hitting it on the sink
I decided to spend what I felt was an exorbitant amount of money on a French Press.
With my new French Press, I couldn't be happier with the construction,
and the chances of it breaking are slim to none.
Apart from the build quality, a glass press cannot keep the water hot long enough
for the grounds to brew during that time.
Not to mention that my coffee tastes better as well.
I plan to purchase one of the larger ones as well.
But don't stop reading now, this part is crucial….
What to Look for When Buying a French Press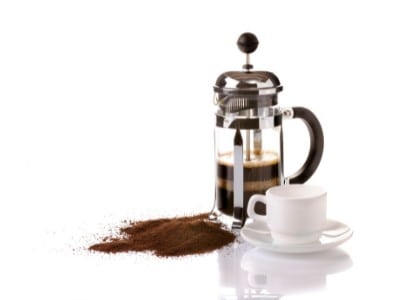 Material
Your options can be narrowed down based on the material.
Stoneware, stainless steel, and glass can all be used to make French presses.
They all have their own advantages and disadvantages…
…and will add a unique look to your kitchen.
The most common, as well as the most affordable, material is glass…
…but it's easily broken and has poor heat retention.
The downside to stoneware or stainless steel is their higher cost.
However, they are more durable and retain heat for longer.
Fortunately, the flavor is not affected by the materials used.
Your coffee will taste great no matter what.
Heat Retention
Though this consideration is directly related to a French press's content…
…it is worth mentioning on its own.
If you're used to drip machines with two-hour hot plates…
…you may be disappointed at first when switching to a French press.
French presses are not the only non-electric coffee makers…
…that have a hard time keeping coffee hot for as long as electric brewing devices.
This isn't an issue if you make a cup or two and drink them quickly.
Consider getting an insulated or thermal French press…
…if you're interested in keeping coffee hot for a long time.
Go on…
Capacity
French presses can make only a few cups of coffee at a time…
…ranging from 12 to 51 ounces.
Choose a larger option if you plan to use a French press…
…for an entire household, about 8 cups.
Know that size and price are linked:
Larger French presses are more expensive…
…and smaller French presses are less expensive.
A final note to keep in mind is that measurements used…
…in the coffee industry are often misinterpreted.
Coffee brands consider a cup to be between 4 and 6 ounces…
…whereas many consumers believe a "cup" equals 8 ounces.
Ease of Cleaning
Making coffee is only half the battle.
When you're done, remove the plunger…
…throw away the used coffee grounds, and clean the carafe.
Dishwasher-safe parts can speed up this process…
…but some people prefer to wash their press…
…by hand right after so that it is ready for use whenever they need it.
Hand-cleaning a French press isn't difficult or time-consuming…
…but some may grow tired of having to do it after every cup of coffee.
Warranty
A French press with a glass carafe is a relatively fragile type of coffee maker,…
…one that is more likely to chip or break than most.
When stirring, most brand instructions advise against using metal spoons…
…so as not to damage the glass.
Be sure to look at the warranty of an item to determine…
…what damages may or may not be covered.
Our Articles About French Press
There's a lot of debate about how to make the perfect cup of coffee…
However, in my opinion, the French press coffee…
…is the most accessible "good" cup of coffee.
A french press coffee is one of the cheapest coffee makers on the market…
…and I don't think I've ever had a bad cup of coffee from one.
So, here's my guide to "how to make french press coffee."..
Make sure you choose the best coffee for you french press…
Keep reading if you are interested!
Some people told me that bloom is for pour-over coffee only…
…and that coffee is completely immersed is not necessary…
…to bloom coffee like a French press.
This is because carbon dioxide repels the coffee water…
…and causes a weaker extraction.
And that's what we remove in the bloom, carbon dioxide.
But the beans are completely overwhelmed…
…with full-bodied coffee regardless of how long you've been blooming…
…and then fill it up, the carbon dioxide still escapes…
Read the article to find out more about this topic!
Let's get one thing straight: great iced coffee does not come…
…from putting ice cubes in a glass of hot coffee. Not in the least.
If you've ever tried it, you'll know that the coffee is quickly diluted…
…by the ice, and it never reaches true icy nirvana.
Rather, the best iced coffee is made by altering the coffee brewing process.
Instead of using hot coffee straight from the pot or the French press…
…I make cold-brewed coffee in a French press…
…that has been steeped and chilled overnight.
It comes out of the fridge extra-cold and extra-strong…
…just waiting to be diluted a little with ice and milk.
So if you want to get the best result from your coffee…
…it means you have to use the best coffee as well.
Sum Up!
The French press uses a technique called immersion brewing…
…in which coffee grounds are steeped in hot water for several minutes.
The flavor is richer and more intricate than what can be achieved…
…with many other coffee makers. And the benefits don't end there.
French presses are affordable, stylish, and compact.
Coffee lovers, from experts to novices…
…and even those who already own a home brewing device…
…can benefit from these devices.
Conclusion
After you've read this article, we hope you will join us in this coffee adventure.
Are you planning to brew French press coffee at home in the near future?
Let us know in the comments section below. 
---
---
Our Latest Post:
💻 Making Perfect French Press Coffee|French Press Coffee Maker| How To Make French Press Coffee
---
Hi there! I'm a food enthusiast and journalist, and I have a real passion for food that goes beyond the kitchen. I love my dream job and I'm lucky enough to be able to share my knowledge with readers of several large media outlets. My specialty is writing engaging food-related content, and I take pride in being able to connect with my audience. I'm known for my creativity in the kitchen, and I'm confident that I can be the perfect guide for anyone looking to take their culinary journey to the next level.