The Panini has been around for centuries;
…nowadays, they can be found in practically every street-side café in America.
Panini grilling at home reached a fever pitch…
…when Oprah Winfrey included the Breville Ikon Panini Press…
…among her 2007 "favorite things".
Housewares stores across the country…
…began selling out of that model as well as others.
These tips will ensure that the panini…
…you make at home are as delicious as possible.
In preparation for the main part,  here are a few words from Rachel…
While I was a child, my Italian-born father would make me
a panini sandwich for breakfast every day.
He makes the best panini sandwiches ever and I adore him so much.
After working overseas for almost two years,
I couldn't come home to see my father because of the pandemic.
It was hard not to see him. If I come home, I'll make him a delicious panini!
Now, here's the main part…
Tips to Make Great Panini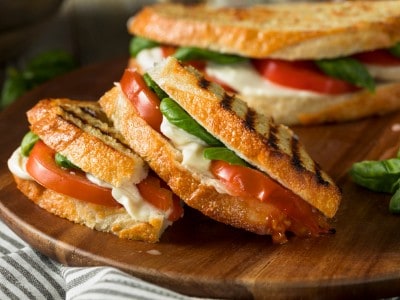 Make Your Grilling Method a Wise Decision
Panini grilling methods do not all yield the same results.
The panini press may be the easiest to use…
…and provide the most control over heat and pressure…
…but it's also the most expensive option.
A grill pan and/or skillet can be used to grill sandwiches just fine…
…although this method can be unwieldy and cumbersome.
All depends on your personal taste and, perhaps, how often you plan to grill paninis.
Trying a Different Bread and Filling Each Time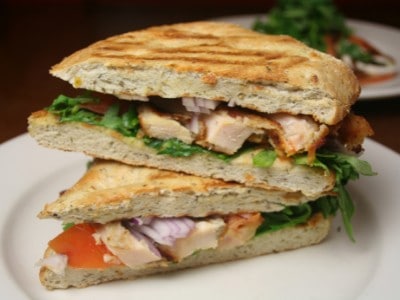 The fact that panini originated in Italy does not mean…
…you must only use italian ingredients like foccacia and mozzarella.
Or even just savory ingredients.
Basically, anything with bread and fillings and prepared on the grill is a panino!
Try dessert recipes, breads like pita, and fillings…
…such as applesauce and mango salsa. 
Your taste buds will guide you, so have fun!
"Best breads for a Panini sandwich include baguette, michetta and ciabatta. The breads should be cut horizontally and filled with the ingredients of your choice."

Sarika Rana – Writer at NDTV Food
Go for the Crunch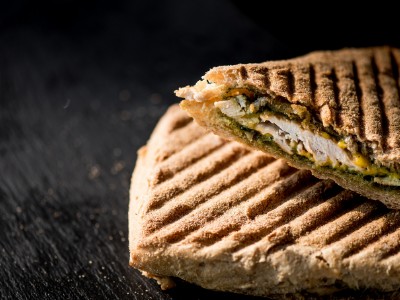 What makes panini different from "regular" sandwiches? It's the grilling!
Panini are characterized by grilled bread…
…brush melted butter or olive oil on top for a crostini-like crunch.
If you want to save a few calories…
…Columbus Foodie recommends spraying…
…butter-flavored cooking spray, another great idea.
Keep reading…
Watch Out for "Wet" Ingredients
Soggy sandwiches are no one's cup of tea. 
Many of the great fillings we enjoy on "regular" non-grilled sandwiches…
…such as tomatoes and juicy meat, sometimes don't work well on panini…
…where crispness is essential.
So these fillings (and the panini) are out of the question? Not at all!
Look for ways to contain the excess moisture.
Add panko breadcrumbs to fish and remove tomatoes' seeds, for example. 
The celebrity chef Tom Colicchio offered another great tip:
…put the wet ingredients into the middle of the sandwich.
Keep Round Tops Turned In
Grilling round-topped breads, such as baguettes…
…can be challenging because they tend to roll over and spill the contents.
I heard of a great technique on the Baking Bites blog:
…turn round-topped breads inside out so that the flat surfaces…
…make contact with the grill. Brilliant!
Use A Straight-Edged Knife to Cut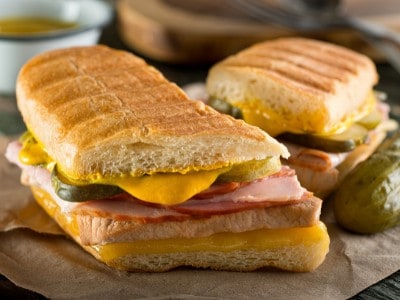 By using a straight-edged knife instead of one with serrated edges…
…it will ensure a smooth separation for your panini.
Go on…
Throw a Panini Party
You can test your panini on friends and family…
…to determine if they are hitting the mark.
Invest in a variety of breads and fillings, heat up the grill…
…and let guests create their own panini combinations.
Maybe you'll learn something new!
Greens Go Last
Would you like to include lettuce in your panini…
…but are afraid they will wilt when grilled?
George Duran (aka "Ham on the Street") offers an effective solution: stick 'em last.
Just before serving, grill your sandwich…
…and then insert anything you'd like to keep leafy…
…lettuce, spinach, arugula, cilantro, to name a few.
These are things you must know…
Essential Panini Tools
Silicone Grill Brush
If your grill does not come with a grill scraper…
…a silicone grill brush will come in handy…
…when it comes time to clean your panini press.
The soft-yet-firm bristles make it easy to remove the cooked-on bits…
…that can get trapped between the grates without damaging the nonstick surface.
Meat Thermometer
Using a meat thermometer when grilling meat…
…on your panini press is highly recommended.
Using this method ensures that meat is cooked to the right temperature…
…in the simplest and most reliable manner.
When I use the OXO model I have, I simply set the temperature…
…(it includes preset USDA and chef recommendations)…
…insert the probe into the meat, place it on the panini press, close the lid…
…and wait until the thermometer indicates the meat is done.
The process eliminates all guesswork…
…and I don't lose any heat by opening the lid repeatedly to check if it's done.
Cheese Plane
While you can buy pre-sliced cheese, it tends to melt…
…and layer more easily when you slice it yourself.
Basic cheese planes or slicers are relatively inexpensive. 
It should be comfortable to hold and with a metal blade…
…that can handle slicing firmer cheeses without bending out of shape.
Cheese Grater
In general, slicing your own cheese is best, but I also grate some cheeses…
…especially Parmesan and other harder cheeses that take longer to melt.
Choose a cheese grater that has sharp blades and a non-slip handle. 
In addition to zesting lemons and limes…
…you can also finely grate garlic and onions with the grater.
Silicone Basting Brush
A silicone basting or pastry brush is useful…
…for brushing olive oil onto bread, vegetables, black bean patties, and more.
It distributes oil evenly and is dishwasher-safe.
Go on…
Serrated Knife
By using a serrated knife, you will be able to slice your panini cleanly…
…without putting too much pressure on your ingredients.
When cutting bread, I alternate between using a bread knife…
…like the one pictured here, and an offset type…
…like the one you'll often see in cafes and restaurants.
Offset knives let you bring the knife all the way down…
…to the cutting board without your knuckles getting in the way.
Silicone Spatula and Tongs
When it comes to grilling, everything needs to be taken off at some point.
You'll need a silicone spatula and silicone tongs for this task. 
Food is easily lifted without causing any damage…
…to the nonstick surface of the panini press.
The panini press and the meat grinder are probably my two favorite kitchen tools.
Our Articles About Panini
What would be better than a hot day sandwich?
Regardless of whether you're at the pool, on the beach…
…on hiking a mountain, or in the city, or when we Italians call you..
..Panini will soon satisfy your hunger!
So today, with my Rosemary Focaccia Bread, I share some Panini ideas…
You will also find how to adjust your recipes if you don't want to bake…
So to get the best result of your cooking..
…you need to know more about best bread for panini.
Let us learn Italian tips for some delicious, simple…
…and easy panini sandwiches before digging into the heart of the preparation.
Read the article to find out more!
A panini or panino (meaning "bread roll") is a sandwich made…
…with Italian bread usually served warmed by grilling or toasting.
With the telltale grill marks sewn into the bread…
…you will recognize Italian-style panini sandwich.
This classic sandwshot is pressed in a semi-union of melty deliciousness…
…between two hot grill dishes, which sear the bread and smooth ingredients.
And although there are many delicious ways to put together a panini…
…you'll usually find a mixture of meat, cookies…
…and veggies sandwiched between two pieces. Delizioso!
Are you watering your mouth yet?
In essence, Panini is a sandwich but…
..does not have a common bread recipe…
A sandwich made with Italian bread is a panino or panini….
Lately, bakeries across the country have gained popularity…
And the Panera Broad is one of these bakeries we all know….
The sandwiches they sell are so good, and you can completely…
…crack them at home, and trust me in this panini bread recipe.
Read the article to find out the recipe!
Sum Up!
I cannot imagine anything better than taking a bite out…
…of your favourite sandwich after a long day.
Makes a light and healthy snack that's easy to prepare.
There are many kinds of sandwiches one can enjoy, and Panini is one of them.
The panini or panino refers to grilled bread rolls, which are Italian grilled sandwiches.
Soft breads without crusts are used to create a sandwich…
…that's stuffed with chicken, ham, seasonal vegetables…
…and a variety of seasonings and sauces.
An ideal Panini should be made on a Panini sandwich press or grill. 
Conclusion
Despite the word being translated as bread rolls…
…or small sandwiches, panini (sg. panino) are Italian-style sandwiches.
They may be prepared from a wide variety of breads…
…and may include a variety of fillings.
During the mid-20th century, they became popular..
…at Italian sandwich shops (paninoteche).
After Panini were introduced to the United States…
…where they are usually grilled, unlike the traditional Italian varieties…
…which are not necessarily toasted.
It is distinguished by the use of high-quality Italian bread…
…such as ciabatta or focaccia, and by the addition of various cold cuts…
…such as prosciutto, mortadella, Italian sausages…
…cheese, and fresh or roasted vegetables.
Though there are many gourmet versions of the panino today…
…the key is to use only the best ingredients and layer them neatly…
…without overstuffing the sandwich.
---
---
Our Latest Post:
💻 How to Make Panini Sandwich|Best Bread For Panini| Grilled Panini Sandwich| Italian Focaccia Panini
---
Hi there! I'm a food enthusiast and journalist, and I have a real passion for food that goes beyond the kitchen. I love my dream job and I'm lucky enough to be able to share my knowledge with readers of several large media outlets. My specialty is writing engaging food-related content, and I take pride in being able to connect with my audience. I'm known for my creativity in the kitchen, and I'm confident that I can be the perfect guide for anyone looking to take their culinary journey to the next level.